We get asked this question all of the time "What types of workouts do i need to train for BUDS?".
You can also use this list for Special Forces and Rangers training.
We are going to assume first that you have dialed in your PST and now have a contract to BUDS.
You see – training for the PST is like a short CrossFit metcon. Training for BUDS is long slow distance. Two very different things.
Once you have the PST completed and put that notch in your belt –  lets move on to "What workouts will help you in BUDS".
video – BUDS Log PT

Check out the Freak Frogman Workouts @ SEALgrinderPT.com
list of workouts to do before BUDS
Murph
Benoit
Severin
20k trail run (find every creek you can to run through)
SEALgrinderPT Special Forces swim workout
Question: What is a good book to let me know what to expect in BUDS training?
We like the book Breaking BUD/S: How Regular Guys Can Become Navy SEALs
as it gives a pretty good description of what to expect at BUDS and how to get ready for it.
You will still have to train long and hard either way but this book will definitely help you.
Video – David Goggins runs for Mental Toughness

Get Coached up and Ready for Special Forces
More BUDS workouts
10 mile beach run
Ruck 20 miles in hills and tough terrain with 40 lb ruck
500 meter walking lunge (add vest or ruck if can)
1 mile plus sled or tire pull
Obstacle course workout
Log PT (use sand bag or individual log or rock if need)
10 minute plus plank hold (with vest if you can)
Question: How do the candidates in BUDS keep sand out of their crotch and not get a bad rash?
The guys wear compression shorts
to keep the sand out. They also use body glide or any other type of anti-chafe balm.
Make sure to put the balm on your nipples, under your arm pits and especially your crotch.
Video – SEALFIT 45 minute plank hold

Check out more info on SEALFIT Kokoro Camp
More BUDS workouts
CrossFit Grace wod with sandbag or log
Bradley wod
SEALFIT wod
Fat Angie wod
* for all of these workouts try to run, ruck or bike to the gym (see the David Goggins video above if your need help).
Question: What do you use to prevent blisters on your feet? We use Bodyglide Anti-Chafe Balm
all over our feet.
We see a lot of athletes at Kokoro using Bodyglide and it makes a big difference in helping to protect your body.
Also rub it on under your arm pits, nipples and crotch to help protect you from chafing.
Video – SEALFIT Kokoro camp

SEALFIT Kokoro has over 90% graduation rate going to BUDS
Events you need before BUDS (do several)
SEALFIT 20X
Spartan Race
GoRuck Challenge and Heavy
GoRuck Selection
SEALFIT Kokoro
Question: What socks do the guys at BUDS wear to help them prevent heavy duty blisters?
The trainees wear Vermont Darn Tough socks.
More questions from our readers online.
Question: How often should I do the workouts? Do as much as you can but rest at least one or two days a week.
Question: Are those the only workouts I should do? No, these are the benchmark workouts that you should make sure you have done before BUDS or Special Forces training.
Question: I don't have an obstacle course – what should I do? Go to a local playground. Make a loop where you have to jump over picnic tables, do pull ups, crawl through a tube, and do sprints.  In France they call it Parkour. If you don't have a playground then run through the woods and jump over logs and run through the stream and carry a rock. Build you way up to doing an obstacle course race like the Spartan Race or BattleFrog. If I had training to do over I would be parkouring my @ss off to get to the gym and then parkouring my way home. Get it? Hint Hint. See the video below.
Video – Parkour

Question: What other good books do you like that tell more about BUDS and the training?
We also like the book The Finishing School: Earning the Navy SEAL Trident
.
This book was written by Don Mann and has a lot of good detail to help you understand more of what your getting into.
Question: Coach, how will I know if I am ready for BUDS? First you have to be 100% committed and believe in yourself. Your heart has to be in this completely. Then, If you have your PST dialed in and a contract and have completed all of these workouts and events then your ready to go. If you have completed SEALFIT Kokoro you have a 90% of success at BUDS (there is a 80% failure rate at BUDS). These workouts will get your ready for Kokoro.
Question: Coach, I live 6 miles from the gym. How can I do this? See the David Goggins video above. Watch it 10x. SEALs find a way to win. Adapt, Improvise, Overcome. Never take No for an Answer. Get an old bicycle and ride to the gym. Take a bus there and run or ruck back home. How you are in this thing is how you will be going to BUDS.
Question: Coach, I like to do bodybuilding in the gym and lift a ton of weights. Will this help me in BUD/S?  Bodybuilding is wasting 95% of your time as it will not help in your journey.  It will build discipline. You need to be pulling a sled, carrying a log, lifting sand bags overhead, running an obstacle course, carrying your buddy on your back and doing every conceivable 30 minute plus long bodyweight PT workout you can do.  Then go on a long beach run and finish by sitting in the surf. You see how that is different from bodybuilding?
Question: I would love to receive tips on workouts. Especially tips that would help me get through bud/s. I watched some of your youtube videos last night and i was very intrigued by them.
I hope to talk to you some more.
Sincerely,
Daniel
Answer: Good to hear from you Daniel. Check out the tips from the above.
About the Author: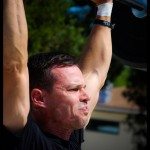 Brad McLeod knows first hand about mental toughness after being kicked out of a top tier Spec Ops training unit. He failed out of BUD/S the first time after failing a math test (made it through Hell Week and Dive Pool Comp). He came back a year later and graduated and served as an operator on the Navy SEAL Teams with a total of 6 years of military service.
Today he is one of the most sought after mental conditioning coaches in the world traveling to Ireland, Southern California, South Carolina, Pennsylvania, Canada, Alabama and parts unknown in north Florida. SEALgrinderPT audios and Ebooks have been downloaded in 35 different countries around the globe. Contact Brad [email protected]
Check out SEALgrinderPT Coaching to help you step up and take hold of your dreams and realize your goals.
Related Articles:
Log PT for Special Forces Athletes
SEALFIT 20X Challenge Tips