Don't Freakin' Quit (DFQ)
Do you think about quitting when the road gets steep and long?
It doesn't take much to be a quitter. Anyone can lay down.
Losers are a dime a dozen. They will continue to quit again and again.
But to rise up in the face of adversity takes guts.
Dont quit as you are already in pain.
You might as well stick it out and get a reward from it. DFQ
Listen to Motivational Audios and Learn How Not to Quit – HERE
DFQ obviously means "Don't Freakin' Quit.
In times of hardship and difficulty you may substitute other words.
Others will fold at the moment of hard times..but you know that hardship will not last as long as you can not quit.
I dare you to take a little pain. I dare you.
It is time to become a man, a woman, and stand up and not freakin' quit.
SGPT Homework: Pick a tough event or workout. Go out and perform. When you feel the urge to slow down or feel yourself hurting… tell yourself in your mind "I am strong, I will not slow down. I am strong, I will not quit". Keep repeating that internal chant and you will continue to move forward and finish the drill.
Question: Do you have any books that you recommend to learn more about how not to quit?
Yes; we highly recommend Lone Survivor: The Eyewitness Account of Operation Redwing and the Lost Heroes of SEAL Team 10
.
I would read this book several times and underline sections that have lessons. This book shows you in real life how important it is not to quit.
About the Author: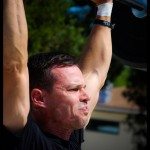 Brad McLeod knows first hand about mental toughness after being kicked out of a top tier Spec Ops training unit. He failed out of BUD/S the first time after failing a math test (made it through Hell Week and Dive Pool Comp). He came back a year later and graduated and served as an operator on the Navy SEAL Teams.
Today he is one of the most sought after mental conditioning coaches in the world today having recently returned from Ireland, Southern California, Pennsylvania and parts unknown in north Florida. SEALgrinderPT audios and Ebooks have been downloaded in 20 different countries around the globe.
Check out SEALgrinderPT Coaching to help you step up and take hold of your dreams and realize your goals.
Related Articles:
Tips to Build Will Power
Unbeatable Mind Academy Review
10 Tips to Breaking through Plateaus
Tips to Breaking through Mental Barriers
Finish the Drill
---
QUESTION: Coach, what do you like to add to your workout shakes?
ANSWER: I use Athletic Greens in our shakes. It's got tons of great nutrition—vitamins and minerals. Plus it mixes up easy in milk or water.