Interview with GoRuck Heavy Grad Jay Amra
SGPT: Tell us about yourself?
JA: I'm 27 years old and currently on active duty in the Marine Corps. I am a certified personal trainer and in the process of opening Code Black Crossfit in Haymarket, VA with my brother.
SGPT: Did you have an athletic background growing up?
JA: We were always running around playing backyard football or something as kids. I played soccer and baseball in my early years. Once in high school I picked up football and stuck with that until graduation.
Video – What is a GoRuck Heavy?

Grab Your Buddy and Sign Up for a GoRuck Event Now!
SGPT: How did you train for the GoRuck Heavy event?
JA: Training was pretty difficult at first. We were deployed on a MEU and being contained to that environment to train for a long distance ruck event wasn't easy. We would put on a 65 pound ruck and walk circles around the flight deck for hours a couple days a week. On the days we weren't rucking we would do a two to three hour full body training session with light weight and higher reps. We put a lot of the training tips from SGPT to use while on the boat.
Once we got stateside we started a three day on one day off cycle. The first day was several WOD's spaced out by about 10 minutes each, day two was a long slow paced run and the third day was a ruck with a 65 pound pack. Each week we would increase the distance of the hikes and runs. We also did a couple overnight sessions including an 18 mile road march with WOD's throughout. We included a lot of mobility before training and stretching afterwards. A couple of days leading up to the event we focused solely on stretching and rest so our bodies were fresh.
SGPT: Tell us a little about the GoRuck Heavy event?
JA: I don't want to give too much away but the event was a pretty solid test of mental fortitude. It started out with the fitness test of two minutes push-ups, sit-ups and the timed 12 mile road march. We got started with the actual event around 0300 and the darkness made it difficult to communicate with each other, not knowing anyone or how they operated only compounded the issue so there was a good amount of friction in the beginning, the Cadre would pick up on this and exploit it.
Once sunlight broke and we had been working together for a while and we started to click as a team. The farther we got into the Heavy more weights were introduced and the time hacks got shorter. The more time hacks you missed the worse it got for the team, so that was a big motivational tool to keep pushing. There were logs, water and mud, a lot of mud. The Cadre did a great job of pushing you to the edge and past.
SGPT: What was hardest part of the event?
JA: The hardest part was probably the hours leading up to the end. When it started getting dark again and the weather started getting worse that was when it was like "Ok, this is getting pretty shitty, I've been working for 20 hours straight." We were able to notice when someone would put their head down and start dragging a little bit; we would give each other a kick in the ass and you would snap back to reality and realize it was about the team and not the individual. In the end we stuck together and were able to push each other to overcome those internal adversities and focus on getting the team to the finish. One thing that kept everyone going was being able to find humor in some of the tasks. Someone would crack a joke and you'd laugh a little, it would bring you back instead of thinking negatively and letting it impact your performance.
SGPT: What is one thing you wish you would have done to get ready for GoRuck Heavy?
JA: I would definitely train more with weighted objects that weren't conventional or easy to carry like sandbags. For the most part everyone did well with the rucks and the individual exercise portions. It wasn't until the Cadre introduced the logs and 200lb sandbags that people really started to struggle. Those awkward objects became a burden to carry very quickly and slowed the movement drastically; it forced us to miss a couple of time hacks which is something you want to avoid if at all possible. They also created a lot of friction, trying to figure out the best ways to approach the problem of carrying them.
SGPT: Any tips for up and coming athletes that want to do GORuck Heavy?
JA: Don't focus solely on road marches or rucking. A lot of body weight and ruck weighted exercises were involved. Break up your workouts to achieve an even balance of strength and endurance. The more the team suffered or faltered on repetitions during the exercises, the more you would have to do until it was done correctly. Don't be that guy that makes the team work harder than it has to.
SGPT: What kind of boots did you use for the event?
JA: Boots were a big issue since I got back a month before the event and didn't have much time to break them in.
I ended up going with the Garmont T8 Extreme Tactical Boot
. They were great boots for the event; they're extremely comfortable and provided the additional ankle support needed for the longer movements.
SGPT: Did you use double socks or body glide on your feet to prevent blisters?
JA: I started prepping my feet weeks before at the recommendation of a friend who did the event with me. I wiped my feet down with isopropyl alcohol twice a day for a month prior.
I used Bridgedale sock liners with Fox River Explorer socks
. We were in water within the first couple of hours and it rained the entire day, I had no issues with my feet at the end despite not being able to change my socks the entire time. I didn't have to use body glide but I did wear spandex top and bottom to prevent chafing.
SGPT: What kind of ruck did you use for training and the event?
JA: I used the standard military ALICE pack
in all of my training and for the event. I used the smaller ruck sack and upgraded the shoulder straps and waist belt with new items from Tactical Tailor. I loved it and had no issues with pain or discomfort. The newer waist belt prevented the pack from slipping or falling off when we were doing the different exercises which was a problem a lot of people struggled with.
SGPT: What book are you reading now?
JA: I just finished up Unbeatable Mind: Forge Resiliency and Mental Toughness to Succeed at an Elite Level
.
I'm getting started on I'm Staying With My Boys about John Basilone and his experiences in combat.
SGPT: Many thanks for the interview Jay.
JA: I'm happy to have the opportunity to share my experience and hopefully help others aspiring to do a GORUCK event. A big thanks to SGPT for helping out with the training advice leading up to the event, it paid off.
Questions from our SGPT athletes.
Question: Coach; I want to train for a GORUCK light that is near my town coming up in the spring.  I am not in shape so how do I get started?
Answer: Good question. I would start by walking in your neighborhood and then slowly add a 10 lb weight vest. Check out this SGPT article: GORUCK Training Tips
Are you interested in training for the SEALFIT 20X event?
Do you have a big event on the horizon and you want to finish the drill?
Get individual coaching from SGPT Coach Brad McLeod (SEALFIT certified coach). Check out coaching here:
About the Author: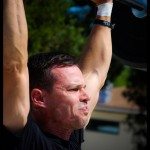 Brad McLeod knows first hand about mental toughness after being kicked out of a top tier Spec Ops training unit. He failed out of BUD/S the first time after failing a math test (made it through Hell Week and Dive Pool Comp). He came back a year later and graduated and served as an operator on the Navy SEAL Teams with a total of 6 years of military service.
Today, he helps Veterans and athletes achieve their goals. What is your goal? Lets work together to accomplish it.
Check out SEALgrinderPT Coaching to help you step up and take hold of your dreams and realize your goals. Contact brad@sealgrinderpt.com
RELATED ARTICLES:
SGPT Interview with SEALFIT Kokoro Grad Lucky Nghi