Interview with SGPT athlete Rick Schmitt
SGPT: Tell us about yourself? Where are you from and where do you train?
RS: My name is Rick Schmitt, I'm 51 years old, married, I have 4 kids ranging in age from 31 to 13 and I have 3 grandkids. I'm a Navy veteran (honorably discharged), and I have been working as a diesel mechanic for the past 30 years and have been preaching for the past 6 years.
I am originally from Wisconsin (yes, still a Packers fan, lol), moved to South Texas (Corpus Christi) in 1981 because of my dad's job and have been living in Harlingen, Texas on the Texas/Mexico border for the past two and a half years.
My training grinder is at home in the garage and in my driveway. When I run or go on long rucks, I head out to the local park trails that follow along the Arroyo Colorado River. When training, I'm up at 0345 hours to train in the mornings, this accommodates my schedule best.
SGPT: How did you hear about SGPT and get started?
RS: Back when I was in middle school, I made a promise to myself that I would stay in shape, so when I reached middle age I wouldn't be walking around looking like I was 14 months pregnant. I was determined to break the chain of the Schmitt boys, lol. Seven and a half years ago, I was put on blood pressure, statins, and anxiety meds when my first wife of 22 years passed. After being put on the meds, food starting sticking to me in places it didn't stick before.
I saw SGPT Online through FB and started checking out the site and its programs. Right then and there I knew this is where I needed to be. For the sake of my kids and myself I needed to get back on track with my health. To accomplish this, I needed guidance and direction and I couldn't think of a better place to get that, than from a Navy SEAL
SGPT: Which program did you start with and why did you chose that one?
RS: The first SGPT program that I started with was the "90 Day Meal Plan Challenge." After reading through the SGPT programs and the slough of available knowledge, it was evident that I needed to start with nutrition. If my nutrition intake was off the mark, it would effect my training performance which would make it more difficult to reach my goal of getting off the meds.
SGPT: Do you work out at home or a local gym? What equipment do you use
for your workouts?
RS: I work out at home in my garage and driveway grinder. For rucks and runs, I go to the local park trail that follows the Arroyo Colorado River. This accommodates my schedule best and I don't have to travel to a gym to get my training done.
For my workouts I use Olympic free weights and barbell, curl bar, a weight bench that includes flat or inclined, squat rack, preacher curls attachment, leg extension attachment, and row attachment. I also use a pull-up bar, rings, homemade wooden steps – 20" to the top step, homemade sandbag (40Lb of dirt in a trash bag covered in duct tape), Tactical 5.11 rucksack, 30ltr camel pack, and my trusty ol Alice pack from active duty. I also use a low end ($300.00) mountain bike. I keep a whiteboard in the training area to keep tract of workouts.
Check out the SGPT Article on "How to build a Garage Gym for Workouts"
SGPT: How long have you been on that workout series and what were your results?
RS: I completed the "SGPT 90 Day Meal Plan Challenge" 7 years ago and I have continued to use this plan as a nutrition guide. I made some modifications to the plan to accommodate my blood pressure needs. The results from this nutrition plan have been fantastic! This nutrition plan combined with other training programs such as the "Operator Training System: OTS 1.0 6 Week", I have seen outstanding results physically, mentally, and at my routine doctor visits. I'm 5′ 11"and maintain an average body weight of 183lb.
A few weeks ago at my last doctor visit, I was told by my doctor to keep doing what I'm doing. The results from the hard work are showing, my doctor took me off of both statins and will lower my blood pressure meds next visit if my pressure continues decreasing as it has been.
SGPT: How has your sleep averaged and are you getting enough rest these days?
For the most part, I'm averaging 7-8 hours of sleep per night. There are times when circumstances arise and my sleep drops down to 4-5 hours per night, but that doesn't happen consistently. Overall, my sleep is good.
SGPT: What is one thing that I would like to see in future workouts?
RS: I don't have an answer for this question. SGPT has so many programs to offer, so many different options to accommodate all athletes. Coach, you and your team are always one step ahead of us with new programs, new challenges, and cool swag!
SGPT: Thanks for the interview and great job on pushing forward 1% and making gains!
RS: To you coach Brad and your team of experts, thank you, thank you, thank you! Your knowledge, hard work and experience, makes it easy for us to achieve our goals. All we have to do is the work. SGPT isn't just an exercise group, it's like family and I am so very thankful for all my brothers and sisters in this group.
The brotherhood is AWESOME and everyone in this group has each others 6. At every turn, a brother or sister is there for support (for both training and personal matters), motivation, and accountability. It doesn't matter if an athlete is a beginner, recovering from an injury, a former operator, or a professional athlete, SGPT is the place to be. For me, SGPT isn't just an exercise group, it's a way of life!
Questions from our SGPT athletes.
Question: Coach; I am trying to get back in shape and improve my mile run time. Do you have any suggestions on how to start? I have access to a local track.
Answer: That is great that you have access to a local track. Check out this SGPT Article as we talk about "How to improve your mile run time".
Do you have a big event on the horizon and you want to finish the drill?
Wanting to complete a Spartan, GORUCK, Tough Mudder or SEALFIT 20X Challenge?
Get individual coaching from SGPT Coach Brad McLeod (SEALFIT certified coach). Check out SGPT coaching here:
About the AUTHOR: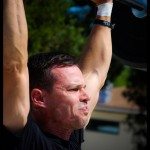 Brad McLeod knows first hand about mental toughness after being kicked out of a top tier Spec Ops training unit. He failed out of BUD/S the first time after failing a math test (made it through Hell Week and Dive Pool Comp).
He came back a year later and graduated and served as an operator on the Navy SEAL Teams with a total of 6 years of military service.
Today, he helps Veterans and athletes achieve their goals. What is your goal? Lets work together to accomplish it.
Check out SEALgrinderPT Coaching to help you step up and take hold of your dreams and realize your goals. Contact brad@sealgrinderpt.com
RELATED ARTICLES:
Interview with SGPT athlete John Abbott