Paleo Recipe for a Healthy Meal
Just want to make sure that all of our athletes are having a great week – getting in good workouts and eating great meals.
We love to eat clean fuel to help our Maserati engines (our bodies) work at peak capacity. We are partial to the Paleo nutrition plan as it emphasizes fresh vegetables, lean protein and avoiding processed food. Pretty simple:).
Paleo Tip #1
Cook more than you need so you will have extra meals for later in the week.
Herb Chicken Burger Paleo Recipe by Juli Bauer

Juli is great at showing us awesome recipes. Here she mixes chicken in with fresh vegetables. She adds some spices and herb to make it #AnythingButDull. She uses coconut oil as a really healthy choice.
Slowly cooking it up in a pan and then making them into patties (or sliders). The smaller they are the easier they are to cook.
These sliders have a ton of Flavor…Yum.
If you don't like chicken you can use turkey, lean ground beef or even italian sausage – my favorite.
Let us know what you think about this recipe and share others with us.
P.S. Check out the new app from KudoLife for more healthy life choices. We highly recommend it.
Question:
Do you want to build a body like a Navy SEAL?
Drop fat and build lean muscle?
Check out the 1-2-3 of how I did it with killer daily workouts.
Delivered straight to you with nutrition tips and mental edge info.
Check out more info HERE
About the Author: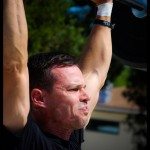 Brad McLeod knows first hand about mental toughness after being kicked out of a top tier Spec Ops training unit. He failed out of BUD/S the first time after failing a math test (made it through Hell Week and Dive Pool Comp). He came back a year later and graduated and served as an operator on the Navy SEAL Teams.
Today he is one of the most sought after mental conditioning coaches in the world having recently returned from Ireland, Southern California, Pennsylvania and parts unknown in north Florida. SEALgrinderPT audios and Ebooks have been downloaded in 20 different countries around the globe. Contact Brad brad@sealgrinderpt.com
Check out SEALgrinderPT Coaching to help you step up and take hold of your dreams and realize your goals.
Related Articles:
Top 10 Paleo Tips