SGPT Interviews GORUCK Finisher Alex Devenyi
Don't come into it with a mindset of "just survive". I always try to train to be the best teammate I can possibly be.
Words of wisdom from our guest today as SEALgrinderPT sits down for an interview with SEALFIT 20X finisher Alex Devenyi.  He is combat Veteran and serves his community as a police officer.
Take 5 minutes and read this article that is loaded with tips and advice. Check out how Alex prepared for this big event and despite a tough road, was able to finish the drill.
SGPT interview with GORUCK Heavy finisher Alex Devenyi.
SGPT: Tell us about yourself? Where are you from and where do you train?
AD: I'm 40 years old, married and have three children. I served 10 years in the United States military (Marine Corps and Army) and deployed twice to Iraq in support of OIF. I am currently in my 15th year as a law enforcement officer in Pennsylvania.
Because of my schedule, I train primarily from home where my wife and I have a nice set up of sandbags, kettlebells, a TRX, plyo box, and other workout gear. I recently joined a 24 hour chain gym near me to get back to some barbell work for more max strength but most of my workouts primarily take place right in my living room, back yard, or neighborhood.
SGPT: Did you have an athletic background growing up?
AD: I did! I was always playing some kind of sport. I played soccer, baseball, and basketball and once I hit the 9th grade I played lacrosse through my senior year. I was always running around with my friends too – riding bikes and skateboards, exploring the woods, and getting into trouble. It wasn't until I got into the military when I got as disciplined about it as I should have been. While I was in the Marine Corps, I boxed and trained in traditional Okinawan karate. When I got out of the Corps, I continued with karate (Kyokushinkai) and got involved into strength sports, primarily strongman but also some powerlifting and Olympic lifting.
Want to Train for an Epic Challenge or Adventure? SGPT Training has the complete package for you. Check out our Crawl Walk RUN Training System. Click HERE to Learn More! 
SGPT: How did you train for the GORUCK Heavy?
AD: Fortunately this is easy to answer, as I always try to keep track of my training. If you don't have a thorough workout journal, you will really struggle to learn what works well for you and what doesn't. I have been influenced heavily by SEALgrinderPT SGPT (of course!) among a few other sources. With my schedule I find it difficult to run programs exactly as written so there was a lot of trial and error on my part before I finally found what works for me (so far!).
I did a lot of 1-10-1 pyramid training for my strength sessions. I usually have a short (45-60 minute) time window to do most of my training, so the built in warm up and cool down really helped. One of my favorites was sandbag thrusters, 4 count mountain climbers with a ruck on my back, and 4 count flutter kicks with my ruck overhead. Every fourth set I would knock out a set of max pull-ups. You end up with 100 of each of the three exercises and 4 max set of pull-ups, not bad for a day's work.
Another one I liked was sandbag squat clean to push press, with 10 burpees after each step of the pyramid. That gets your heart pumping fast. For when I was very short on time, I would strap on a ruck and knock out 100 ruck burpees with a squat and a lunge after each rep. In about 20-25 minutes, you get 100 burpees, 100 squats, and 200 lunges out of the deal.
I actually did not ruck as much as I had in the past. I did a lot of running though. For me personally, I feel running carries over really well to rucking. I used to ruck a lot but never seemed to get faster – I once rucked 225 miles over a 3 month period and my 2 mile run barely budged. Once I started running a lot though, I found I need a lot less rucking miles than I did before.
I rucked around 55 miles over the two months beforehand – my longest session being 18 miles with 45#. I worked hills and elevation, made some of them stupid heavy, and did some at stupid times (late at night, early in the morning, etc.) so I was ready for anything. One thing I did do (which was a little bit stupid and crazy) was part of a British SOF challenge I had undertaken which was three different movements (a 3 mile run, a 3 mile ruck with 60#, and a 4 mile ruck with 60#) during a 28 hour dry fast. It sucked horribly, but it did give me a bit more of a mental edge. Definitely not something I would do regularly – or even at all, if given the choice.
SGPT: Tell us a little about the event? Where was it?
AD: This event was actually last year in Washington DC for D-Day. It was especially meaningful for me as my neighbor is 101 years old and is a WWII veteran who fought on the Aleutian Islands, the Philippines, and Okinawa. Despite his age, he is still completely independent, does his Army exercises every day, and has the best yard in the neighborhood. I wanted to do well to honor him.
We started in the evening with 100 8-count bodybuilders with our rucks on. We got into the 80s before we had to start all over again.
I was definitely glad I had trained a lot of burpees with my ruck on. More PT after that, and then lots of heavy sandbags to carry – each one was stuffed to the gills so the 80s were a lot closer to 100 and the 120s were beasts. I got on the 100s and 120s as much as I could. 12 mile timed ruck, a WOD created just for D-Day which we did twice (77 reps of 4 different exercises), bear crawling on stairs, more 8-count bodybuilders, and more than a few ascents and descents of the famous Exorcist steps with some pull-ups thrown in for good measure.
We did get in the water (where I learned my storage system for salt tabs wasn't ideal) which I was looking forward to as it was extremely hot. I didn't eat as much as I normally would during an event like this, because I was sucking down liters of water from my bladder and watered down Gatorade.
SGPT: What was hardest part of the event?
AD: The heat was definitely one of the worst things for me. I'm a prior heat casualty (too much beer drinking in Yuma, AZ + combat equipment jump the next day = me as a dumb Lance Corporal) so I'm always self-conscious about that and avoiding it happening again. The PT was rough, but nothing impossible compared to what I had done.
Honestly the worst part was the really heavy sandbags just beating you down the whole time. I thought I was doing as much as I could until we were nearing the end point. We were about half a mile away and the other two guys with me on the rotation with the 120# sandbag were planning on doing the entire Heavy Tough Basic (HTB) weekend. I was only doing the Heavy as my son was crossing over to Boy Scouts the very next day and I wasn't going to miss that for the world.
Knowing that they still had the rest of the night to go, I took the 120 for the last half mile by myself. That's when I realized I needed to quit relying on my natural strength and start focusing on training dedicated sandbag carries on a regular basis to perform even better the next time.
SGPT: What kind of boots did you use for the event?
AD: When I first started GORUCK events, I was using military issue boots.
I then switched over to Merrell MOAB and never looked back.
The MOAB2s are my favorite – I like them so much I even got a pair just for work.
SGPT: Did you use double socks or body glide on your feet to prevent blisters?
AD: For whatever reason, the double sock method never seems to work well for me. I typically just use one pair of Darn Tough socks and use Vaseline on my feet when I change my socks. At around the halfway point of the Heavy, I changed my socks and added more Vaseline.
I had absolutely no foot issues whatsoever by the end of it. In fact, I felt good enough that if I hadn't had to leave early the next morning, I would have been able to go right back to the Tough and gone on to finish all three events that weekend.
SGPT: What kind of ruck did you use for training and the event?
AD: Most of my rucking was done with the GORUCK Rucker. I had the original version to start, and then the 3.0 version several weeks out from the event.
I also did a few stupid heavy rucks with my 5.11 Rush 72 pack (one was a 9km ruck march with 80# to commemorate the British yomp during the Falklands War). I would never deploy with a Rucker, but for GORUCK events and rucksack exercises it's hard to beat.
SGPT: What is one thing you wish you would have done to get ready for the GORUCK Heavy?
AD: I did not do as much as I could have done with sandbag carries, so now I incorporate them once a week into my regular training. My goal for 2022 is to be able to ruck a 5k with a 120# sandbag without putting it down.
SGPT: Any tips for up and coming athletes that want to do a GORUCK Heavy?
AD: Definitely the best event GORUCK offers. You see a lot of team building during a good Tough and even some Basics, but during a Heavy is when the team really comes together and relies on each other. I felt we clicked really well and everyone was doing their part.
Don't come into it with a mindset of "just survive". I always try to train to be the best teammate I can possibly be. A dark sense of humor and a little bit of crazy to enjoy this kind of thing is also invaluable. Get strong, get used to working out with your ruck in your hands and on your back, get comfortable carrying heavy stuff for a long time, and remember to smile and have fun during it.
SGPT: What book are you reading now?
AD: I just recently finished "My Share of the Task" by General Stanley McChrystal. I had read another book that featured him heavily and wanted to learn more about him, and it was an interesting look into his Army career.
I'm finishing up a fun fiction novel, and then starting in on Dick Couch's "Sua Sponte". I always liked the Rangers I met (Marines and Rangers definitely seem cut from the same cloth) and admired what they did as well as their esprit de corps, so I want to learn more about them now.
SGPT: Many thanks for the interview, Alex.
AD: Thank you, I appreciate you asking! I'm just a regular guy who can't seem to get a job without a uniform and do the best I can with what I have to do these kinds of things, so I am grateful for the opportunity to share what I have been through especially if it can help someone else.
Questions from our SGPT Athletes.
Question: Coach; I want to train for a GORUCK light that is coming up in the spring.  I am not in shape so how do I get started?
Answer: Good question. I would start by walking in your neighborhood and then slowly add a 10 lb weight vest. Check out this SGPT article: GORUCK Training Tips
Are you interested in training for the SEALFIT 20X event?
Do you have a big event on the horizon and you want to finish the drill?
Get individual coaching from SGPT Coach Brad McLeod (SEALFIT certified coach). Check out coaching here:
About the Author: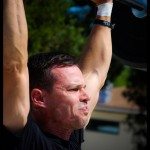 Brad McLeod knows first hand about mental toughness after being kicked out of a top tier Spec Ops training unit. He failed out of BUD/S the first time after failing a math test (made it through Hell Week and Dive Pool Comp). He came back a year later and graduated and served as an operator on the Navy SEAL Teams with a total of 6 years of military service.
Today, he helps Veterans and athletes achieve their goals. What is your goal? Lets work together to accomplish it.
Check out SEALgrinderPT Coaching to help you step up and take hold of your dreams and realize your goals.
Contact brad@sealgrinderpt.com
RELATED ARTICLES:
GORUCK Training Tips
SEALFIT 20X Training Tips
SGPT Interviews Mark Clingen
SGPT Interview with Tough Mudder Finisher Joshua Matthews
SGPT Interviews GORUCK Star Finisher Dan Cunningham