SGPT interviews JN Gross SEALFIT 20X graduate
SGPT: Tell us about yourself?
JG: I'm 32 years old and I'm a police officer in Calgary, Canada. I'm married, no kids, just a couple dogs and cats. I coach part time at a local CrossFit affiliate and am always working to better myself and inspire others as best I can.
SGPT: Did you have an athletic background growing up?
JG: I played pretty much every sport available to me growing up. The first sport I remember playing was baseball, then hockey, but I played football, volleyball, badminton, basketball, soccer, and many more. I my senior year of high school I was a three sport athlete playing football, basketball, and badminton. Honestly, I was average at all of them, my best sport was baseball for sure. I guess I'm a jack of all trades, master of none.
SGPT: How did you train for the 20X event?
JG: Beyond my normal CrossFit and strength training (4-6 sessions a week) I added in 25-30lbs rucks. I live in a city just north of Calgary that's small enough that I can walk pretty much anywhere in about 30 minutes so on days off I would try to walk everywhere I needed to with my ruck and boots. Sometimes I used a weight vest instead of a ruck but I didn't notice a big difference in that.
SGPT: Tell us a little about the event? Where was it?
JG: Our event was on March 19, 2016 at Most Physical Preparation in Calgary, Alberta (formerly CrossFit Most). We started in the parking lot with our sandbag loaded rucks and just started rucking. I didn't know what to expect but we ended up covering more ground than I anticipated, by a long shot. We walked from Most, following Calgary's great pathway system down to the Glenmore Reservoir where we did a full loop, spent some time doing hills, spent some down time recovering in the Elbow River, and finished our journey back to base with a very introspective rock carry. Back at base we finished with probably my favorite thing, the log PT section. All in all, according to one of the coaches who GPS'd the event, we covered 40-42kms.
SGPT: What was hardest part of the event?
JG: Being a big guy, overweight, the hardest thing was just the weight on my hips. My right hip locked up really bad after lunch and it really bugged me for the rest of the event. That and it felt like the bottom of my feet were just raw, turns out they weren't…they're just real tender! Just keeping pace on the walk ended up being really difficult but having the team working together on the rope aided me greatly.
SGPT: What is one thing you wish you would have done to get ready for 20X?
JG: Lost more weight! That and doing longer rucks that I did while training.
SGPT: Any tips for up and coming athletes that want to do 20X? Train.
JG: Don't underestimate this but also don't just watch the videos and let the event get into your head. Find things that make you physically uncomfortable and do them, regularly. If the gym or other participants offer training before the event, go. Meet people, get familiar.
SGPT: What kind of boots did you use for the event?
JG: I wore SWAT WinX2 Tactical Boot
. Mine were worn in very well as I've had them for 3 years but they worked great for the event, stayed laced up, and stayed pretty warm.
SGPT: Did you use double socks/compression socks or body glide on your feet to prevent blisters?
JG: I didn't but I actually didn't get blistered up too bad. I wore McGregor walking socks with a terry cloth sole. They worked fairly well but I got a couple toe blisters and my forefoot sole was very tender but nothing tore or bled.
SGPT: What kind of ruck did you use for training and the event?
JG: I used an Explorer B5-BK backpack
. The straps were comfortable but in hindsight I wish it had a waist strap. I actually intentionally didn't get a waist strap bag because I didn't think it would be allowed but I would definitely have it for next time.
It moved around a lot on my back during pushups and planks, making them more difficult than they should have been and later one of the shoulder straps actually ripped off and I had to tie the strap off on one of the molle points. It got through the day but it's now been retired into a sandbag in my garage.
SGPT: What book are you reading now?
JG: I just finished Unbeatable Mind: Forge Resiliency and Mental Toughness to Succeed at an Elite Level
by Mark Divine, and I've been working through three books by Chris Moore—Progress, Way Past Strong, and Get Change.
SGPT: Many thanks for the interview.
JG: Thank you for spending the day with us all and providing us the opportunity to be better in all facets of life.
Questions from our SGPT athletes.
Question: Coach; I want to train for a GORUCK event at Ft Bragg.  I just finished a GORUCK light in Dallas last month. How do you think I should train for the event?
Answer: Good question. I would start by rucking more miles and slowly adding weight. I would try to add elevation and rough terrain if you have a local trail nearby. I would then add in sand bag work and running. Check out this SGPT article: GORUCK Training Tips
Are you interested in training for the SEALFIT 20X event?
Do you have a big event on the horizon and you want to finish the drill?
Wanting to complete a Spartan, GORUCK, Tough Mudder or SEALFIT 20X Challenge?
Get individual coaching from SGPT Coach Brad McLeod (SEALFIT certified coach). Check out SGPT coaching here:
About the AUTHOR: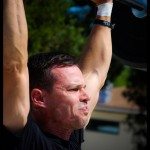 Brad McLeod knows first hand about mental toughness after being kicked out of a top tier Spec Ops training unit. He failed out of BUD/S the first time after failing a math test (made it through Hell Week and Dive Pool Comp). He came back a year later and graduated and served as an operator on the Navy SEAL Teams with a total of 6 years of military service.
Today, he helps Veterans and athletes achieve their goals. What is your goal? Lets work together to accomplish it.
Check out SEALgrinderPT Coaching to help you step up and take hold of your dreams and realize your goals. Contact brad@sealgrinderpt.com
RELATED ARTICLES:
Top 10 Tips to Prepare for a SEALFIT 20X Challenge