Special Forces Swim Drills
In order to become a Special Forces graduate – you will have to become comfortable in the water.  You don't have to be an Olympic gold medalist and super fast – you just have to be good at all task under pressure and get the job done.
Think of doing Ji-jitsu wrestling in the water. Fighting, knot tying, carrying weights, treading water and swimming with your hands and feet tied (yes; that is not a misprint).
Looking to improve your Combat Side Stroke? Check out this training program. Click HERE!
Video – US Navy Dive School training
Check out Aqualung Sport Scuba Dive Mask @ Amazon.com
Tip #1
Practice in your local pool or pond. If you dont have access to a pool then find a way. Always swim with a buddy. Never alone.
Workout #1
Tread water in your swim trunks only.
See how long you can keep your hands out of water.
Intermediate: Add a t-shirt or full BDU uniform
Advanced: Hold a brick in your hands with full BDU's.
Ranger water training for Combat Diver
Check out Jaco Resurgence MMA Fight Shorts @ Amazon.com
Tip #2
Start out small and do the workouts and watch the videos. Slowly work your way up. Don't try to do too much too quick.
Workout #2
Swim underwater for distance. Note your distance.
Beginners: Use the outer perimeter of the pool and push off the walls only if needed.
Intermediate: Do not push off or touch walls of pool.
Advanced: Add a t-shirt and if really advanced use only use arms.
Pararescue training "Superman school"
Billabong Men's Chronicle Long Sleeve Rashguard @ Amazon.com
Tip #3
Expect to get drowned out during the exams. Everything will be ok as there are lifeguards on duty. You must be ready to push yourself to the outer limits.
Workout #3
Using a brick or kettle bell or similar.
Put the weight on the bottom of the pool. Swim and move the weight forward as far as you can towards the end of the pool. Note distance and weight.
Intermediate: use more weight and increase distance.
Advanced: Add t-shirt.
PJ / CCT pool training
Check out the Teva Men's Mush II Flip Flop @ Amazon.com
Tip #4
Relax.
You will be pushed super hard in the pool and ocean during SEAL training and other Special Forces. But always try to take a breath and relax and move on.
Workout #4
put a kettle bell or weight in the pool. Beginners use shallow end. Swim down and tie a square not on the kettle bell. Your swim buddy will swim down and untie the knot. Repeat and tie a bowline.
Intermediate: Put weight in deep end.
Advanced: Add water into your mask.
About the Author: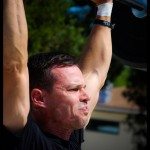 Brad McLeod knows first hand about mental toughness after being kicked out of a top tier Spec Ops training unit. He failed out of BUD/S the first time after failing a math test (made it through Hell Week and Dive Pool Comp). He came back a year later and graduated and served as an operator on the Navy SEAL Teams with a total of 6 years of military service.
Today he helps Veterans and athletes achieve their goals. What is your goal? Contact Brad brad@sealgrinderpt.com
Check out SEALgrinderPT Coaching to help you step up and take hold of your dreams and realize your goals.
RELATED ARTICLES:
What is the Goon Squad at BUDS?
Special Forces Swim Workout #1