Top 10 Best AR 15 Rifles for the Money – Under $700
We get asked all the time "What are the best AR 15 rifles under $700?".
Check out this list of the Top 10 Black Rifles under $700 and post up your comments below.
Windham weaponry vs bushmaster?
DPMS vs Mossberg?
Colt vs Bushmaster?
Bear Creek Arsenal vs Palmetto PSA?
Delton dt sport vs M&P sport?
PSA vs Olympic arms?
Bushmaster vs Palmetto?
Which is the best deal?
What do you think? Lets hear it from the shooters out there!
#10 CORE15 SCOUT M4
Very good gun for the money. Can't find anything to complain about. The Core 15 is Mil-Spec forged 7075-T6 lower & upper receivers with Type III Class I hard coat anodized finish.
The lower: beveled magwell for improved reloading speed, machined chevrons in front strap, with bullet pictogram safety markings.
The Core15 M4 Scout is an entry-level M4 direct gas impingement gas rifle. All around good weapon for the money—you can't go wrong with this one. It features a 16 inch 4140 chrome moly barrel, M4-style thermoset-molded polymer handguards, an A-2 pistol grip, a Core15 hardcore billet charging handle (V.1), and a 30-round magazine.
This weapon was out of stock at several online vendors budsgunshop and Atlantic Firearms (April 2022).
Question: What is a good starter red dot scope I can put on my black rifle?
Answer: We like the Bushnell Trophy Red Dot Riflescope
as it will not break the bank as it is about $100. For the cost this is a good starter red dot and will do the job to hit the target. One of my shooting buddies has one set up on his rig.
#9 SMITH WESSON M&P SPORT
This black rifle is all yours for about $650 depending on where you look.
If the gun is as reliable as our initial impressions indicate, that's tremendous value-for-money.
I built my black rifle from the ground up with parts from OpticsPlanet.com.
It's taken Smith a while to get here, but it looks like they've finally brought the same no-nonsense quality and functionality to the AR world.
I am still a huge fan of their revolvers so justifiably famous.
Here are a few specs Model M&P®15 Sport™ II. It has a .223 NATO round with a capacity for 30 rounds. The overall length is 35 inches and is a gas operated weapon. It has a front sight that is an adjustable A2 post and a rear sight with folding MagPul (MBUS).
The stock is a 6-position CAR with polymer grip and a matte black finish. The frame is constructed of Aluminum allow and has a barrel length of 16 inches. The barrel material is 4140 steel with a 1 in 9, 6 groove. The weight stock is 103.2 oz.
Check price at Palmetto State Armory
#8 OLYMPIC ARMS INC FLAT TOP 223
This rifle is much better than its name implies. So far, I have put about 500 rounds through this rifle and have had zero malfunctions. I have use several types of ammo, both 5.56 and .223 and was surprised to find it likes the .223 better.
Best groups to date are with 40 grain V-Max bullets, 7/8 moa (go figure). This is my new heavy cover hog gun. I have put a holographic, red dot sight (zeroed @ 50 yds) with a 1-4 power scope (zeroed @ 100 yds).
Best rifle purchase I've made is a long time. You won't be disappointed with this rifle.
Olympic Arms review
#7 DEL-TON DT SPORT
The DT Sport has a 16 inch light weight barrel with 1×9 twist and 6 position M4 stock. I have been using mine at the local range and on my farm to keep the coyotes away. I also like the CAR handguards with single heat shields, and A2 flash hider.
The DT Sport comes with 1x 30rd magazine and a CA approved gun lock. It was shipped with a chamber safety tool in the chamber, clearly showing the weapon is unloaded.My next upgrade is to add a nice sling and and a red dot.
Question: What is a good front and rear sight system I can use?
Answer: We like the MagPul front and rear sight system.
It is a great no nonsense sight system and for less than $80 you be set up and ready to go at the range. I have one set up on my weapon right now and it works just fine as a back up to my red dot.
#6 WINDHAM WEAPONRY
In terms of features this Windham Carbon far surpasses the factory specs of it's now ancient Bushmaster brethren.
Aside from the superior workmanship and sturdy nature of the upper and lower carbon infused receivers (of which the flat top picatinny was shaped perfectly and consistent front to back).
The barrel is chrome lined and a full M4 contoured 4150 Chrome Moly Vanadium steel with a 1 in 9″ twist featuring M4 feed ramps as opposed to the bargain basement pencil barrel that came with the original.
Instead of the low profile [afterthought] style gas black on the Carbon 15, the Windham carbon features a beefy picatinny front gas block now allowing for the installment of a fixed iron sight setup (see video review) or a flip up back up system.
Video – Windham Weaponry SRC Carbon Fiber AR15
#5 PSA (PALMETTO STATE ARMORY)
I purchased my first PSA Rifle from a Gun show distributor. After spending the time to compare the specifics of the M4 Premium to all the other AR manufactures, Colt, DPMS ECT. My opinion was that It was a good buy.
I am a serious shooter and collector who writes supplier recommendations to the US Army and DHS for weapons builders and part suppliers, my advice to them is to give PSA a very serious look for up coming weapon ready supply needs.
No doubt PSA is a good value to the needs of the AR community. I am planning many more Buys/Builds when the Market calms down.
Video – Palmetto State Armory AR-15 Rifle
#4 Mossberg Ar-15
I own the MMR Tactical, and I have to say, it's easily the best AR under a grand. So much nicer than those Ff'ing POS Bushmaster Carbon 15s and crap.
Free-floating barrel, huge rail…amazing rifle. I couldn't be happier with it. The accuracy is phenomenal.
#3 DPMS Panther Sportical AR-15
As I have said in other posts about DPMS they are a great rifle company that makes civive standard rifles and are great of beginners.
If your not up to spending a 1000 plus on a rifle then go ahead. The good thing about buying a complete rifle is WARRANTY otherwise build away its your decision.
By the way—my AR is a DPMS with almost 6000 rounds through it a few ammo related problems but thats it and im working on my first build thanks to this site
I am going to add a lot of upgrades and trick it out real good as that is how I like my weapon.
Video DPMS Panther Sport is affordable AR-15
#2 DPMS Panther Oracle AR-15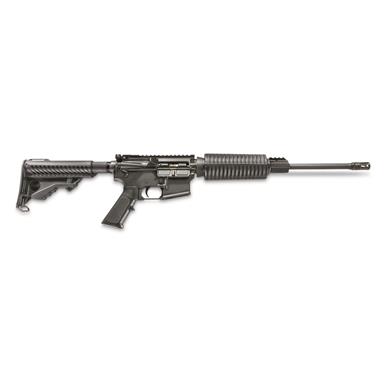 I originally went to Cabelas to buy a bushmaster O.R.C. ar-15 but they were sold out of them. So i went with the Oracle.
This AR is a quality AR-15 for the price. I have put about 190 (not alot) rounds threw this firearm with out a single malfunction. I even drowned the weapon in gun solvent rite out of the box and fired it the next day which you want it dry or you can cause it to malfunction, but worked flawlessly.
I strongly advise you to buy this weapon. I am a very picky gun owner and done alot of review of the Bushmaster and Panther arms before the purchase and both are very good makers but i would'nt have created a Cabelas account just to write this review on this weapon if i did'nt truly believe in its quality. Stop thinking about it and buy it. Can't go wrong.
#1 Bushmaster Carbon AR-15
This weapon will give you the most bang for your buck and is in the $600 range. It is lightweight and can still take a beating out on the range.
Yes; you don't want to take this weapon to Afghanistan for your next contractor job. That is not what it is made for.  You will be able to hit targets with a basic scope at 250 plus yards all day with a cold drink in your hand. I prefer the Bushmaster vs Delton or any other brand.
Check out the Bushmaster at Cabelas
Bushmaster C15 is As Good as Any Other black rifle.
Questions from our readers
Question: How do you rate the DPMS Panther vs the Bushmaster Carbon 15?
Answer: I personally own the Bushmaster with a Bushnell red dot scope
but have heard good reviews on the DPMS. Shoot both at the range and you decide.
Question: Best upgrades for your AR-15?
Answer: Check out these tips on the best upgrades for the AR15.
Question: Where can I find a good AR 15 rifle comparisons like the DPMS Oracle vs Ruger 556?
Answer: Check out the video below comparing the two weapons.
Question: How do you compare the dpms m4 oracle vs bushmaster carbon m4? Or even the psa vs bushmaster patrolman?
Answer: We like PSA Palmetto State Armory ARs as they are a good value dollar for dollar. Check out the reviews and videos above.
Video – Bushmaster AR-15 Review

Question: How good are the Red Jacket brand 30 rd AR-15 magazines?
Answer: We have heard OK reviews on the Red Jacket magazines. Military Surplus US GI mags will probably be a better bet. You can grab them most places new for about $10.
Question: What about Core 15 vs other brands?
Answer: The Core 15 rifles and accessories are getting a lot of great buzz as a sweet rifle. We are definitely checking out more of their line.
Question: What about the Windham MPC vs Bushmaster?
Answer: Check out the video below for more good info.
Question: Who makes Cabelas SRC?
Answer: Windham makes this weapon.
Question: Where can I get Armalite eagle 15 ORC aftermarket parts?
Answer: Check out the largest selection of after market parts and accessories here.
Question: How can I find out more info on the NRA?
Answer: Check out the website here.
ABOUT THE AUTHOR

Alex Castiglione lives in Atlanta, and is an avid outdoorsman and competitive shooter.
His where-abouts include getting after it in his garage gym, practicing martial arts, hitting the trails, or running CrossFit and Strongman competitions for his non-profit, Barbells for Bullies, which holds fundraiser fitness competitions dedicated to aiding Bully breed rescues, dog rescues, or other non-profits with similar missions.
RELATED ARTICLES