Interview with BUDS Dropout Charlie Golf
Check out this interview with BUDS dropout Charlie Golf (named protected) as he explains what to expect and what went wrong as he failed out of Navy SEAL training.
SGPT: Tell us about yourself:
CG: I am 26 years old and live in a small town with just farms and coal mines. I got out of there right after high school . First one in family to finish college and wanted more. I played sports all through high school, football, basketball, and track .
I played college basketball for 4 years.
I had always wanted to serve, from where I am from there is a lot of pride and respect.
The opportunity that was given to me I wanted to pay my dues for the next generation to have that same opportunity. I learned in sports about teamwork and wanted to have that bond.
Video BUD/S Class 234 training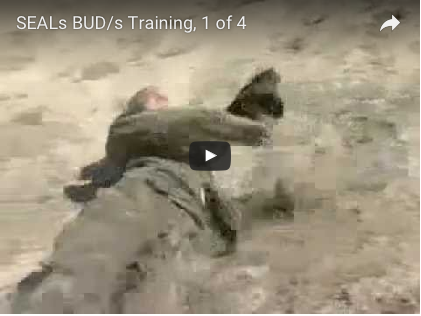 SGPT: What inspired you to try out for Navy SEALs?
CG: Navy SEALs had me from the get go , the teamwork , one goal, where working hard actually pays off . Like minded individuals
SGPT: What BUDS class did you start in?
CG:  I started in BUDS Class 316 . I had a couple of stress fractures and went through a few other classes but it ended 321.
SGPT: How did you train to get ready for BUDS?
CG: Was never crazy good at anything, I was a grinder, each evolution was tough… the easy ones and hard ones were all the same . I worked with mentor and scout, endurance was my goal, a lot of sandbag work , running variations of LSDs (long slow distance) and sprints. Still used some free weights.
SGPT: What was your PST going in?
CG: I had a 8:45 swim, 90 push-ups, 90 sit-ups , 15 pulls up and 10:10 run.
SGPT: What was a typical day like?
GG: A typical day: tough one , depends on mood of instructors, you can show up do your work and move on or it turns to a shit show real quick. Usually 4 mile beach runs before chow , then o-course , pool skills, and after lunch could vary . Log pt Tuesday and what rhymes with Friday… "boats on motherfuckin heads". It was worst greatest time I have ever experienced.
SGPT: What was the hardest part of training for you?
CG: Hardest part was waking up in morning , just a couple hours of sleep and already next day, being injured and watching my classes move forward was difficult .
SGPT: Why did you quit training?
CG: I rang out in the same day that I had already done 2 times. I was drained in all aspects and did not want to do it all again.
SGPT: If you go through training again what would you do different?
CG: I would work on preventative measures, getting injured twice for same injury during BUDS turned out to be a year instead of 6 months . Increasing leg strength and flexibility would be my only change. Everyone hits muscle failure , that's when you start grinding.
SGPT: What advice would you give to a prospective BUDS trainee?
CG: The best advice would be to stay healthy and stay positive . It's only a couple hours till breakfast or lunch they can't keep you forever.
I would condition your ankles for swimming in fins if you have not, get some slow boot runs in, it's different and we do not have sand where I am from , big surprise .
But leg endurance/strength with running and trying to stay healthy as possible . Injuries are always going to happen but try and keep them Minimal . You don't have to be a big muscle guy , they usually quit first.
SGPT: What boots and socks do they issue you at BUDS? What about BDU pants?
CG: They issue Bates lights to all of the guys and FITs socks with green BDU's.
SGPT: Can you keep any supplements in the barracks or take them during training?
CG: No supplements or creatine, large protein tubs , pre-workout , monsters , Tylenol . That is all banned. They allowed vitamin C and a 1 a day daily multi-vitamin.
SGPT: What book are you reading now?
CG: Unbroken: A World War II Story of Survival, Resilience, and Redemption
, the alchemist . Your mind can be your greatest asset or your biggest enemy .
SGPT: Thanks for the interview CG:
CG: I typed on my phone , apologies for any grammar or issues , I appreciate the opportunity and I can say that being at BUDS for a year changed my life and improved me as a person and the way I see the world and surroundings .
It didn't work out but I learned more then I can explain in words . Hope I can help that one person just a bit. Hopefully one day I can give back a slice of what I have gained . Keep up the hard work on the bike rides. Let me know if I can ever help
You can learn more about signing up for the Navy SEALs here:
Questions from SGPT Athletes
Question: How hard is Navy SEAL training?
Answer: I personally thought it was extremely difficult. I got kicked out the first time through Buds after failing a math test. I was over half way through the program and had finished Dive pool comp.
Question: How do I not get dropped at buds?
Answer:
All candidates BUDS show up in very good physical shape. Many lack the mental preparation so there is a high dropout rate starting in the second week. The intensity of daily workouts, swimming, obstacle course, etc. all begin to take the daily toll. Check out this article
Why Do Candidates Fail out of BUD/S? | SEALgrinderPT
RELATED ARTICLES:
Learn from BUDS Dropout Roger Sierra
Navy SEAL Kyle Defoor interview
Navy SEAL BUDS PST Tips