SGPT interviews GORUCK Selection candidate Scott Harlow

SGPT: Tell us about yourself?
Scott Harlow: Thank you for the interview invite.
I am a 54 yr old fitness coach/Actor, residing in Victoria and Vancouver B.C.
I love west coast life and the opportunity it affords to train outdoors year round.
SGPT: Did you have an athletic background growing up?
SH: I played hockey, football, and baseball.
SGPT: How did you train for the GORUCK Selection event?
SH: Coach Brad (SEALgrinderPT) programmed my training for about 8 months. I really appreciated his ability to design workouts that helped strengthen my weaknesses. He far exceeded my expectations as a coach. In addition to his program I added hot yoga, CrossFit 2-3 times a week, and 20-30 miles of rucking with a 50-65lb ruck.
SGPT: Tell us a little about the event? Where was it?
SH: Selection 021 was held in Jacksonville Florida. There were 59 of us that showed up out of 200 registrants. Huge congrats to Alex Kaliniak, Mark Jones, and Patrick Mies II, the 3 warriors that finished and to everyone who participated. Selection was much harder than anticipated.
SGPT: What was hardest part of the event for you?
SH: The hardest part of the event was about 14 hours in. I had just completed 15 miles of what I thought was a 12 mile ruck. (The cadre were full of surprises) I stopped to fill my bladder and made a split second decision to withdraw due to chafing in my groin. It was a mental weakness moment that I regret and will correct next time. No excuses. I will wear compression shorts next time and solidify my "WHY". If the why is strong enough the physical discomfort becomes irrelevant. Physically I had a lot left in the tank at that point but Selection is mostly mental.
SGPT: What is one thing you wish you would have done to get ready for Selection?
SH: I would have run and rucked long distances more often.
SGPT: Any tips for up and coming athletes that want to do Selection?
SH: Know your WHY! Train your butt off. Then train some more. Be able to exceed the standards. Do yoga. I saw many candidates suffer during ruck PT. If your mobility is poor the overhead movements and squats will be torturous. Embrace the suck. I loved every minute of Selection and can't wait to go back. Find the humour in what the cadre say. They say the funniest sh*t.
SGPT: What kind of boots did you use for the event?
SH: The Nike SF jungle boots. I used them for 2 Kokoro camps and Selection. Awesome boots!
SGPT: Did you use double socks/compression socks or body glide on your feet to prevent blisters?
SH: Double socks, no body glide.
SGPT: What kind of ruck did you use for training and the event?
SH: The pack I used was the GORUCK GR2
SGPT: What book are you reading now?
SH: "The untethered soul" by Michael A. Singer and
"Atomic Habits"by James Clear
SGPT: Thanks for the interview
SH: Thank you for the coaching, phone calls, and texts. You went far above and beyond to help me. I'm very grateful to you.
Questions from our SGPT athletes.
Question: Coach; I want to train for a GORUCK light that is coming up in the spring.  I am not in shape so how do I get started?
Answer: Good question. I would start by walking in your neighborhood and then slowly add a 10 lb weight vest. Check out this SGPT article: GORUCK Training Tips
Are you interested in training for the SEALFIT 20X event?
Do you have a big event on the horizon and you want to finish the drill?
Get individual coaching from SGPT Coach Brad McLeod (SEALFIT certified coach). Check out coaching here:
About the Author: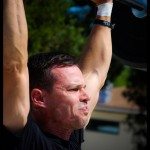 Brad McLeod knows first hand about mental toughness after being kicked out of a top tier Spec Ops training unit. He failed out of BUD/S the first time after failing a math test (made it through Hell Week and Dive Pool Comp). He came back a year later and graduated and served as an operator on the Navy SEAL Teams with a total of 6 years of military service.
Today, he helps Veterans and athletes achieve their goals. What is your goal? Lets work together to accomplish it.
Check out SEALgrinderPT Coaching to help you step up and take hold of your dreams and realize your goals. Contact brad@sealgrinderpt.com
RELATED ARTICLES:
SGPT interviews GORUCK Selection finisher Mark Klemm