SGPT Podcast #3: Interview With Barbell Shrugged Founder Mike Bledsoe

In this awesome interview, Brad McLeod, owner and founder of SEALgrinderPT.com and Danielle Gordon, SGPT coach and owner of Danielle Gordon: Mind/Body Mentor, interview fitness expert Mike Bledsoe of Barbell Shrugged.
Topics range from basic fitness and nutrition, health, wealth—to Bledsoe's personal journey and discoveries he's made about himself over the years, and how he continues to deepen those experiences while uncovering new ones.
Mike Bledsoe is a constant seeker of truth and perpetual student, spotlights premier thought leaders in the fields of emotional and intellectual expansion, behavior change, sexuality and alternative medicine. His focus is to provide his listeners with information and tools that not only empower them, but give inspiration to transform their mind, body, and spirit.
He has hosted the Barbell Shrugged podcast for more than 6 years, and, due to its popularity, it has grown into the Shrugged Collective podcast. Additionally, he has his own podcast, The Bledsoe Show, where he explores and shares his own personal growth and spiritual experiences.
Follow Mike on social media: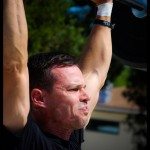 Brad McLeod knows first hand about mental toughness. After passing Hell Week and Dive Pool Comp at BUD/S, he failed a math test and was kicked out of training. A year later, he returned, graduated, and served as an operator on the Navy SEAL Teams.
Today, he is one of the most sought after mental conditioning coaches in the world. SEALgrinderPT audios and ebooks have been downloaded in 20 different countries around the globe. Check out SEALgrinderPT Coaching to help you step up and take hold of your dreams and realize your goals.
Danielle Faith is an online nutrition and fitness coach. Her passion lies in helping her clients develop new, healthy, easily-kept habits that create greater mental and physical well-being. Danielle's clientele includes professional athletes, CEOs who travel frequently and stay-at-home parents.
She also works with active duty and veteran military personnel who have adrenal fatigue and PTSD. Learn more about her programs and coaching at her website, Danielle Faith: Mind/ Body Mentor.

RELATED ARTICLES:
SGPT Interviews Former Navy SEAL Charles Moser
SGPT Interviews Navy SEAL Lance Cummings
SGPT Podcast #1: Garett Machine