How many times have you said "It's on the tip of my tongue but I can't quite remember"?
Or "I am terrible with names but I always remember a face?"
Or you just lost your focus for a moment and ending up losing a chess match or important baseball game.
Or you are wanting to be able to sink the winning free throw and drone out all of the crowd noise around you.
Check out these tips to help increase your mental focus and improve whatever in life your working on right now.
Tip #1

Reading
One of the easiest methods to build mental focus is in reading daily. Put away the cell phone and turn off the TV and read 5 minutes a day. When you are reading and involved in the book you are focused. For some of us this may be the only time of the day when we are not bombarded with cell phone chatter, traffic jams and the rush of daily urban living.
Check out the SGPT Recommended Book List Here

Mental Focus is the Key to Winning and a Long Productive Life
Tip #2
Eating well
Research shows that Omega 3 found in fish oil can decrease cholesterol, improve your sleep and increase your IQ (allow brain to learn 6x faster). Blueberries may be the single most powerful brain-preserving food in the world. Research has shown that blueberries also help to clean the brain's mental pathways.
Tip #3
Crosswords and Sudoko
Don't roll your eyes… research has shown that mental workouts (Crossword puzzles, sudoko) are better than vitamins and physical exercise to improve your memory and mental focus
Tip #4
Find the flow
Kayaking, surfing, yoga, jiu-jitsu, diving, all allow your mind to be in the moment and not thinking about your cell phone. These activities obviously keep you active physically which in turn stimulate the mind.
Video – Simple Meditation For Mental Clarity Focus and Concentration

Learn How a Navy SEAL Focused on Goals to Make it Through BUDS Twice
Tip #5
Chunking
The Magic Seven Theory refers to our short-term memory can only hold roughly seven pieces of information. If there is more than seven bits of information, our conscious minds have to chunk it back to seven pieces.
You can use this in your daily life by taking complex task with more than seven bits and breaking them into more manageable pieces. This will also lower your anxiety and stress levels and help you to achieve the task quicker and more efficiently.
Tip #6
Observe
It is almost impossible to completely stop your brain from thinking. But you can slow down your overly active brain processes by withdrawing from your thoughts and become an outside observer. This process is used in yoga to calm the mind and focus on the breathing. This method of self awareness (with deep breathing) will increase your mental focus and clarity in many other aspects of your life.
Tip #7
Stop Multi-Tasking
In today's modern society we are all guilty of multi-tasking (performing multiple things seemingly at once). But according to researchers, multi-tasking does not really exist.
Neuroscientist point out that the portion of the brain called "Broadman's Area 10" can only perform one process at a time. So when you think you are multi-tasking, you are actually shifing gears multiple times between these task with a 0.7 second lag time. This lag time not only makes you less efficient than if you were to perform only one task with no mental pauses (think texting and driving).
Tip #8
Relax
Think of your mind as a blank canvas or flat open ocean. Thoughts will filter through your head but let them go easily. Your brain will slow as you relax with less pressure. A mind that is constantly thinking and trying to analyze multiple thoughts will never be able to focus effectively on one. Slow down the mind and focus better on the one.
"My thoughts before a big race are usually pretty simple. I tell myself: Get out of the blocks, run your race, stay relaxed. If you run your race, you'll win… channel your energy. Focus."
– Carl Lewis (Track and Field Gold Medalist)
Tip #9
Breathe
Sit in a comfortable chair or lay on the floor. Breathe in deep through the nose and breathe out slowly through the mouth. Purse your lips and blow a small circle like your trying to balance a feather above you. This will reduce the many thoughts in your mind and help you to only focus on your breath. This is a very powerful method and is a form of Chi-Gong, an ancient Chinese method of relaxation and mind control.
Video — Chi-Gong

Learn What a Navy SEAL has to say about Mental Toughness and Focus
Tip #10
Be Open
You mind needs to be constantly seeking out new challenges to improve. If you only do the same thing day after day, week after week, you mind will become weaker. Try a new sport like Jiu-Jitsu or kick boxing. Learn a new skill like computer programming or sewing. Flex your mind like you would the bicep and grow 1% daily. This will improve your minds ability to focus and be sharp like the knife and ready to be used at a moments notice.
About the Author: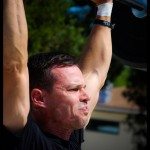 Brad McLeod knows first hand about mental toughness after being kicked out of a top tier Spec Ops training unit. He failed out of BUD/S the first time after failing a math test (made it through Hell Week and Dive Pool Comp). He came back a year later and graduated and served as an operator on the Navy SEAL Teams.
Today he is one of the most sought after mental conditioning coaches in the world today having recently returned from Ireland, Southern California, Pennsylvania and parts unknown in north Florida. SEALgrinderPT audios and Ebooks have been downloaded in 20 different countries around the globe. Contact Brad [email protected]
Check out SEALgrinderPT Coaching to help you step up and take hold of your dreams and realize your goals.
Related Articles:
Unbeatable Mind Academy Review
10 Tips to Breaking through Plateaus
Check out this SGPT Ruck March workout
Log PT workout tips for Special Forces Athletes
Tips to Breaking through Mental Barriers
The Power of the Mind