Get Comfortable Being Uncomfortable
Just got back from the 20X Challenge at CrossFit Honor in Allentown, PA.
This event was inspiring as we saw many breakthroughs as athletes stepped up to the plate and pushed themselves to the next level.
These athletes faced adversity, stared down fear, and walked through the wall of fire.
They worked hard to get Comfortable being Uncomfortable.
You see – Adversity builds character.
The coaches worked hard alongside them to push them and get 100% out of them. We squeezed the toothpaste tube to get out every last drop.
What will you do today to push yourself and give 100%?
Will you face down adversity and walk through the wall of fire?
Do you want to step to the next level and become Your best self?
About the Author: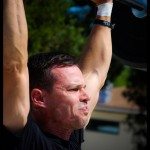 Brad McLeod knows first hand about mental toughness after being kicked out of a top tier Spec Ops training unit. He failed out of BUD/S the first time after failing a math test (made it through Hell Week and Dive Pool Comp). He came back a year later and graduated and served as an operator on the Navy SEAL Teams.
Today he helps Veterans and athletes achieve their goals. What's your goal? Let's work on it together.
Contact Brad brad@sealgrinderpt.com
RELATED ARTICLES:
10 Tips to Breaking through Plateaus
Tips to Breaking through Mental Barriers
The Power of the Mind