You have seen it in todays society.
All of the kids get a medal for attending or playing sports.
We are tracking away from teaching a winning mentality.
We applaud mediocrity as we don't want to offend anyone.
In BUDS and on the Navy SEAL teams – It always pay to be a winner.
Check out SGPT "Stronger People are Harder to Kill" T-shirts HERE
This mentality is drilled into our heads day in and day out.
Winners reap the reward. Second place is punished. There is no escaping it.
If you do come back out into the civilian world all you want to do is crush and dominate.
Second place sucks. Lets be real for a minute. You only want to be in first place.
Don't let society trick you into thinking it is ok to just be average.
Average sucks. Start your revolt and step up to make your mark.
Don't let others tell you no or make you sacrifice your individuality and what you stand for.
Your either living or dying – there is no other way.
SGPT Homework:
Examine your life and find one thing that you have accepted second place. Like a snake who is shedding its skin – force yourself to come to terms with this and get rid of the old. Renew yourself to become a winner and only accept first place. Do this now. Right down your new direction and goal and take the first step forward.
Question: Where can I learn more about learning the winning philosophies from BUDS training?
We like this book Breaking BUD/S: How Regular Guys Can Become Navy SEALs
.
It gives an accurate depiction of what happens in training and how elite frogmen are forged.
About the Author: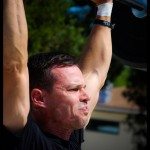 Brad McLeod knows first hand about mental toughness after being kicked out of a top tier Spec Ops training unit. He failed out of BUD/S the first time after failing a math test (made it through Hell Week and Dive Pool Comp). He came back a year later and graduated and served as an operator on the Navy SEAL Teams.
Today he is one of the most sought after mental conditioning coaches in the world today having recently returned from Ireland, Southern California, Pennsylvania and parts unknown in north Florida. SEALgrinderPT audios and Ebooks have been downloaded in 20 different countries around the globe. Contact Brad brad@sealgrinderpt.com
Check out SEALgrinderPT Coaching to help you step up and take hold of your dreams and realize your goals.
Related Articles:
Unbeatable Mind Academy Review
10 Tips to Breaking through Plateaus
Check out this SGPT Ruck March workout
Log PT workout tips for Special Forces Athletes
Tips to Breaking through Mental Barriers
The Power of the Mind
It Pays to be a Winner