Tips to Improve Your Mile Run Time
Tips to Improve Your Mile Run Time:
We get this question every week: "Coach, how do I improve my mile run time?"
You may be trying to get better for the next local 5k run. Or you might be considering the Special Forces.
We got you.
The following are some of the tried and tested ways we and our trainees were able to improve their mile time, running intervals, and proper running form among many others.
But take note that these tips will help you if you apply each one with discipline.
So, keep on reading and enjoy these bits of advice with input from SGPT Coach Jeff Grant.
TIP #1: GO OUT AND RUN A MILE ON A FLAT TRACK AND RECORD YOUR TIME

This is your mile baseline time.
If you don't have a flat track, then run on the street without hills.
You can time yourself in the old school way with a stopwatch or a buddy, but an easier way would be to use the timer on your phone, or, if you have one, on your GPS/FitBit/Apple Watch.
Record this time (and location) in your training log. Check out this SGPT  article on how to improve your fitness with a training log.
Question: Can I improve my run time in one week?
Answer: It depends on several factors, but it is doable for many people when the goal is a top priority.
Increase your cadence and focus on pulling your feet off the ground instead of pushing off.
If you've got extra weight to spare, lean out with clean eating and extra cardio. Get a new pair of shoes that are lighter.
Dial in your mental game by choosing a mind hack, training with it, and relying on it when you test yourself at the end of the week aside from your strength training.
TIP #2: SET YOUR TIME GOAL AND LINK IT TO A BROADER GOAL

Is your goal linked to military assessment aspirations?
A desire to run a faster 5K?
A fitness transformation?
The specific number of minutes and seconds you set for your goal mile pace has a lot more power if you connect it to a larger goal.
And that power is what you'll tap into to train at the intensity you need to run a faster mile.
Once you've linked your goal…
..write down your desired time and put it where you can see it often.
Whether it's to break 10 minutes or to break 5 minutes, or somewhere in between, commit to the number, believe in it, and then earn it with your training.
TIP #3: COMMIT TO A TRAINING PLAN
Also, make sure it includes appropriate rest and recovery—these are just as important to reaching your goals as the actual training.
Run at least twice a week, but not so much that your legs never have time to recover.
Fresh legs can help you run faster and with more intensity, which translates to lower times.
Make sure your training plan has a purpose and that purpose fits your goal.
Random ad-hoc runs won't build speed, neither will following a high volume plan for marathon runners.
Train smart and train for the task.
TIP #4: IMPROVE YOUR TECHNIQUE

Learn how to land on the ball of your foot, how to pull for efficiency, and how to increase your cadence. Running with poor technique is like driving a car with the brakes on and the clutch half-engaged.
A poor running technique can lead to overexertion/wasted energy, and can even lead to injury.
Remember…
…you want to focus on running as efficiently and correctly as possible, otherwise, you'll be spending your precious time nursing yourself back to health and basically having to start over as you'll be back to slower run times.
For more info on technique, check out the Pose Method and Run Faster.
Question: What 5 different factors can contribute to decreasing in a mile run time?
Answer: New running shoes, losing a few pounds, being properly hydrated, being warmed up, running technique (Pose Method) and mindset.
TIP #5: INVEST TIME IN TRAINING YOUR MIND

Regularly visualize yourself reaching your goal.
You will become what you see in your mind, what you think, and what you believe.
Mental preparation is the key.
Use mind hacks to help you endure the pain of intensity. Mental Training is so critical that we include it directly in our 8 Week Run Faster program.
TIP #6: GET A RUNNING BUDDY TO CHALLENGE AND PUSH YOU

A workout partner helps push the pace, intensity will boost your workouts, your performance and make it fun.
Consider using an app such as Strava that provides extra motivation by helping you compete with yourself and others over specific segments of your runs.
Tip #7: GET PLENTY OF SLEEP TO REST YOUR BODY AND MIND

Treat your rest day like how you do your workout day and allow your body to recover.
Check out this article on sleep and rest for athletes.
Also, stretch on your off days.
A good session of yoga will also help to lengthen the muscles, increase restorative blood flow and relax your mind.
Tip #8: FACTOR IN FUNCTIONAL TRAINING WORKOUTS

These will build your cardio, improve your mile time, general strength, and core strength.
Try rowing, box jumps, air squats, jumping air squats and workouts on Air Dyne-style bikes (stationary bikes with moving handles you can push and pull for deeper conditioning) to supplement your running workouts.
A simple box, which you can build yourself or buy and screw together will help you build strength via body weight or weighted box step-ups and power via box jumps.
Power is particularly important to your ability to run a faster mile.
Question: I get cramps if I run long distances in the warmer months. Do you have anything to help with that?
Answer: Check out Nuun Electrolyte Tablets. You can add these to your water bottle and it will definitely help you alleviate cramps. One of the guys at our gym just ran a long endurance race and swears by Nuun tablets.
TIP #9: REGULARLY INCLUDE HIIT WORKOUTS

HIIT (High Intensity Interval Training) sessions—such as Tabata sprints–-will bolster your conditioning and improve your speed.
From 50 meter sprints to 800-meter intervals, these distances can be brutally challenging at full intensity, but are worth the blood, sweat, and tears in their ability to transform your speed.
Hill running workouts will also improve strength and power, which translates to speed. For a really good resource on how to use hills to your best advantage, check out Hill Running: Survive and Thrive, also by Jeff Grant.
Here's an example of one of our High-Intensity Running workouts that integrates mind training and technique.
Complete the technique drill first as a part of your warm-up.
Then, Run #1 and 2, incorporating the Mind Hack. "Other People" means racing others, supporting others, and honoring others in your mind.
Run #1
Intervals: 800 yards / meters x 3
Rest 2min in between the 800s
After the 3rd interval, rest 3min
Run #2
400 yards / meters x 3
Rest 1min in between the 400s
Mind Hack
Other People—Mind Hack #2: Use each level per 800 and each per 400. Note how your body responds to each. If you don't have anyone to compete against or cheer, just visualize a good friend or fellow competitor.
Technique Drill
Cadence: Run 1min at 180BPM, 1min at 200BPM, 1min at 190BPM, 1min at 180BPM.
TIP #10: GO PICK OUT A NEW PAIR OF KICKS

New shoes translate to lower times. Mentally, you feel excited with new shoes and, physically, you need shoes that provide just enough support for the surface you are running on, but no extra cushioning, motion control, or gimmicks.
It's a different story…
…if you are required to run in boots, in which case you need to train in them.
If you are transitioning from heavily cushioned running shoes (with a heel-toe differential or "drop" of more than 6mm), take your time transitioning down to shoes that are between zero drops and 4mm drop.
TIP #11: KEEP A TRAINING LOG

Keep a training log for running.
Take note of the type of workout (long slow endurance, sprints, etc), terrain (track, street, trail, etc.), and conditions (heat, wind, snow, etc.).
It's also good to note how you felt during the run, mentally and physically, to pay attention to any negative thoughts getting in your way (as mentioned in Tip #5).
TIP #12: BE PATIENT WITH YOURSELF
You will have good days and bad days.
For your body to adapt to speed, it must be pushed out of your comfort zone and still given time to bounce back.
Make sure you have sufficient taper time after your last high-intensity workouts before any race or running speed assessment.
TIP #13: KEEP YOUR TRAINING WELL-ROUNDED 
Take this:
More miles do not make you faster.
Intensity makes you faster. Technique makes you faster. Consistency makes you faster.
Mind training makes you faster. Recovery and rest days make you faster.
Good nutrition makes you faster.
Invest in those areas and don't ramp up your volume too quickly or rely on volume alone to change your mile time.
Trying to take shortcuts…
…especially with recovery and nutrition—can actually make it harder to reach your goals (and add more time.)
Question: What is a good training book I can read to help me improve my running further?
Answer: Running is like any other sport in that you want to train with discipline and a few good tips can set you on the path towards success. Once you've improved your technique and committed to training consistently, your gains will come from training and improving your mind game. For that, we like the book Flow State Runner.
Tip #14: SIGN UP AND ENTER A RACE

Running in a competition is a great way to boost your training as you will have a goal and will also run harder in the pack against your rivals.  There is nothing like competition to help you get better. There is a good chance you may meet other runners after the race that may can become training partners.
Tip #15: TRAIN FOR THE WORST CONDITIONS YOU MIGHT ENCOUNTER

Rain, cold, dark, early in the day, late in the day—the more you train in similar conditions, the easier it will be for you to complete the race.
If you've trained under a specific condition…
…you'll know how to adapt and react.
This is the key especially during a race as weather may be predicted as good, but the day of the race, it may start raining or be colder.
Part of mental preparation/mind hacking is physical preparation within a variety of conditions.
The more you replicate them, the less apt you are to start thinking negatively.
TIP #16: ADAPT YOUR TRAINING TO YOUR AVAILABLE TOOLS
When you're traveling and don't have a good place to run, or simply want to cross-train cardio while still supporting your mile time goals, we recommend a HIIT session of Tabata Intervals on the rower, bike, or other fitness machines.
Tabata is 8 rounds of 20-second full intensity intervals with 10-second rest breaks after each interval.
Warm up and cool down well (5-10min each) and work at FULL INTENSITY for each 20-second interval.
Questions from our SGPT athletes.
Question: Coach, do you have a good running workout that is interesting and will work my running muscles in a different way?
Answer: Try this workout.
Griff
Run 200 meters forward
Run 200 meters backward
Run 200 meters forward
Run 200 meters backward
Run 200 meters forward
Run 200 meters backward
Note time in comments
Question: Do you have any more tips to help me with my running as I prepare for U.S. Army Special Forces?
Answer: Check out this SGPT article: 5 Biggest Mistakes Special Forces candidates make in running assessments.
Question: What is a good running shoe that is affordable?
Answer: You can't go wrong with the Asics Gel Venture 8
This is a good all-around running shoe and a good value for the dollar.
If you are looking for more of a minimalist shoe check out the brand Inov-8. I like the Inov-8 F-Lite 235 series.
Conclusion: Tips to Improve Your Mile Run Time
As you might have already known (I hope), more miles do not make you faster. It's the technique and consistency that do.
At first glance…
…improving your mile training and workout may look like a test on your physical abilities.
But the truth is, a big part of it is all in the mind.
A negative mind won't take you anywhere. It's what will propel your body to go all out and even endure in the direst of situations.
The same goes for proper recovery of your body.
So in training for your race pace, don't ever forget to include mental training and recovery, as well.
As they say, a sound mind and body know no limit.
ABOUT THE AUTHORS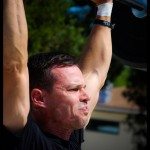 Brad McLeod knows first hand about mental toughness. After passing Hell Week and Dive Pool Comp at BUD/S, he failed a math test and was kicked out of training. A year later, he returned, graduated, and served as an operator on the Navy SEAL Teams.
Today, he is one of the most sought after mental conditioning coaches in the world. SEALgrinderPT audios and ebooks have been downloaded in 20 different countries around the globe. Check out SEALgrinderPT Coaching to help you step up and take hold of your dreams and realize your goals.
Jeff Grant's passion is in coaching–in helping people unlock their potential and break through cycles of stress, overload, and inaction. Jeff is a specialist mind training and running coach and currently lives in Switzerland. He is constantly finding new ways to challenge himself—such as completing an event to honor D-Day and raise funds for the Navy SEAL Museum, where participants swam to France from 10KM offshore and rucked 25 miles inland.
You can find out more about Jeff at his website Hillseeker.
RELATED ARTICLES