We get this question every week "Coach, how do I improve my mile run time?".
You may be trying to get better for the next local 5k run or trying out for Special Forces.
These tips will help you if you apply each one with discipline.
Tips to Improve Your Mile Run Time #1
Go out and run a mile on a flat track and record your time. This is your mile baseline time. If you don't have a flat track then run on the street without hills. Need a great way to record your time? We suggest the Timex Ironman Triathlon Watch. 
Tips to Improve Your Mile Run Time #2
Set your goal. Are you trying out for military Special Forces or competing in a local 5k run? Write down your goal and set a time to complete and of course – lower your time.

Check out Inov-8 Bare-XF 210 Running Shoes @ Amazon.com
Tips to Improve Your Mile Run Time #3
Lay out your week with a schedule and run with appropriate rest. Create a habit of running every week but allowing for down time to recharge your body. Fresh legs can help you run faster and with more intensity – which translates to lower times.
Tip #4
Go pick out a new pair of kicks. New shoes translate to lower times. Mentally you feel excited with new shoes and physically you can feel the extra spring in your step.
Question: What is a good training book I can read to help me improve my running further?
We like the book 80/20 Running: Run Stronger and Race Faster By Training Slower
.
Running is like any sport in that you want to train with discipline and a few good tips can set you on the path towards success.

Check out the Nike Free Run+ 2 Running Shoes @ Amazon.com
Tip #5
Stretch on your off days. A good session of yoga will also help to lengthen the muscles, increase restorative blood flow and relax your mind.
Tips to Improve Your Mile Run Time – #6
Get a running buddy to challenge you – push you.  A workout partner helps push the pace. Intensity will boost your workouts, your performance and make it fun.
Question: What is a good running shoe to get started with training?
You can't go wrong with the Nike Free 5.0 running shoe
.
This is a good all around running shoe and a good value for the dollar.

Check out the Inov-8 F-Lite 235 Functional Fitness Shoe @ Amazon.com
Tip #7
Get plenty of sleep to rest your body and mind. Treat your rest day like a workout day and allow your body to recover.Check out this article on sleep and rest for athletes
Tip #8
Use CrossFit workouts to build your cardio, legs and core. Try rowing, box jumps, air squats, jumping air squats and Air Dyne bike workouts to supplement your running workouts.
Tips to Improve Your Mile Run Time #9
Improve your speed with sprint training. Spend an hour at the track and establish your 50 meter, 100, 200, and 400 meter sprint times. Use sprint workouts once a week to build power and speed.
Question: I get cramps if I run long distance in the warmer months. Do you have anything to help with that?
Check out Nuun Electrolyte Tablets
. You can add these to your water bottle and it will definitely help you alleviate cramps.
One of the guys at our gym does endurance running and swears by Nuun tablets.

Check out the CFF 3 – N – 1 Wood Plyo Box @ Amazon.com
Tip #10
One of the most important things you can do is mentally envision yourself reaching your goal. You will become what you think. See yourself on that APFT test reaching your run time goal. Mental preparation is key to success.

Check out more info on the Schwinn Air Dyne Exercise Bike
Tips to Improve Your Mile Run Time #11
Keep a training log for running. Note type of workout (long slow endurance, sprints, etc) terrain (track, street, trail, etc.) and conditions (heat, wind, snow, etc.).
Check out this article on how to set up a Training log and keep it updated
Tip #12
Be patient with yourself. You will have good days and bad days. Improving your mile run time does not happen overnight. Run with intensity, add in CrossFit, get good rest and the lower times will follow.
How To Run Faster

Check out the CrossFit Garage Gym gear to help you improve your Running
Tips to Improve Your Mile Run Time #13
More miles does not make you faster. Depending on your past conditioning – do not try to run too much per week too quickly. Pace yourself and make small increases each week. Too much running too quickly can lead to shin splints.
How to build endurance for running

Concept2 Model E Indoor Rowing Machine
Tip #14
Sign up and enter a race.  Running in a competition is a great way to boost your training as you will have a goal and will also run harder in the pack against your rivals.  There is nothing like competition to help you get better.
How to build stamina for running

Tip #15
Pose running. Work on improving your form by studying and performing the Pose method. Land on the ball of your foot – not your heel and you will improve your efficiency.
Questions from the athletes at our gym.
Question: How do I improve my 2 mile run time? Are there different workouts? Try the workouts above for the 1 mile and then run the 2 mile and you will more than likely see a drop in your time.
Question: What are supplements to decrease your 1.5 mile time? We only recommend a few supplements such as fish oil
and whey protein powder would be a good choice as it helps speed up recovery time.
Question: Can a new pair of shoes reduce my time on the mile run? Yes; especially if your using a lighter shoe and running on a track.
Question: Can I improve my run time in one week? Depends. You could lose 5 lbs in 7 days if you eat really clean and do cardio workouts burning calories. Get a new pair of shoes that are lighter. If you ran on the street for your mile run and then ran on the track. There are many factors but you could best your mile run time in one week.
Question: what 5 different factors can contribute to increase in a mile run time? New running shoes, losing a few pounds, properly hydrated, being warmed up, running technique (pose running) and mindset.
Question: Hey there I'm aron I'm drafting to the Israeli army in march and I have some tryouts for special forces coming up and it's gonna be a lot of sprinting and I want to work on my explosiveness and acceleration do you have any good workout for that thanks in advance.
Answer: Aron; print out this page and do all of the workouts. Watch all of the videos. Within one month you will see a big difference in your sprints and acceleration.
Question: Coach McLeod;
I have really been enjoying cycling (both mountain bike and road) as a good different way to work on endurance. How would you correlate to distance running? I was thinking about inc cycling to try to help with wear on knees, but was not sure how to convert distances from 1 to the other or if this was possible.
Hope you have a great day!
Andrew
Answer: Good question Andrew. You usually hear that four miles of cycling equals one mile of running. But that is not too exact as you have to account for wind resistance as you go faster on the bike. You also get to coast on a bike on flat land or downhill.
About the Author: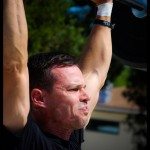 Brad McLeod knows first hand about mental toughness after being kicked out of a top tier Spec Ops training unit. He failed out of BUD/S the first time after failing a math test (made it through Hell Week and Dive Pool Comp). He came back a year later and graduated and served as an operator on the Navy SEAL Teams.
Today he is one of the most sought after mental conditioning coaches in the world today having recently returned from Ireland, Southern California, Pennsylvania and parts unknown in north Florida. SEALgrinderPT audios and Ebooks have been downloaded in 20 different countries around the globe.
Check out SEALgrinderPT Coaching to help you step up and take hold of your dreams and realize your goals.
Related Articles:
Top 10 CrossFit Equipment for a Garage Gym
Check out this article on 5k Running Tips
Check out this article on Trail Running Tips
Check out this article Special Forces workout
Tips to Decrease Asthma