GoRuck Training Questions
Team SGPT:
Just wanted to come to you all today with a quick 2 minute video and answer some questions on the GoRuck Challenge we did recently. If you have any other questions please post them up in the comments below.
The first question comes from Tom in PA.
"How did you train for the GoRuck Challenge? What ruck did you wear?"
Video – GoRuck Training Questions

Sign Up for the GoRuck Event and Get 8% Off all GoRuck gear – HERE
Answer: We trained by rucking in nearby hills with a 20 to 35 lb ruck. Occasionally we would go heavier. We tried to pick up a log or rock and carry it on the shoulder along with the ruck. This is important as you will do this in GoRuck.
Answer: I used an old ALICE Pack
. If I did it again and used that pack I would add a frame. Currently I have a GoRuck GR0 (thanks Mark Sperry) for the next event.
Also I wore New Balance Tactical boots
and double socks
(thick outer and thinner inner) and used body glide. I had no blisters after the event.
Question: Is it Ok to wear a waist belt with your backpack at GoRuck Selection? We talked to GoRuck HQ and they said that it was ok to wear a waist belt and they would not give you too much grief. Hit the surf butter cup.
Question: How do I train to carry the log at GoRuck? We like to put a sand bag on our shoulders while we ruck. After about 30 minutes then we stop and do several presses overhead and "shoulder to shoulders". You can also use a log or rock on your shoulder. Carrying any of those in your arms is another good method as you will do that at GoRuck.
Question: Should I wear trail running shoes or boots for the GoRuck event? For the GoRuck light a good pair of trail running shoes
will be fine. For the GoRuck Challenge you will need boots if off road course but you can get by with trail running shoes if in the city. For GoRuck Heavy you will need good boots that are well drained. For GoRuck Selection you will want good boots but may want to switch to trail running shoes at some point to relieve your feet.
Question: Can you recommend a pair of trail running shoes for the GoRuck light? Check out the La Sportiva Wildcat Running Shoe
. They are a good pair of shoes that are under $90 and will treat you right. Dont forget to wear double socks and bodyglide.
About the Author: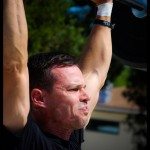 Brad McLeod knows first hand about mental toughness after being kicked out of a top tier Spec Ops training unit. He failed out of BUD/S the first time after failing a math test (made it through Hell Week and Dive Pool Comp). He came back a year later and graduated and served as an operator on the Navy SEAL Teams with a total of 6 years of military service.
Today he is one of the most sought after mental conditioning coaches in the world traveling to Ireland, Southern California, South Carolina, Pennsylvania, Canada and parts unknown in north Florida. SEALgrinderPT audios and Ebooks have been downloaded in 27 different countries around the globe. Contact Brad brad@sealgrinderpt.com
Check out SEALgrinderPT Coaching to help you step up and take hold of your dreams and realize your goals.  And check out this article for coupons on your next GoRuck purchase.
Related Articles:
GoRuck Training Tips
GoRuck interview with James Adams