Anybody that has been around firearms I'm sure has been around Glocks.
And if you've been around Glock 9mms, odds are, you've fired either their full size Glock 17, or the "compact" Glock 19.
Both are fine firearms, and as with all Glock pistols, designed by Gaston Glock.
With very few working parts which are by and large interchangeable – they are easy to maintain and even easier to use.
The Glock pistols are used by many law enforcement groups worldwide and have been recently adopted as the handgun of choice by the Navy SEAL teams.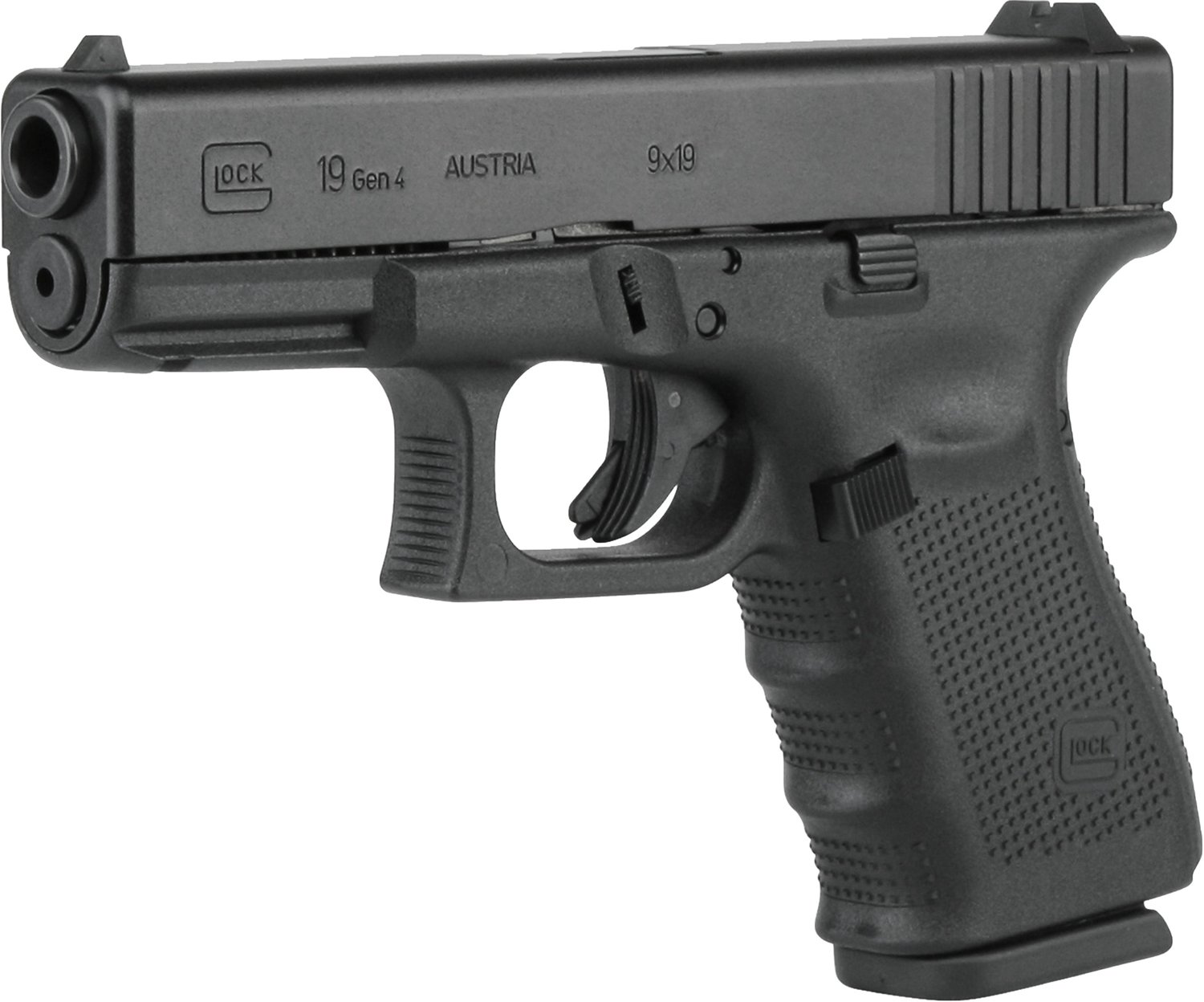 Check out the GLOCK 19 pistol and parts @ Brownells.com
Just some background between the different generations: As you can see, the grip/frame are what really show the differences from one iteration to the next.
Gen 1's were smooth, with no rails, Gen 2's added some checkering to the front and backstrap, but still left that TLR unused. Then the Gen 3 added a rail and finger grooves. The Gen 4 also comes with 3 mags by and large, while all other gens come with 1 or 2 magazines.
The Gen 3 RTF had some slight differences in the grip (this is where we saw the beginnings of the pyramidal texturing that is on all Gen 4s. And the Gen 4 was born with aggressive stippling on the grip, finger grooves, a mag release that is both bigger and easily reversible for lefties.
The Gen 4 also boasted the use of different back straps to change the heft of the grip, and modify the trigger pull even more. Earlier models came with just M and L grips, while later versions came with beavertail M and L grips.
This is a Glock 19 Gen 4. There are many like it, and this one is not mine, but it looks exactly the same.
The Glock has been around for over 25 years, and is used by the vast majority of military and police agencies in the industrialized world.
Why is that? It's pretty simple: they're easy to use, simple to clean, and eat everything you throw at it. I personally have only had 1 failure in thousands of rounds – and that was completely ammo related (don't skimp, buy the good stuff and avoid things like this).
You must have heard by now, but SEALs now will be carrying Glock 19s and phasing out Sig P226s. There are several factors to this, like the ones I mentioned, but the main tenet is size and weight. When not fully loaded with 15+1 of 9mm, the Sig P226 Mk 25 which was carried by SEALs weighed in at just over 2lbs. A Glock 19, 1.47lbs. It doesn't sound like much, but when you're hauling serious kit, every ounce counts.
A Glock 19 has a 7.3 inch overal length, with a six inch sight radius – meaning the distance between the rear sight and front sight. As with all Glocks—another feather in their cap as a manufacturer – the trigger pull is about 5.5 lbs, which breaks crisp, and with a short and audible reset. T
his allows, at least in this shooters opinion, more accuracy and faster firing. With a 4 inch barrel, this pistol is completely suited and capable of shots out to 25 yards, even farther in trained hands. Since it is a striker fired, hammerless weapon, the trigger pull is consistent and crisp. The total trigger travel is .49 inches, and the reset is about half of that.
This pistol can fill several roles. I would say if you can only afford one pistol, or only want one (I don't know why, but OK, let's pretend), the Glock 19 would be your go-to. At only 1.18 inches wide, it is capable of being concealed relatively easily, depending on your garments, holster, and body type.
However, it can fill a combat or home defense role equally well, with 15+1 in the standard capacity magazines (10+1 if you live in a police state) – plenty of ammo to get the job done. It's lightweight, easy to maintain, and only sacrifices 2 rounds to it's big brother, the Glock 17 – a full size 9mm with a 4.5 inch barrel.
That brings me to my next point – you can use a 17 rd or 33rd mag in the Glock 19, and it will feed and function fine. That's one of the great things about Glocks – you can use magazines interchangeably so long as they're the same caliber and as big, if not bigger, than the standard capacity of the weapon. IE You can insert a 17 rd magazine into a Glock 19 (which normally has a 15 rd magazine) but not the other way around.
Overall, I find the Glock 19 to be the best all around pistol on the market. You can carry it, use it for home defense, as a combat weapon, or at the range. Since it's simple and easy to use, it's a great candidate to teach people how to shoot, or for a first time gun owner (Get trained if you're going to buy a gun!).
It's highly accurate for its size: I can easily place 5 shots in a 1 inch hole at 7 yards with regular range ammo. I've seen people do similar as well.
It's compact, and feels fantastic in the hand – at least to me. I opt for a Gen 4 over a Gen 3 because of the more aggressive grip that fits my hand better (the grip frame on a Gen 4 is minutely smaller than a Gen 3), I barely need to move my thumb to manipulate the mag release. I've owned Gen 3's and always come back to Gen 4's – it's all preference. The gun also breaks down like all other Glocks, and basic maintenance you only have 4 pieces, and can put it back together in 10 seconds, literally.
Compared to other weapons in the price point – like a S&W M&P series or Springfield XDs, I still like the way a Glock feels, shoots, and handles the most of any polymer frame pistol out there. Hell, I prefer it even to some metal frame pistols.
This weapon runs like a top, you can't trip it up. Even when it's dirty or dropped in the mud, it still fires. In fact, there are plenty of torture tests with Glocks, and they always pass. Additionally, there are so many after market parts and upgrades, you could spend months looking through them all.
Throw on some night sights and this pistol is ready for anything you throw at it.
PROS:
The weapon is compact with a high capacity, easy to operate, reliable, easily maintained.
CONS:
It's a Glock, so it looks the way it does. Some people say they're ugly, other say they're beautiful in their simplicity. If I'm reaching, the stock sights could be better, but the Glock U is 100% usable.
That said, the best all around pistol on the market.
Question: What holster do Navy SEALs use with the Glock 19?
Answer: They use a variety of holsters depending on the mission (water vs urban) and it becomes personal preference at that level.
ABOUT THE AUTHOR

Alex Castiglione lives in Atlanta, and is an avid outdoorsman and competitive shooter.
Where-abouts include getting after it in his garage gym, practicing martial arts, hitting the trails, or running CrossFit and Strongman competitions for his non-profit, Barbells for Bullies, which holds fundraiser fitness competitions dedicated to aiding Bully breed rescues, dog rescues, or other non-profits with similar missions.
Question: What about the Glock 19 vs 17?
Answer: Many law enforcement groups are moving from the 17 to the 19.
Question: What about the Gen 2 vs Gen 4?
Answer: Some shooters are swearing by the Gen 3 and want to keep that weapon as their primary.
RELATED ARTICLES:

Gear Review: Crossbreed Holster – IWB Glock 26
Gear Review: Mossberg 930 Shotgun