Are You Mentally Tougher Than…
Are You Mentally Tougher than
Team SGPT:
Time for a daily dose of mental edge motivation.
You may not like Chael Sonnen. That is not the point. I think it would be hard to say that the guy is not "mentally tough"
Can you learn from Chael? Listen to what he has to say.
Question- What does your body language say when you start to fall apart?
I had this same question asked to me at the recent Kokoro Camp 29.
Turn on this Youtube video and listen to it like an audio – there are key points that you need to hear.

See How a Navy SEAL trains the mind and body in daily discipline
As Kokoro cadre – we have the luxury of staying dry and watching and creating the chaos.
We see first hand the early signs when the wheels are starting to wobble and begin to shake loose on an athlete.
This is the time where you – the athlete – needs to gain back control. Take a deep breath – assess the situation and take measures.
Dont slouch your shoulders in – have shallow breathing. Look at the ground. Grimace your face.
Instead….
Pull your shoulders back – put your chin up. Square your shoulders back and stand like a warrior. Have a small inner Kokoro smile.
These small steps will dramatically impact your mind and help you to make it through the next few minutes.
Try it. I dare you. We know that this works and it will help you survive and thrive in your next GoRuck, Kokoro, 20X, Tough mudder – you name it.
About the Author: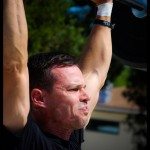 Brad McLeod knows first hand about mental toughness after being kicked out of a top tier Spec Ops training unit. He failed out of BUD/S the first time after failing a math test (made it through Hell Week and Dive Pool Comp). He came back a year later and graduated and served as an operator on the Navy SEAL Teams.
Today he is one of the most sought after mental conditioning coaches in the world today having recently returned from Ireland, Southern California, Pennsylvania and parts unknown in north Florida. SEALgrinderPT audios and Ebooks have been downloaded in 20 different countries around the globe.
Check out SEALgrinderPT Coaching to help you step up and take hold of your dreams and realize your goals.