Coming back from the recent SEALFIT Kokoro Camp and was able to reflect on the best and worst moments of the event.
Biggest take away I had was to keep it simple and go back to the basics.
Check out this quote from one of the greatest masters of all time. Bruce Lee was able to master the mind and body.
Quote: "I fear not the man who has practiced 10,000 kicks once, but I fear the man who has practiced one kick 10,000 times."
Bruce Lee
See How a Navy SEAL trains the mind and body in daily discipline
Did the same myself today. Instead of wrestling Jitz with the blue and purple belts (getting my @ss) beat – I stepped back a little and went to the fundamentals course. We went slow through the moves of the omoplata. Taking time at each step. We spent over an hour on the move. Then we sparred.
Yes; we want to train with those that are better than us. But at the same time we must build a constant source of repetition and discipline with the basics.
An example is the workout Murph. Yes; this is a very tough workout. But instead of trying to blast the whole workout with a 1 mile run 100 pull ups, 200 pushups, 300 air squats and 1 mile run with a 20 lb ruck – go out and do it slick. Try a half mile run and do Cindy (20 rounds of 5 pull ups, 10 pushups and 15 air squats and half mile run). Work on being very fluent in this style of workout before you move up to the next level of 1 mile run and adding a 10 lb vest.
Practice, Practice, Practice. Keep it simple. Go back to the basics.
——————-
About the Author: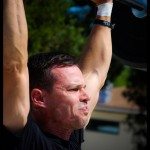 Brad McLeod knows first hand about mental toughness after being kicked out of a top tier Spec Ops training unit. He failed out of BUD/S the first time after failing a math test (made it through Hell Week and Dive Pool Comp). He came back a year later and graduated and served as an operator on the Navy SEAL Teams.
Today he is one of the most sought after mental conditioning coaches in the world today having recently returned from Ireland, Southern California, Pennsylvania and parts unknown in north Florida. SEALgrinderPT audios and Ebooks have been downloaded in 20 different countries around the globe.
Check out SEALgrinderPT Coaching to help you step up and take hold of your dreams and realize your goals.