Change Your Life with Gratitude
Many people are continually searching for happiness.
What if you found out that happiness was obtainable at all times?
When you think about what your are grateful for – you mind will turn towards happiness.
It is physiologically impossible for you to think negative thoughts (unhappiness) while your are thinking of what your thankful for.
"Cultivate the habit of being grateful for every good thing that comes to you, and to give thanks continuously. And because all things have contributed to your advancement, you should include all things in your gratitude." ― Ralph Waldo Emerson
Hear what a Navy SEAL has to say about turning a bad situation into a Positive
Ask yourself this – how often do you say "thanks" in your day to day life? Not only verbally when accepting food or a gift but when you are walking around your home (I am thankful for my safe home). Or walking around outside (I am thankful for the sunshine and nice day).
Even if it is a stormy day (I am thankful for the rain as they plants and lakes need water).
See my point?
SGPT Homework:
Make a list of the 3 things that you are grateful for. Think about each of them. If it a person that you know right them a note or call them. If it is a place (local) – try to go there and experience that place. You get the picture. Find the places and people in your life that make your happy and be near them.
About the Author: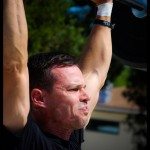 Brad McLeod knows first hand about mental toughness after being kicked out of a top tier Spec Ops training unit.
He failed out of BUD/S the first time after failing a math test (made it through Hell Week and Dive Pool Comp).
He came back a year later and graduated and served as an operator on the Navy SEAL Teams.
Contact Brad brad@sealgrinderpt.com
Check out SEALgrinderPT Coaching to help you step up and take hold of your dreams and realize your goals.
RELATED ARTICLES:
Unbeatable Mind Academy Review
10 Tips to Breaking through Plateaus
Check out this SGPT Ruck March workout
Tips to Breaking through Mental Barriers
The Power of the Mind