Do Navy SEALs Do Kipping Pull Ups?
We get asked this question about once a month so we figured we would post up some info about Navy SEALs and kipping pull ups.
Short answer NOPE!!  Full range of motion, no kipping, chin over the bar. Kipping is gymnastics not fitness. (it's cheating)
For the BUDS PST you must do dead hang pull ups.
At BUDS you must do dead hang pull ups. Always. Anything else and you will be dropped off the bar.
Once your on a SEAL Team you will see guys training pull ups in many different variations from dead hang to kipping pull ups.
Video – BUD/S Pull ups
Learn How to Improve Your Pull Ups HERE
Be careful not to overtrain with kipping pull ups as long term it puts a lot of stress on your shoulders.
It is ok to do kipping pull ups as you are activating your core and your heart rate will be much higher.
Question: What is a good book about BUDS and training?
Check out The Finishing School: Earning the Navy SEAL Trident
.
This book will give you a good idea of what is going on at BUDS and how these guys earn their trident.
Navy SEAL Grinder PT – Pull Up Ebook
Funny story – I was once accused of being a Phony Navy SEAL on YouTube because someone saw a video of me doing kipping pull ups and said they were reporting me to Don Shipley. Ok…hmmmmm….
A good workout is
Navy SEAL Pull up Pyramid (we used to do these down on the dock in Puerto Rico).
1-2-3-4-5-6-7-8-9-8-7-6-5-4-3-2-1
During the workout "Murph" you are allowed to do kipping pull ups. Check out these tips on the Murph workout.
Question: What kind of socks do the guys at BUDS wear to reduce blisters?
They wear Darn Tough Merino Wool Micro Crew Socks
which can last under that abuse.
They also add Bodyglide Anti-Chafe Balm
to their feet and toes to reduce friction.
Video – Murph workout

Check out Fat Gripz The Ultimate Arm and Grip Builder
Murph Workout
for time
1 mile run
100 pull ups
200 pushups
300 air squats
1 mile run
A SEAL realizes that he must be fluent in all styles of pull ups to be fit for his job. Think about when you are climbing the side of a ship – do you only do dead hang pull ups and not use your hips and feet?
Insider info – the pull up bar at BUDS is 2 inches in diameter. You will want to train for that fatter bar now. Use a towel for pull ups or try to find a fatter bar. We also use Fat Gripz
in our gym.
Workout #2
Pull up pyramid
1-2-3-4-5-6-7-8-9-8-7-6-5-4-3-2-1
rest as needed between sets but keep a running clock for the whole workout.
Question: Coach Brad, what do you think of CrossFit kipping pull ups?
I think kipping is ok in moderation for training. I think it is best to do a variety of pull ups and go to a climbing gym and climb the wall for functional workout
Question: I want to sign up to be a Navy SEAL, how can I read more? Check out the Navy website here:
About the Author: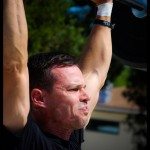 Brad McLeod knows first hand about mental toughness after being kicked out of a top tier Spec Ops training unit. He failed out of BUD/S the first time after failing a math test (made it through Hell Week and Dive Pool Comp). He came back a year later and graduated and served as an operator on the Navy SEAL Teams with a total of 6 years of military service.
Today he is one of the most sought after mental conditioning coaches in the world traveling to Ireland, Southern California, South Carolina, Pennsylvania, Canada and parts unknown in north Florida. SEALgrinderPT audios and Ebooks have been downloaded in 27 different countries around the globe. Contact Brad brad@sealgrinderpt.com
Check out SEALgrinderPT Coaching to help you step up and take hold of your dreams and realize your goals.
Question: Where can I learn more about joining the Navy and becoming a frogman?
Answer: Check out the Navy website here:
Related Articles:
Tips to Increase Grip Strength
How to Install a Pull Up bar in Your Garage Gym