Fearless: The Undaunted Courage and Ultimate Sacrifice of Navy SEAL Team SIX Operator Adam Brown
The story of a man of extremes, whose courage and determination were fueled by faith, family, and the love of a woman. It's about a man who waged a war against his own worst impulses, including drug addiction, and persevered to reach the top tier of the U.S. military.
In a deeply personal and absorbing chronicle, Fearless reveals a glimpse inside the SEAL Team SIX brotherhood, and presents an indelible portrait of a highly trained warrior whose final act of bravery led to the ultimate sacrifice.
Adam Brown was a devoted man who was an unlikely hero but a true warrior, described by all who knew him as…fearless.
Video – Fearless book review by SGPT

Find out what a Navy SEAL has to say about Setbacks and Success
"As a rule, we don't endorse books or movies or anything regarding the command where I work—and Adam Brown worked—but as the author writes in Fearless, 'you have to know the rules, so you know when to bend or break them.' This is one of those times. Read this book. Period. It succeeds where all the others have failed."
—Anonymous SEAL Team SIX Operator
Questions from our readers:
Question: Where can I find out more info about joining the Navy SEALs?
Answer: Check out the main Navy SEAL/SWCC website here:
About the Author: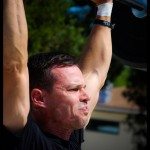 Brad McLeod knows first hand about mental toughness after being kicked out of a top tier Spec Ops training unit.
He failed out of BUD/S the first time after failing a math test (made it through Hell Week and Dive Pool Comp). He came back a year later and graduated and served as an operator on the Navy SEAL Teams.
Today he helps Veterans and athletes reach their goals and find success.
Check out SEALgrinderPT Coaching to help you step up and take hold of your dreams and realize your goals.
RELATED ARTICLES:
SEALgrinderPT recommended books
Navy SEAL Fitness Review
8 Weeks to SEALFIT Review
American Sniper Book Review
Top 10 Green Beret Books
SGPT book review Everything We Had
The Heart and the Fist