Navy SEAL Gives Functional Fitness Training Tips to Beat the Summer Heat
Check out these questions from our athletes on "How to workout during hot weather" and tips to keep your body cool.
From Daniel T: Coach, how do I beat the heat? I grew up in Northern MN and function optimally in the cold. For context I've done polar swims in the Mississippi during winter and have participated in "frozen" races. When I shovel our place I don't wear gloves or a coat until the temp hits single digits as my body heats up very quickly.
The heat and humidity knocks me out though. I'm in Rhode island now and tried doing a basic set up pushups and situps yesterday, it was 86 and very humid. I was in the shade with a wet t-shirt and I still nearly passed out. I've always struggled with heat stroke in the summer, and working out in temps above 70 tend to be very taxing. I'm taking today easy as I'm feeling a bit sick and dizzy (it's 90 and humid today so I'm staying inside). Outside of joining a climate controlled gym I'm not sure what to do.
I'm pushing a lot of water and wear cold compresses on my head. I can't afford a $400 cooling vest right now so maybe you know of some tricks? SGPT Athlete Daniel T.
Check out these tips to beat the summer heat while training for your next big event (GORUCK, Spartan Race).
Every SGPT Training Plan includes Hydration as a Standard Operating Procedure (SOP). Hydrate Early and Often! 
Want to learn more on how you can perform at optimum levels? Check out SGPT 365! 
SAFETY
First off have a healthy respect for the heat. Dehydration and potential for rhabdo are increased as the temps go up. Go slow and be aware of your body. Train with a swim buddy for safety. Excess heat can harm or even kill you. Be prepared.
HYDRATE EARLY
Drink water the evening before your event to get your body hydrated ahead of time. Do not drink tea or alcohol the night before as it will dehydrate you. Drink water.
Avoid excess coffee the morning of event and drink more water. You should piss clear the morning of the event.
HEAD COVER
Cover your head as best as you can. A boonie hat or ball cap is a good start.
Carry an old tshirt in the field with you. As temps rise put the shirt on your head to absorb sweat.
Pour some water on your head. The cotton cloth absorbs water and sweat like a sponge and will work to keep you cool.
The t-shirt will also work to keep the bugs off of your neck.
CARRY ICE
If you can then add some ice to your canteen or hydration bladder. You can also freeze plastic water bottles and wrap them with an old tshirt. The frozen bottles will slowly melt as the day goes on and you can sip cold water.
If you don't have access to ice then find cool water. If you can find a stream or pond then sit down and put your feet in the water. Take advantage of any chances that you have to cool off in the water.
FIND SHADE
If it is burning hot and the sun is out – then workout under a cover if you can. If not then identify the shade areas and make sure that you use those as needed. Cover your head. Continue workout and look for shade again.
BODY COVER
Cover up your arms if you can. Arm sleeves are a great alternative. You can pour water on the sleeves to keep you cool. A bandanna is a good cover for your neck and you can use it to filter coffee in a pinch.
ACCLIMATE
Avoid inside air conditioning. Workout outside. Set up your barbells in the driveway and run to the local park. If your race is outside then you need to train outside. Lifting weights in an air conditioned gym will do little to help you when you meet up with 95 degree heat and high humidity.
You need to work to condition your body and to acclimatize. Training slowly and methodically.  Work your way up in time and intensity as the temperature and humidity increase.
This slow acclimation process will allow you to withstand higher temps during your event.
Training in air conditioning is an accident waiting to happen.
KNOW YOUR ROUTE
If you are training in a hot environment – know where potential water stops are located at. Yes; you can carry 100 plus ounces into the field. But what do you do when you run out (or your buddy runs out of water?).
Knowing your potential water stops ahead of time will enable you to stop and catch a breather and resupply with water and cold drinks (if possible).
Is the water drinkable at that water stop? Do you need to carry a water filter? Ask yourself those questions before you leave home and head out into the field.
Check out this article: SGPT Top 10 Survival Water Filters
Questions from SGPT Athletes
QUESTION: Coach; I have a 100 mile bike race coming up in June. It will be hot on the course and I have not done a ride this long. Do you have any tips on how to finish the distance?
ANSWER: Good question. I would plan out the route and make sure there are adequate stops for water. Depending on how hot it gets you may want to take a rest during the middle of the day. Find a spot in the shade and hydrate. Later in the afternoon, load up with water and set out to finish the distance.
RELATED ARTICLES:
How a Navy SEAL stays hydrated in summer heat
About the Author: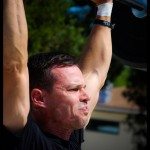 Brad McLeod knows first hand about mental toughness after being kicked out of a top tier Spec Ops training unit. He failed out of BUD/S the first time after failing a math test (made it through Hell Week and Dive Pool Comp). He came back a year later and graduated and served as an operator on the Navy SEAL Teams with a total of 6 years of military service.
Today, he helps Veterans and athletes achieve their goals. What is your goal? Lets work together to accomplish it.
Check out SEALgrinderPT Coaching to help you step up and take hold of your dreams and realize your goals.
Contact brad@sealgrinderpt.com