What Happens to You When You Get Knocked Down?
What Happens to You When You Get Knocked Down?
Just got done with an awesome SEALFIT 20X Challenge at KBX Gym in Alpharetta, Georgia (north Atlanta).
12 athletes signed up for a 12 hour event of warrior training. We worked on being "Comfortable in the Uncomfortable" and showing these warriors they could push themselves 20 times harder than they ever imagined.
Find out what a Navy SEAL has to say about getting knocked down and Rising Up!
I believe that every athlete there had their moments of self doubt and "Can I keep going and make it through this"?
One athlete in particular got wobbly during the second hour (the first hour was tough). His body failed him but his mind kept moving. After a period of time he got back up and got back with the group.
He could have sat it out and made an excuse "These guys didn't feed and pushed me too hard" or whatever. Instead he dug down deep and got up off the floor and jumped back in with the group.
For all of us that would he a defining moment in our life.
I know it was for myself more than once in my years on this planet.
What would you have done?
SGPT Homework: Write down at time in your life when you did not quit and got back up on your feet and finished the drill. How did you feel? By writing it down you commit it to memory and use it as a tool for future battles.
As always – email me brad@sealgrinderpt.com and let me know your goals that you are working on and how you can be held accountable.
About the Author: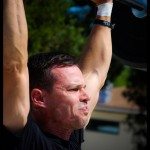 Brad McLeod knows first hand about mental toughness after being kicked out of a top tier Spec Ops training unit. He failed out of BUD/S the first time after failing a math test (made it through Hell Week and Dive Pool Comp). He came back a year later and graduated and served as an operator on the Navy SEAL Teams.
Today he is one of the most sought after mental conditioning coaches in the world today having recently returned from Ireland, Southern California, Pennsylvania and parts unknown in north Florida. SEALgrinderPT audios and Ebooks have been downloaded in 20 different countries around the globe.
Check out SEALgrinderPT Coaching to help you step up and take hold of your dreams and realize your goals.
Related Articles:
Tips to Build Will Power
Unbeatable Mind Academy Review
10 Tips to Breaking through Plateaus
Tips to Breaking through Mental Barriers
Finish the Drill
What Happens to You When You Get Knocked Down