How to Use Negatives to Improve Pull-Ups
As a CrossFit gym owner we get this question every week "Coach, how can I increase my pull ups?".
Check out this one tip using "negatives" that can help you get a boost in your pull ups and also improve your grip strength.
Post up in the comments below any questions that you may have so that we can answer them.
How to Use Negatives to Improve Pull Ups

Check out the Updated SEALGrinderPT Pull Up Ebook HERE:
Tips:
Count slow on the way down.
Note the time to lower in your log book.
Rest as needed the next day.
Pull up workout #1 with negatives
pull up pyramid
1-2-3-4-5-4-3-2-1
count slow on every down motion
Video – How to Do Negative Pull ups

Check out the J/fit Deluxe Doorway Pull-Up Bar @ Amazon.com
Pull Up Tips
Tip # 1. Don't go to failure. Go to 90% or so and drop off the bar.
Tip # 2.Lose some weight. Pull ups will be easier without a weight vest on you belly.
Tip # 3. Protect your hands. Trim down your calluses or wear gloves
like the Bar-Barians do. Not sure who the Bar-Barians are? Check out this article here.
About the Author: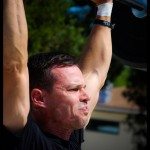 Brad McLeod knows first hand about mental toughness after being kicked out of a top tier Spec Ops training unit. He failed out of BUD/S the first time after failing a math test (made it through Hell Week and Dive Pool Comp). He came back a year later and graduated and served as an operator on the Navy SEAL Teams with a total of 6 years of military service.
Today he is one of the most sought after mental conditioning coaches in the world traveling to Ireland, Southern California, South Carolina, Pennsylvania, Canada and parts unknown in north Florida. SEALgrinderPT audios and Ebooks have been downloaded in 27 different countries around the globe. Contact Brad brad@sealgrinderpt.com
Check out SEALgrinderPT Coaching to help you step up and take hold of your dreams and realize your goals.
Related Articles:
Beginner CrossFit Pull Up Tips
How to Install a Pull Up bar in a Garage
hr />
QUESTION: Coach, what do you like to add to your workout shakes?
ANSWER: I use Athletic Greens in our shakes. It's got tons of great nutrition—vitamins and minerals. Plus it mixes up easy in milk or water.