When everything seems to bring you down and all hope is lost.
Never Give Up
There is no chance – Everyone says for you to throw in the towel.
Never Give Up
Your friends and family laugh at you – mocking your goals or failures.
Never Give Up
How you are when your down says more about you than when your up. Anyone can lie down and quit. A winner gets back up.
Find out What a Navy SEAL has to say about "Never Giving Up"
No matter the situation you find yourself in – You decide on your terms.
You pick yourself up from the wreckage and dust yourself off.
You and only You – hold the keys to your success.
Not another person. Not an institution. Not your job.
You. Only You.
Never, Never, Never Give Up – Winston Churchill
SGPT Homework: Remember the time when you did not cave in. You did not quit. Think about it vividly in your mind. Write it out on a piece of paper. Recite it in your mind. Remember how the wind was blowing. The sounds around you. Music or friends talking. A ceremony. Instill that deep in your mind. Whenever you are faced with a rough spot in the future. You will remember and fall back to this place of refuge. A place where you did not quit. A place where you persevered. You will remember that time and you will take a step forward. Lean into the new problem with a smile as you now know deep down that you are a winner. You believe in yourself and have what it takes to make it through to the other side.
As always – email me brad@sealgrinderpt.com and let me know your goals that you are working on and how you can be held accountable.
About the Author: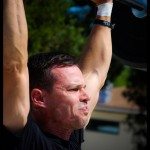 Brad McLeod knows first hand about mental toughness after being kicked out of a top tier Spec Ops training unit. He failed out of BUD/S the first time after failing a math test (made it through Hell Week and Dive Pool Comp). He came back a year later and graduated and served as an operator on the Navy SEAL Teams.
Today he is one of the most sought after mental conditioning coaches in the world today having recently returned from Ireland, Southern California, Pennsylvania and parts unknown in north Florida. SEALgrinderPT audios and Ebooks have been downloaded in 20 different countries around the globe.
Check out SEALgrinderPT Coaching to help you step up and take hold of your dreams and realize your goals.
Related Articles:
Tips to Build Will Power
Unbeatable Mind Academy Review
10 Tips to Breaking through Plateaus
Tips to Breaking through Mental Barriers
Finish the Drill
What Can We Learn From Lori Schneider?
Never Give Up