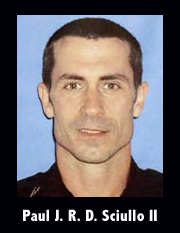 Paul
Five rounds of:
50 Double unders
35 Knees to elbows
185 pound overhead walk, 20 yards
*If can't do double unders then do 2x single unders. If no jump rope then do jumping jacks or star jumps.
*If no barbell, then use the heaviest object you can find and carry it overhead.
Post time to comments.
Pittsburgh Police Officer Paul John Rizzo Domenic Sciullo II, 36, was shot and killed in the line of duty while responding to a domestic disturbance call on April 4, 2009.He was engaged to be married with Lisa Esposito.