Have you had a series of failures? Ball not bounce your way?
Obstacles coming at you too quick to react?
Who you are in temporary defeat.. says everything about you.
Do you pick yourself up.. dust yourself off and go again?
Or do you walk away and blame others and become the victim?
This is how dreams are transformed into reality.
By pushing hard through the tough obstacles to get to the other side.
Find out what a Navy SEAL has to say about Defeat and SUCCESS
Don't waste time on the ground in defeat. Get back up and move forward.
All You need is that one chance to push and see yourself succeeding to move forward. Then you rinse and repeat and do again.
Ignore past failures and believe in Yourself.
Overcome your Fears…
and find YOUR Hidden Path to Success.
SGPT Homework:
Think about a time where you did not give your all. Or when you were denied and found failure. Do not dwell on those thoughts. Now think about a time where you had success and good things come your way? Go out today and find one thing you can do to move forward towards your dreams. Finish that extra hour of homework. Do one more set of pull ups on the bar. Run one extra mile. Don't quit in the last minute of Ji-Jitsu match. Write down what you did today in the comments below.
About the Author: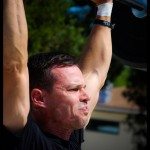 Brad McLeod knows first hand about mental toughness after being kicked out of a top tier Spec Ops training unit. He failed out of BUD/S the first time after failing a math test (made it through Hell Week and Dive Pool Comp). He came back a year later and graduated and served as an operator on the Navy SEAL Teams.
Today he is one of the most sought after mental conditioning coaches in the world having recently returned from Ireland, Southern California, Pennsylvania and parts unknown in north Florida. SEALgrinderPT audios and Ebooks have been downloaded in 20 different countries around the globe. Contact Brad brad@sealgrinderpt.com
Check out SEALgrinderPT Coaching to help you step up and take hold of your dreams and realize your goals.
Related Articles:
10 Tips to Breaking through Plateaus
Tips to Breaking through Mental Barriers
The Power of the Mind