Team SGPT:
Coming to you today from the top of the world.
Psyched to be a part of YOUR life and working together to improve 1% Daily.
Injecting positive words and mental imagery to Jack UP our lives to the next level.
Pushing ourselves 1% Daily to be better than average.
This is Why I Grind

Get Positive – Listen to SGPT Audios while your ruck and workout!
What are your current dreams? Do you have them written down? Have you shared them with your accountability partner? Is you partner ready to push you to the next level?
About the Author: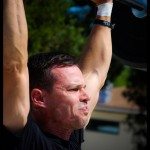 Brad McLeod knows first hand about mental toughness after being kicked out of a top tier Spec Ops training unit. He failed out of BUD/S the first time after failing a math test (made it through Hell Week and Dive Pool Comp). He came back a year later and graduated and served as an operator on the Navy SEAL Teams with a total of 6 years of military service.
Today he is one of the most sought after mental conditioning coaches in the world traveling to Ireland, Southern California, South Carolina, Pennsylvania, Canada and parts unknown in north Florida. SEALgrinderPT audios and Ebooks have been downloaded in 27 different countries around the globe. Contact Brad brad@sealgrinderpt.com
Check out SEALgrinderPT Coaching to help you step up and take hold of your dreams and realize your goals.
Related Articles:
10 Tips to Breaking through Plateaus
Tips to Breaking through Mental Barriers
The Power of the Mind
This is Why We Grind