In our daily lives it is important to have some will power and discipline. Without it we would be like rudderless boat drifting and tossed in the waves.
Will power a.k.a. resolve – gets us from point A to B without all of the little distractions.
We all want to take a bite of that candy bar but resist as we know it doesn't help us meet our goals of health and fitness.
At 18 I had no will power – unless it was making it to the next Friday late night party. What changed?
It takes 21 days to build a habit – good or bad. I changed my environment – my situation and got myself in a place where I could only make good choices and build good habits.
A few months later I was a young man with many good changes under my feet.

Find out what a Navy SEAL knows about building Will Power
Tip #1
Read good books daily. Fill your mind with good thoughts. It is very hard for you to think negative thoughts while your reading something positive.
Tip #2
Change your environment. Get away from bad people. Get next to good people – preferable those more athletic and better than you at business or whatever task that you seek to improve.
Tip #3
Enjoy the struggle. No one wants to be exposed and shown to be less than they are. But sometimes that is the only way to grow and become more. Just like the butterfly – it has to go from caterpillar to cocoon and struggle – fight to get out of the cocoon. Only then will it become a beautiful strong butterfly that can withstand gail force winds. The struggle is a gift.
SGPT Homework: What is 1 bad thing that you will remove from your life and replace with something good? Email me [email protected] and let me know.
Check out the new free SGPT audio "Will Power"
Please "like" the article below if you get a free copy of the audio. Many thanks in advance 🙂 Brad
About the Author: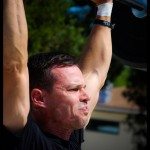 Brad McLeod knows first hand about mental toughness after being kicked out of a top tier Spec Ops training unit. He failed out of BUD/S the first time after failing a math test (made it through Hell Week and Dive Pool Comp). He came back a year later and graduated and served as an operator on the Navy SEAL Teams.
Today he is one of the most sought after mental conditioning coaches in the world today having recently returned from Ireland, Southern California, Pennsylvania and parts unknown in north Florida. SEALgrinderPT audios and Ebooks have been downloaded in 20 different countries around the globe.
Check out SEALgrinderPT Coaching to help you step up and take hold of your dreams and realize your goals.
Related Articles:
Unbeatable Mind Academy Review
10 Tips to Breaking through Plateaus
Tips to Breaking through Mental Barriers
Finish the Drill
Tips to Build Will Power