Cliff Young started a 600 kilometer running race across Australia. He was 61 years young competing against 20 and 30 year old athletes.
He wore galoshes and overalls. Serious.
He won the competition and shattered the old record.
What can we learn from Cliff Young?
#1 You need to believe in yourself first.
Without some level of self confidence you will melt on the starting line – or not even show up.
Build yourself up in your minds eye and see yourself starting and finishing the race with a smile on your face.
Check out SGPT "Stronger People" T-shirts HERE
You don't need fancy smancy gear – you just got to keep going and not give up.
Don't listen to the naysayers.
Don't worry about what others are doing – run your own race.
Have a short memory.. or no memory at all.
What is Cliff's secret? Just keep going. Don't quit.
If you think you can't.. your probably right.
Find a Way to Win. Think in your mind you can win.
Chances are now highly in your favor that You Will!
About the Author: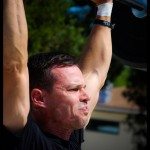 Brad McLeod knows first hand about mental toughness after being kicked out of a top tier Spec Ops training unit. He failed out of BUD/S the first time after failing a math test (made it through Hell Week and Dive Pool Comp). He came back a year later and graduated and served as an operator on the Navy SEAL Teams.
Today he is one of the most sought after mental conditioning coaches in the world having recently returned from Ireland, Southern California, Pennsylvania and parts unknown in north Florida. SEALgrinderPT audios and Ebooks have been downloaded in 20 different countries around the globe. Contact Brad [email protected]
Check out SEALgrinderPT Coaching to help you step up and take hold of your dreams and realize your goals.
Related Articles:
10 Tips to Breaking through Plateaus
Tips to Breaking through Mental Barriers
The Power of the Mind