What Can We Learn from Lori Schneider?
Lori Schneider is an 56 year old teacher from Steamboat Springs.
She was diagnosed with Multiple Sclerosis in 1999. She overcame her fears and went on to climb the Seven Summits – the tallest peaks on each continent.
She climbed Mount Everest in 2009 – despite this crippling disease.

Find out What a Navy SEAL has to say about "Overcoming Fear"
Lori speaks around the country and recently in Steamboat Springs with her talk on "Empowerment through Adventure: Climbing Beyond our Limits."
Imagine that… Climbing Beyond Your Limits… in all aspects of life.
What is holding you back? What is your excuse? What is your crutch?
Will you let your fear consume you and take you down? Or will you stand up and crush your way through it?
SGPT Homework: Sit down in a quiet place and think about what is holding you back? What fear is limiting your life? Write it down. Now write out a sentence of how you will overcome this fear. Will you gradually come out of your shell and face your fear? This drill will help you to step up and take your life by the horns and move forward.
As always – email me brad@sealgrinderpt.com and let me know your goals that you are working on and how you can be held accountable.
About the Author: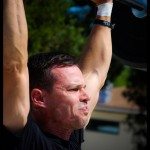 Brad McLeod knows first hand about mental toughness after being kicked out of a top tier Spec Ops training unit. He failed out of BUD/S the first time after failing a math test (made it through Hell Week and Dive Pool Comp). He came back a year later and graduated and served as an operator on the Navy SEAL Teams.
Today he is one of the most sought after mental conditioning coaches in the world today having recently returned from Ireland, Southern California, Pennsylvania and parts unknown in north Florida. SEALgrinderPT audios and Ebooks have been downloaded in 20 different countries around the globe.
Check out SEALgrinderPT Coaching to help you step up and take hold of your dreams and realize your goals.
Related Articles:
Tips to Build Will Power
Unbeatable Mind Academy Review
10 Tips to Breaking through Plateaus
Tips to Breaking through Mental Barriers
Finish the Drill
What Can We Learn from Lori Schneider?