What is on the Other Side?
We are not talking about the after life.. We are speaking of Your current life.
What happens when you do the hard work and break through to reach your one Big Goal?
Muhammad Ali is quoted as saying…
"I hated every minute of training, but I said, 'Don't quit. Suffer now and live the rest of your life as a champion."
Once you have a taste of victory you want to keep improving yourself and come back for more.
Success breeds Success.
What is one thing you will do today to step out of your comfort zone and work hard to reach your goals?
Are you procrastinating? Being a slacker? Telling yourself your not worthy?
Video – Muhammad Ali "Nothing is Impossible"
Hear what a Navy SEAL has to say about doing Hard Work Now and Becoming Great
SGPT Homework:
Write down one thing you will do to embrace hard work and move your goals forward. Share that with your accountability partner. Agree that you both will work together to help each other – push each other forward to embrace your goal.
About the Author: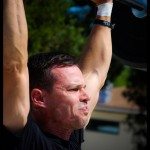 Brad McLeod knows first hand about mental toughness after being kicked out of a top tier Spec Ops training unit. He failed out of BUD/S the first time after failing a math test (made it through Hell Week and Dive Pool Comp). He came back a year later and graduated and served as an operator on the Navy SEAL Teams.
Contact Brad brad@sealgrinderpt.com
Check out SEALgrinderPT Coaching to help you step up and take hold of your dreams and realize your goals.
RELATED ARTICLES:
10 Tips to Breaking through Plateaus
Tips to Breaking through Mental Barriers
The Power of the Mind