Lets be honest for a minute. We have all been brainwashed when it comes to the word "success".
Success is not money, clothes, cars, and other materialistic "things".
That is just a reward.
Success is the magnitude of the positive footprint you leave on society.
What type of positive impact do you currently have? What do you want to have?
A person who makes a lot of money but neglects his family and friends really does not have much.
What will you do today to be truly successful?

Listen to positive motivation during your next workout
How large is your effect on society? How positive is your footprint on your surroundings?
Open your mind to what success truly is.
Look inward – not outward. Unshackle your mind and body and step up to live YOUR definition of success.
SGPT Homework: Think about what society has told you is "success". Come up with your own definition. Do not live by what "they" tell you – live you own life and have a positive effect on others.
About the Author: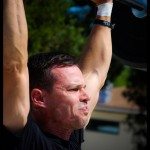 Brad McLeod knows first hand about mental toughness after being kicked out of a top tier Spec Ops training unit. He failed out of BUD/S the first time after failing a math test (made it through Hell Week and Dive Pool Comp). He came back a year later and graduated and served as an operator on the Navy SEAL Teams with a total of 6 years of military service.
Today he is one of the most sought after mental conditioning coaches in the world traveling to Ireland, Southern California, South Carolina, Pennsylvania, Canada, Alabama and parts unknown in north Florida. SEALgrinderPT audios and Ebooks have been downloaded in 35 different countries around the globe. Contact Brad brad@sealgrinderpt.com
Check out SEALgrinderPT Coaching to help you step up and take hold of your dreams and realize your goals.
Related Articles:
10 Tips to Breaking through Plateaus
Tips to Breaking through Mental Barriers
The Power of the Mind
What is Success?