We are all working on life. Moving forward to get better.
What is it that inspires you?
Trying not to use too much strength – work on technique.
Going with the flow of the game and not resisting as much – taking what it gives you.
What is one thing you will do today to progress your game?
Fighters speak on Jiu-Jitsu and Life

Find out how a Navy SEAL overcomes Negative to Succeed in Life.
Never waste a gift you have been given.
Press onward with all of your passion and soul.
Eliminate the unnecessary and take in what is needed.
The Universe is playing a game and life is a part of that game.
SGPT Homework:
Go out into the world and search for what your good at. Find that thing and cultivate it like a seed. Water it and protect it and shine bright light to make it grow.
About the Author: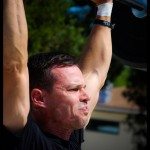 Brad McLeod knows first hand about mental toughness after being kicked out of a top tier Spec Ops training unit. He failed out of BUD/S the first time after failing a math test (made it through Hell Week and Dive Pool Comp). He came back a year later and graduated and served as an operator on the Navy SEAL Teams.
Today he helps Veterans and athletes around the world having recently returned from Ireland, Southern California, Pennsylvania and parts unknown in north Florida. SEALgrinderPT audios and Ebooks have been downloaded in 20 different countries around the globe. Contact Brad brad@sealgrinderpt.com
Check out SEALgrinderPT Coaching to help you step up and take hold of your dreams and realize your goals.
RELATED ARTICLES:
10 Tips to Breaking Through Plateaus
Tips to Breaking Through Mental Barriers
The Power of the Mind
How to Never Quit even when you want to