Life is short. Why live small? You are destined for greatness and now is the time to live up to it.
You gotta have a Dream So Big it will take a Miracle to pull off.
Not some small cupcake thought you can easily walk away from – it gotta be a really big gnarly one that scares the #$%@ out of you when you think about it.
"Do one thing every day that scares you." Eleanor Roosevelt.
)
Check out the GoRuck 60 Day Training Program HERE
You know you think about it. You wake up in the middle of the night dreaming about it.
It haunts you and follows you. No amount of hot water and soap can wash it off.
In the end you gotta stand up and face the reality that you are truly destined for great things.
Everyone of us has that inside of us. It is undeniable.
Step forward and into the light and pick up your sword (or barbell or ruck or whatever) and stand ready to do battle and help others in time of need.
SGPT Homework:
Are your dreams and goals written down on paper? Share them with a teammate to help you be accountable. What is one thing your doing today to move you closer to that dream? The way to move closer to your success is to ask yourself that question daily. "What is one thing I can do to improve myself and achieve my goals?". If what your doing next doesn't answer that question then move on.
About the Author: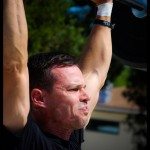 Brad McLeod knows first hand about mental toughness after being kicked out of a top tier Spec Ops training unit. He failed out of BUD/S the first time after failing a math test (made it through Hell Week and Dive Pool Comp). He came back a year later and graduated and served as an operator on the Navy SEAL Teams with 6 years of military service.
Today he is one of the most sought after mental conditioning coaches in the world having recently returned from Ireland, Southern California, Pennsylvania and parts unknown in north Florida. SEALgrinderPT audios and Ebooks have been downloaded in 20 different countries around the globe. Contact Brad brad@sealgrinderpt.com
Check out SEALgrinderPT Coaching to help you step up and take hold of your dreams and realize your goals.
Related Articles:
10 Tips to Breaking through Plateaus
Tips to Breaking through Mental Barriers
The Power of the Mind
Dare to Dream