Team SGPT: Perfect weather out now… so hope your taking those tips on trail running from yesterday and putting them to use.
We had a couple of questions on trail running that by answering them.. will help you at GoRuck, Spartan races and SEALFIT Kokoro or any long distance endurance event.
Check out the articles with reviews, videos and more insider info on how we use them.
Tip #1
Many top elite athletes are using the paleo diet (or a modified version) for their training and pre-race nutrition. It is not uncommon for an elite racer to consume 8 to 10k calories before an event. The night before the event load up on carbohydrates and lean meats but don't overdo it. Make sure that you are fully hydrated with water. Try not to drink alcohol as it will dehydrate you. The morning of the event you may want to eat something small like a protein bar with water or coffee (if you need the caffeine to get your body moving early morning).
Ultra runner Dean Carnazes talks about training, diet and a balanced lifestyle

Tip #2
Before the event eat a small meal or snack. Don't snarf down a big plate of pasta and a quart of chocolate milk. You will throw it up if your heart rate gets too high and it will also load you down. Try a granola bar or protein bar. Let it digest at least 30 minutes before you start your event. Don't drink multiple cups of coffee before a race as it can act as a diuretic. One cup of coffee and more water is better. Navy SEAL David Goggins eats two fried eggs and a bulletproof coffee for breakfast.
Tip #3
Use BodyGlide or some equivalent – If you don't know about it then find out.
It will save your crotch, underarms, feet and nipples.
This can make a HUGE difference in an event – thanks us later for saving one more pair of feet.
Tip #4

Use double socks. It may sound like overkill but if your feet get blistered and beat up – then your ability to move goes down…. or worse – you get shut down.
Use a thin layer "liner" sock under a thicker layer. Or go with a sock like PROSOKs
and you will be good to go. Stay ahead and take care of your feet.
Tip #5 – Use compression shorts. These are made of poly material that don't stay wet for long like cotton underwear will. They also keep the sand and grit out of your crotch (most of the time). Using body glide with these shorts make a massive difference over not using anti chafe balm and having cotton underwear. We like the Nike Combat and Under Armour Sonic Compression Shorts

.
Tip #6

Stay hydrated with water and use electrolytes if needed. You can mix a 50/50 mix of water and electrolytes so that you don't go overboard.
We have several athletes that have used salt supplement tablets
with good results.
Have a goo type fuel
 (Clif shot is good) with you or a small bag of nuts (fatty oils). Some other good fuels are a handful of beef jerky, bananas, and sliced apples. This can make a really big difference in your overall production.
Sleep and hydration for runners

Tip #7 – Make sure your trail running shoes (or boots) are broken in. You can do all of the tips above but if your boots are not broken in it will cut into your feet like a knife and shut you down. Don't overlook this simple fix. Don't take your trail running shoes out of the box and try to go and do a long event as you will get blistered.
Check out this article on breaking in boots.
Tip #8 – Shoe laces. Sounds like a trivial point but it is not. Make sure you have good laces before you start. If you don't have a backup. Add in a cord tie down system.
Nothing worse than having to stop every mile to tie your shoes or boots. Especially if your in thick brush.
We like a simple solution like this Elastic Shoe Laces Tie Fast Shoelaces
for trail running shoes. We are looking at a new shoe lace called "Rhino Laces" now.
Tip #9 – Post workout fuel. Take care of your body after an event and make sure you get all of the clean fuel you need. Don't be lazy and hit up a Burger Queen just because your starving and it is the closest thing. Have some coconut water in your ice chest along with some snacks like nuts with fatty oils. This will bide you time until you can get home to good food or to a restaurant – by passing that fast food place that you may crave.
Brian McKenzie talks Endurance diet + pre race nutrition

Think of your body like a Maserati on a race track. If you don't fuel properly you run out of gas.
If you don't take care of the tread on your tires you have a blow out.
If you don't grease the working parts then something freezes up. Got it!
Take care of your body on the trail runs which are the training grounds to get you ready for the GoRuck and 20X and Kokoro.
Endurance nutrition before and during event

Questions from athletes in our gym and readers online.
Question: Coach, what is a good trail running shoe if your just starting out? We like the Under Armour Chetco II trail running shoes
and the Asics. Another shoe for the more advanced runner is the Pearl iZUMi Peak II Trail Running Shoe
. We also like La Sportiva wildcat
Question: I have a GoRuck Challenge event coming up and have heard that some athletes wear trail running shoes. Is this ok to do? Yes; some athletes do wear running shoes but they have spent a lot of time rucking and wearing them. Also they prefer to use these in an urban situation (streets) but will go with a lightweight boot when they get on wooded trails or desert. We recommend the Chetco (see above) as a running shoe for GoRuck. For a lightweight boot we recommend the Bates Ulta-lites 8 Inches Tactical Sport Boot
or the Bates 922.
Question: I did a really long endurance event and had a compression shorts crotch blowout on a new pair of shorts. Should I just fix them or get another pair?
Answer: Try and fix them with a needle and thread and a little bit of superglue.
Question: What is a good fuel to eat during a long event like the 12 hour GORUCK Heavy or Challenge?
Answer: I used peanuts and beef jerky and a Clif Bar goo shot during the event.
Question: Coach Brad,
Heading to do some glacier climbs in Alaska, how often would you recommend refueling during longer day hikes/ruck sacks (approximately 10-15 miles round trip) I guessed to stop every few miles and eat about 100 calories per mile and drank water often as well. Would you recommend shakes on hikes like these or is it more beneficial to eat bars and trail mix instead? I am using merino wool socks with Tundra Pro CSWP boots. Thanks for your time and advice.
Answer: Good question Lee. I would eat something small every half hour and stay fully hydrated. Are you taking a water filter and heating device with you?
About the Author: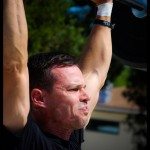 Brad McLeod knows first hand about mental toughness after being kicked out of a top tier Spec Ops training unit. He failed out of BUD/S the first time after failing a math test (made it through Hell Week and Dive Pool Comp). He came back a year later and graduated and served as an operator on the Navy SEAL Teams with a total of 6 years of military service.
Today he is one of the most sought after mental conditioning coaches in the world having recently returned from Ireland, Southern California, Pennsylvania and parts unknown in north Florida. SEALgrinderPT audios and Ebooks have been downloaded in 20 different countries around the globe. Contact Brad brad@sealgrinderpt.com
Check out SEALgrinderPT Coaching to help you step up and take hold of your dreams and realize your goals.
RELATED ARTICLES:
10 Tips to Breaking through Plateaus
Tips to Breaking through Mental Barriers
The Power of the Mind
SGPT Tips to Beat the Summer Heat