Want to know the #1 difference between the rest of the world and athletes like Michael Jordan, Tiger Woods, Aaron Rodgers and Herschel Walker?
It is not completely their athletic gifts.  It is their mental toughness that caps it off.  When the game is on the line all of these athletes seem to rise above the norm and perform at an extraordinary level.  Mental toughness is their secret.  Check out these tips to condition your mental muscle and improve your game like a champion.
1. Focus on the Present
It is hard for us to focus on the present.  With so much chaos going on around us it is easy to see how we could forget our own names.  Cell phones, texting, traffic, earthquakes, tsunamis and nuclear disasters.  You name it – there is crazy stuff happening all around us and it is tough to stay centered and focused.  So how can we stay focused?  By only focusing on taking the next step. Then take the next step and the next.  Don't think about what is going to happen in 20 minutes.  Or what happened in your past.  Only focus on the present and taking that next step (or next putt or next free throw or next hand off with the football).
SGPT Online's best selling Mental Training System. 30 Days of Mental and Physical Training. Designed to by a Team of Navy SEALs.
Listen to your Free SGPT audio Here
More Tips to Increase Mental Toughness
2. Have a Short Memory
The number one job of a quarterback is not to pass the ball – it is to protect the ball.  So what happens when a quarterback fumbles the ball in a big time game like the Super Bowl and the opposing team goes up by 6 points?  A great quarterback that has made a mistake needs to have a short memory. Meaning they need to learn from the mistake and forget the past and move on.  A great quarterback like Peyton Manning or Tom Brady will not dwell on the past mistake or let it shadow them.  They move on.  You must do the same.  Learn to let go and move on quickly so that you can achieve your goal.
3. Stay Positive
It is easy to become negative when a tough situation arises.  If left to our own devices our brains will seek the easy way out and sometimes that means flight – instead of fight.  A warrior who has command of their mind will take control of the situation.  Mentally practicing the ability to drive out the negative and reinforce with the positive is an acquired skill.  You can work on every day with tough physical workouts or being exposed to arduous conditions (swimming in cold water, running in heat).  The easiest and best method is to control your thoughts. It takes 21 days to form a habit so start now and write down all negative thoughts you have in the day.  On the next day begin to get rid of those negative thoughts and one by one replace them with positive ones.  This is a great start to a new mind set.
4. Become a Ritual-aholic
Everyone has a ritual.  We get up in the morning on the same side of the bed and brush our teeth.  We get a cup of coffee and read the news on our Ipad (or newspaper). We go to the gym and workout and then go to work.  We all have a ritual.  Some rituals are good – some are bad. Top championship athletes also have rituals.  Michael Jordan goes to the basketball court every day and shoots 1000 free throws.  Tiger Woods putts for hours and hits 1000's of golf balls.  Herschel Walker does 1000 pushups every morning.  They all have a ritual that has conditioning them to be tougher than the average athlete.  Yes; there is athleticism involved in shooting 1000 free throws but Michael's mind has made him perform this task daily to condition himself for future success.
5. Enjoy the Battle

Currently I compete in the Masters division of CrossFit competitions.  It may be one of the hardest things I have ever done.  At my age I could go sit on the couch on a Saturday and know one would give me crap.  But I want to progress and become a better athlete and warrior.  So I go to battle on Saturdays.  It is hard to keep your chin up in such awful conditions of heat and hardship while dragging tires on 100 degree Georgia asphalt.  But I love to compete.  I tell myself I love to compete – and I have grown to learn to love and enjoy the middle of the battle as much as the finish.  Telling yourself that you love the battle is a start.  Over time as you grow accustomed to this thinking you can embrace it on a more wholistic manner.  But start out by telling yourself you are enjoying this tough competition and force yourself to "smile" inwardly.  You can feel the paradigm shift right in that moment. It works.. I dare you to try it.
Tour of BUD/S compound where it all started

Top Trainers say Navy SEAL training is 80% mental – find out why
6. Visualize your Future Self
Thats right — get a mental picture of how you want to be in your future self.  In order to get through this current tough workout or hardship you have to not only survive – but thrive.  Think of your future self and how it will feel to stand on the podium with a medal draped around your neck.  Think about the cool breeze flowing against your skin and you hearing the crowd cheering in the background.  Use details to create a positively charged emotion that your mind will connect with.
It has been said that if your going through Hell – dont stop.  So keep on driving through the tough stuff and use this clear mental picture of what you will be and what you will look like at the finish.  Very powerful stuff.
Mental visualization is key.  Before the Championship game – athletes like Michael Jordan rehearse the winning shot, playing it over and over in their mind as they practice and shoot baskets. Michael Jordan pictures himself cutting down the basket from the winning game.  Tiger Woods see's himself putting on the green jacket at Augusta Nationals.  What do you visualize that you will put in your mind to help carry you through the rough and bumpy road?
"It is the nature of thought to find its way into action" – Chrisian Nevell Bovee: was an American author and lawyer in the late 1800s
7. Hang Around Winners
If your wanting to get great at basketball do you go down to the local playground and go for a pick up game with some first graders?  Or do you go downtown to the courts where the big boys hang out and jump in the game? Do you head to the gym on a Friday afternoon or do you head out to the local bar for Miller Time with Joe and the boys?  To get better – you have to workout with (and hang around) those that are at or above a level you want to be at.  To get mentally tough you have to do the same.  Get in an environment where only the tough survive and you will see your mental conditioning rise after the first day.  Metal sharpens metal.  So get tough by getting next to those athletes at the next level.
8. Repeat Affirmations
Mental affirmations are a great method.  Repeating words in your mind to help you focus on a task is an excellent way to cast off the extra chaos. It is harder for negative thoughts to enter your mind while you are chanting "I am a winner", "I'm an overcomer".  Come up with a few affirmations.  Write them down and use them when your out on your next 5k run or weight workout.  You will be surprised how well they keep you on track, focused and keeping negative thoughts in the far back of your mind.
9. Read Good Books
You can create discipline by reading every night.  Reading a good book is a form of ritual but it also helps to put great things into your mind.  Most people go to sleep watching all of the violence and no good on the evening news at 11.  Try reading 10 pages of a good book every night.  A good book to help build your mind is "Lone Survivor" by Marcus Luttrell.  Reading every night will build consistency and ritual in your life. It will also help to build mental muscle that you can use in your next tough workout.
What do Michael Jordan, Tiger Woods and Herschel Walker all know about Mental Toughness?
10. Calm Yourself
Have you noticed that the top championships are calm during the toughest of situations?  They have learned to calm themselves through conditioning to be ready for the unexpected.  Yoga and meditation are excellent methods to calm your mind and body.  Stretching and long distance running are also great exercises.  The key is to find the method that works for you and begin to incorporate that activity into your weekly routine (remember ritual?).  For me – it is trail running, so I make sure to add this in to my weekly schedule to help me cruise at a higher level and to remain tough when the situation turns south.
——————-
If you have any questions on mental conditioning and toughness or would like to be coached in mental conditioning techniques — please email [email protected].
Brad McLeod is one of the top mental conditioning coaches in the world- as he helps athletes to learn mental conditioning and toughness skills to apply to their sports.
Brad is the founder of SEALgrinderPT.com and can provide you with custom workouts and programs to increase your strength, flexibility, lower your running times and increase speed and work on mental conditioning and toughness.
For more info check out www.sealgrinderpt.com/coachin// and contact SEALgrinderPT at [email protected] to get started today.
I look forward to hearing from you and starting you on your path to your goals today.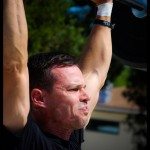 Brad McLeod
CrossFit level 1 Certified rainer #24316254
Mental Preparedness For Tough Workouts by Brad McLeod
It's that tough workout again.  The one that you dread.  Like the last time you broke your personal record on the workout Fran – collapsing on the floor with a metal taste in your mouth.  Later you coughed for hours not knowing that you had actually burst tiny blood vessels at the outer edges of your lungs.
Maybe its that upcoming 20k trail run, the Spartan Race or Tough Mudder or going through Hell Week in BUD/S.  No matter the hard task we all seem to cringe up at some point when we think of a tough task ahead.
How do you get jacked up when you know the beat down is coming?  It's a matter of choice.  Are you going to be getting crushed – or are you the one doing the skull crushing?  Only you can decide in that tiny little brain of yours.
The brain controls all – so while your muscles are screaming from anaerobic hell, your mind still has the ability to push your tissue forward or allow you to wilt like a day old orchid in the sun.
A few ways to kick your brain into overdrive and avoid the melt down are simple methods.  Pro athletes use these techniques all the time.   Check these tips out and pull your mental game up as you step into the gym for your next personal record.
"I will study and get ready, and perhaps my chance will come." Abraham Lincoln
Avoid distractions before your workout (no cell phone, heavy traffic or babies crying)
Visualize succeeding on your workout while you
stretch
, breathe, and do light yoga.
Watch a video of the workout beforehand.  Maybe you are looking to improve your power clean or sprinting technique.  Pull up a video on YouTube and analyze and soak it up in your brain.  Pro athletes do this all the time as they watch game video and soak up and rehearse mentally the moves they will make against their opponent.
Set a goal for time or repetitions.  Write it on a post it note and place on the wall in front of your workout.
Visualize to love the thing that you secretly "think" you hate.  Tell yourself that you love burpees, running or squat cleans or double unders or whatever is in exercise.  Chant inside your mind – "I love to run, I am a running machine".
Power to the People!
Russian Strength Training Secrets for Every American
Be positive before and during workout.  Do not let negative thoughts enter your mind.  Do not let others speak negative thoughts in your air space. If a negative thought begins to creep in – practice sweeping it back into it's corner or shove into a compartment in the back of your mind.
Get your workout buddy to keep time for you and encourage you.
If your so inclined you may want to pray or bow or have a moment of silence before workout.
Put on some thumping rocking music or something that you know will motivate you.  Music has been shown scientifically to enhance performance on the athletic field and in the gym.
Use your affirmations and begin to bring them in to your mind as you begin the workout.
As the workout gets harder, count all of your reps in blocks (5's or 10's) –  not looking at the total amount (100).
Mentally check off reps or rounds done as one quarter completed, one half completed – Reward yourself mentally at each stage (mentally pat yourself on back).
Find beauty in the workout. This may sound odd but it is a form of embrace.  Your are realizing how good this workout is for your body and mind.  You realize that the struggle is a gift to you. In the last quarter of workout crank it up a notch talking to your mind to push your body.
Breathe full and into the belly during the workout.  Resist the bodies urge to breath shallow and quick.  When you breathe deep and full you relax your mind.  Your brain is like a puppy dog and will always follow the cadence of your breathing.
Finish strong – don't fade – anyone can coast – finish the drill. If you beat your goal – reward yourself. If not figure out what went wrong and take notes and be ready for next time.
The Naked Warrior
Master the Secrets of the Super-Strong-Using Bodyweight Exercises Only
Don't lie down after a workout.  Mikko Salo explained that animals lie down before they die.  You are a strong warrior and are not about to die.  Use the next minute after the workout to stand up and continue to condition your mind and body not to lie down like an animal that is about to croak.
You may want to bow, pray or have another moment of silence at the end of workout.
Later that evening – Read books on mental toughness like "Lone Survivor" to continue to be motivated and hone your edge.
Continue to practice these tips and begin to build your mind and prepare yourself for tough workouts.  Your next personal record is just around the corner.
Brad McLeod is one of the top mental conditioning coaches as he has helped many CrossFit athletes, golfers and Special Forces candidates prepare for arduous task.
If you have any questions on preparing for tough workouts please email [email protected]. SEALgrinderPT can provide you with custom workouts and programs to increase your strength, flexibility, lower your running times and increase speed.  For more info check out www.sealgrinderpt.com/coachin// and contact SEALgrinderPT at [email protected] to get started today.
I look forward to hearing from you and starting you on your path to your goals today.
Brad McLeod
[email protected]
CrossFit level 1 certified trainer
#24316254
SEALgrinderPT

Mental Conditioning Inside a Tough Workout
Your battling out those last few feet of distance with a stone on your shoulder. You can see the finish line but all is blurry around you and your wobbling. Tunnel vision with soft fluffy edges.
You mind begins to drift and wander. You tell yourself to push but the pain is unbearable and your think your going to crumble like a shattered statue. Your mind flashes images of your last month of training – that it was weak and how you are not strong on events like these. You think that you hate the stone and your legs are cramping. You slowly fall apart mentally as you wobble and drop the stone for a 5 second penalty. You watch as other athletes pass you with the stone and pass the finish line.
What happened? You actually had worked hard that last month. But you doubted yourself from the start. You were intimidated by the other elite athletes but thought you were at least as good. You vow to never let this happen again. You had heard that a great athlete uses every event to become better at the finish than when they started. That would be your mission to get better for the next event.
So you start from the beginning and write down your mental miscues. You take each one of those and rewrite your brain to now put in place a positive thought – an affirmation to drive out the self doubt and negative that can overcome you in an event. You vow to learn and correct.
They say that a mistake is not mistake if you learn. This is what you will do. You will take those mistakes and correct them and use them to your advantage the next time. Your goal is to b
e a better athlete at end of day than when you started.
So I go to work and practice my affirmations and get prepared for my next tough WOD. I read and re-read the article Mental Preparedness for Tough Workouts.
I am prepared and a warrior and ready to do battle. If anything fails – it will be my body as my mind is now a steel trap. It was forged in the Iron Box – many years ago in the bottom of an old Navy ship in the Pacific Ocean. It is there that I learned to overcome pain and fear and sorrow and disappointment. To never quit. I am now ready for anything at anytime.
Want to learn more about mental preparedness? – Audio Download
I enter the Garage Games and prepare for WOD 1. 40 dead lifts to a 5k trail run.
My affirmations. Mental strength-mental power. Only you can push you. Finish strong- warrior strong. I say these repeatedly with out space to keep negative out. My lungs were on fire and I began to get an asthma wheeze. I drove myself harder even though younger athletes pass me.
BUDS Obstacle Course

I rewarded myself mentally at the half way point and told myself good job and mentally patted myself on the back. In the last quarter of the race I reminded myself that this event and workout was a gift and I would be a better athlete and warrior at the end of the day. I remarked on the beauty of the event as I ran through mud and sludge. The beauty of the battle and struggle. I ended up 16th out of a field of 62 with many in their 20's and 30's. I am almost 48.
WOD 4 is 21-15-9 Ground to overhead and burpees. The WOD is similar to Fran. I love Fran. So I used "Fran" as my affirmation for most of WOD. In the last round I said "every second counts". My affirmations worked as I ended up with 6 minute plus time.
Everyone said how bad this WOD sucked. The referee said it was brutal. I told him I like brutal and love burpees. I wanted to be there and did not want to be intimidated.
As the first round starts I get in a groove. I mentally rewarded myself at each round – "atta boy". I could feel the sun on my back despite the cold. I drew power from the sun and cold and remarked on the beauty of the workout and how it was a gift to make me stronger.
Realizing the beauty of the WOD is important in that you get tired in the middle to end of WOD. So this thought drives out you wanting to think the WOD sucks.
You have to "Embrace the Suck"
I saw an athletes shirt. It said "Unbroken". Unbroken reps. Unbroken spirit. Whole. Complete.
Between wods I rest on a blanket in the sun. I say affirmations to not let negative thoughts creep in. You have to guard here as your tired
Before the next WOD I walked around the field and told myself I am strong, warrior strong.
I relaxed before the WOD and bowed my head sitting on the rower and relaxed.
During the WOD I went full out and told myself I am strong, warrior strong. I finished strong, no injuries and left it all on the field.
I remembered the tshirt – Unbroken
All was finished. I am heading home. I felt like my mind gave it 100%. I felt good with my effort. I ask myself – Are you now a better athlete for this effort? What did you learn? Did you give it your all? What will you work to improve?
I know I have work to do. I know the road will be hard. I know that I will always embrace the suck as that will make me a better athlete. I will remain – Unbroken.
Embracing the Suck
We all know the symptoms – as fatigue begins to take hold in a brutal workout.  Maybe it was during your last CrossFit workout like Fran, or Murph or just you and your buddies out running hill sprints after a deck of cards workout.  Maybe it was some new workout that you have never seen before and you were determined not to fail.
Your movements slow down as power begins to leak from your body.  In competition you may be going full tilt and experience tunnel vision with the soft gooey edges.  You know the one where even the voices sound mutated and slowed down?  It's real and you become lost in your own sweat and agony.
So what do you do to stay in the game and finish the drill?  You've been working on your visual and mental affirmations and that got you to this point.  You chant inside your mind "I am a winner – I will overcome" but your body continues the spiral downward.  Now what?
Here is a small mental note I will toss out for you to try on your next hellfire workout.  It will help you to effectively "turn the corner" and ride out the rough patches till you can get your footing and ride the downhill stretch to get to the finish line – with a tail wind and sunshine on your shoulder.
In your mind your experiencing harsh pain throughout your body.  Burning air passage, fiery lungs, muscle fatigue and heat stress – how do you find a way out?  It is easy to succumb and melt back into the pain.
So try this.  Smile.  Yep… that's it.  Put a big *ss grin on your face and enjoy the hell out of the workout.  Tell yourself you love this workout and that your very grateful for the gift this workout is giving you.  You will learn from this workout but you want to thoroughly enjoy every minute of it before it is done.  Immerse yourself in the beauty of the workout and pick out details of what movements you like and how much you love them.  You emphatically tell yourself – you will leave the grinder (or gym) a better athlete than when you stepped in this morning.   You will improve.
See the paradigm mind shift?  You go from out of control – to in control by shifting your emotions in the workout.  You go from victim barely hanging in by a fingernail – to warrior that is looking down from the mountain top and deciding how things are going to be.
At SEALFit Kokoro – we call it the "Kokoro Smile".  The grin of a warrior all covered in sand and sweat and has just gotten the crap knocked out of them. But instead of standing there with your chest caved in and a frown on your face — you see a guy with a huge cheese eating grin.  They found a way to love the situation and make the best of it.
"Suffering becomes beautiful when anyone bears great calamities with cheerfulness, not through insensibility but through greatness of mind."   Aristotle
Yes; it is hard to do.  It is called "embracing the suck" – as it is called in the CrossFit world. It is part art and part skill.  Mental conditioning is a skill – the Spartans were masters at daily drilling their young recruits to mentally forge them into warrior machines.  The Spartans were not born that way — they were slowly conditioned to handle the mental stress.
Mental toughness and conditioning is being taught at SEALFit in Encinitas, Ca.  It is being taught at wrestling camps and soccer fields and you name it – insert sport or classroom here – around the world.  You just need to find the right coach to help you to acquire this elusive skill.  Some top rugby, cricket, soccer, and football teams in the world have hired on full time "mental conditioning" coaches to help their teams achieve their top potential.
Embracing the suck has been done by many an athlete and you can use it to to help you turn that corner in your next nightmare tough workout.  Drop me a line or post a comment down below on how your turned a corner in your last workout and survived and thrived to finish the drill.
Check out this article – 10 Tips to Break Through a Training Plateau
Check out this article – SEALFIT Kokoro tips
Are you interested in becoming your best self? Pushing your mind and body to the outer limits and realize that your 20 times (yes, 20X) what your doing now? Contact Brad McLeod, Navy SEAL and one of the top mental conditioning coaches in the world today. Brad McLeod [email protected]
Workout Training Log Improvement Tips
by Brad McLeod
If you want to improve as an athlete – one of the building blocks is to have a detailed training log.  We are going to assume from the start that you have a training log. If you dont have one, you can buy one for about $2 at a local drug store or supermarket.  Here are a few tips to help you get your training log dusted off and put to good use to help you improve your workouts and hit new personal records.
Do you think that Arnold Schwarzenegger, Bruce Jenner, Michael Jordan or Derek Poundstone kept a training log?  This peice of gear is just as important as your running shoes or gym shorts.  It is critical to you succeeding as an athlete and make forward progress.
Video of Workout Training Log Improvement Tips

More Workout Training Log Improvement Tips
Your journal will consist of your workouts, diet, sleep, rest and stretching.
Write down your goals in your training journal.  Make your goals precise and detailed and a date that you will accomplish.
Some athletes keep a written journal while others like the excel spreadsheet.  Some use the Iphone or go online and post to their blog or a website like beyond the whiteboard.  Here are some examples of these:
Project Mythology
Beyond the Whiteboard
WOD tracker Iphone App
Write in your training log daily.  Even if you had a rest day then write down how you felt, how sore you were or if any injuries.  Note your diet for that day and sleep.
More Workout Training Log Improvement Tips
Note if you are working long hours and the type of work.  You may be standing on the floor of Home Depot for long hours or doing back breaking work landscaping.  This will have an effect on your workouts and you want to have that all recorded.
Take time to review your log as you will find clues to future performance.  You can track times that are being lowered and seeing how many hours or days are needed to keep those increases going.  Same for new PR's on heavy lifts.  Those days that you come in fresh after rest are often your days to hit a new high.
Track your rest so that you are very familiar with the amount of rest you need to be fresh. Each athlete is different so dont just go with what your friend or trainer says.  Know how you feel and study your training log to find out how much you need to be rested to get that new PR.
More Workout Training Log Improvement Tips
Keeping your training log up to date and full of information will help you to improve as an athlete.  Get out there and clock that next workout and load up your log with good info to get you on your way towards that next PR. Good luck
If you have any questions on improving your training log or any exercises please email [email protected].
SEALgrinderPT can provide you with custom workouts and programs to increase your strength, flexibility, lower your running times and increase speed.  For more info check out www.sealgrinderpt.com/coachin// ad contact SEALgrinderPT at [email protected] to get started today.
I look forward to hearing from you and starting you on your path to your goals today.
Brad McLeod
[email protected]
CrossFit level 1 certified trainer
#24316254
SEALgrinderPT

10 Tips to Break through a Training Plateau
by Brad McLeod, SEAL grinder PT, CrossFit  certified trainer
It happens to every athlete.  Your breaking personal record after personal record  in the gym and then you get in a rut and are stuck at the same spot and can't make improvements.  What do you need to do to break through a training plateu? Here are a few ideas to help you off that table top and back on to the journey upward.
1. Travel. Go to a gym where most athletes are better than you.  It's too easy to stay at your local gym and keep thinking your the big frog in a small pond.  Challenge yourself and at least find 2 other athletes that will smoke your *ss in any workout and go crank a session with them. Steel sharpens steel.
2. Track work – I know I can hear it now  – its boring – but I promise you that an extra session a week of track work (sprints and running) will blow the cobwebs and mold off your current training records and catapult you to new levels. Run the 50 meter and 100 meter. Do interval work.  Challenge your time for the 200 and 400 meters.  Run the steps at your local stadium track. Your legs will feel the difference (sore) the next day. Sprints on hills can be very effective to wake up your quads and hips and push you out of your comfort zone to a new level.
3. Starting Strength– Check out a copy of Mark Rippetoe's classic book  "Starting Strength". Drop the pec deck squeezes and bicep curls and get back to basics. Begin to do linear progression workouts to help with your overall strength.  Emphasize the back squats and deadlifts.  Bench and clean and shoulder presses are essential too.  A few weeks of linear progressions may be what you need to push you off the plateau and back on the journey up.  Your next personal record on the deadlift is right around the corner.
Power To The People-DVD
Russian Strength Training Secrets for Every American
4. Show Up Fresh for PR's – Take a good look at your  training log (you are keeping a detailed log arent you?) and look at the exercises where you have recently broken a new PR (you have a few personal records, right?).  Often you will find that the areas your breaking PR's are the times where you showed up fresh as a cucumber and crushed a workout.  Sometimes it's that last month of working consistently on a certain type of exercise – and walla – you improved.  Look at your training log and keep great notes.  Then rest fully and show up fresh to blow out your new PR.
5. Try Something New – Your next great workout could be around the corner.  Check out what other athletes are doing and who is setting the pace.  There are great interviews and instructional video at www.crossfit.com for new ideas for exercises and pointers on how to improve your lift or your row. Try sled training, or tire flips, or bag pushes, sand bag carries, or work on a muscle up.  Have you ever tried 30 handstand pushups for time — or another big number of bodyweight exercises for time? The sky is the limit.  Variety stimulates the brain and muscles to stretch to new levels.  Click here for some sled training routines from top powerlifter Jim Wendler.
6. Improve your Diet – Take one thing in your diet that you know is wrong (diet Coke?) and replace it with filtered water.  The next week replace two things.  Pretty soon your diet will be dialed in super tight and your energy levels will be at an all time high.  Eat more lean meats and vegetables and less processed grains.  Check out the blog from Robb Wolf http://robbwolf.com/ to help you gain insight and new ideas on a good clean diet.
7. Stretch – Stretch at least 10 minutes before a workout and a minimum of 10 minutes after.  We are all guilty of wanting to get in a workout and do the absolute minimum to stretch on the front end and then bolt out of the front door of the gym (with no stretch) at the end.  Check out these stretches to help you warm up and avoid injuries.
* Hamstring stretches
*Shoulder stretches
*Hip stretches
or go to www.sealgrinderpt.com for a full body 30 minute stretch and body weight warmup to energize yourself and get you ready for your workout.
8. Add Plyo Jumps– adding explosive power jumps to your workout can have a dramatic effect.  Frog jumps , plyo ice skaters , airborne heismans , burpees with a lateral jump  are all examples of plyo jumps that can boost your workouts.  Not only will your heart rate jump but you will increase your explosive power which translates to speed in your sprints and cleans.
9. Set New Goals– You have goals don't you?  Write them down in your training log.  Dont have vaque goals – have precise goals.  Repeat after me — I want to weigh 165 lbs, bench press 240 lbs, deadlift 375 lbs and run a 5k in 19:00 in the next 30 days.  Doesn't that sound good?  Have an event on the horizon where you can test all of your training.  Run in a local 10k or trail run, the Spartan Race or Tough mudder, a 100 mile bike race or CrossFit competition.
10. Lighten Up – Sometimes we take all this training stuff too seriously.  Enjoy life and take an extra rest day.  A free and clear mind will help you more in your training as your not bogged down and bottled up with stress.  Sure, exercise will help you relieve some of that stress, but try to get to your workouts with less worries and have fun.  That is what it is all about.
11. Extra Protein – Ok; I know thats more than 10 tips but I had to add this one in.  If your starting to lag in your workouts, add a little extra protein.  Try tuna in a sandwich or salad for lunch.  An extra portion of lean chicken or beef may be just what you need to provide some extra fuel in your engine.  When I am working as a coach at SEALFit Kokoro I use Intensity Nutrition protein as an extra boost to get me through the 50 hour session.
If you have any questions about blasting through a training plateau and getting back on the Japanese bullet train to a new personal record – shoot me an email at [email protected]
Brad McLeod is a former Navy SEAL  and now a CrossFit  level 1 certified trainer.
He trains hundreds of athletes to push past their weaknesses and plateaus to shed their former skin and become new athletes.
If you have questions or want to inquire about coaching you can reach him at [email protected] or check out the website at www.sealgrinderpt.com
Tips on Writing Goals for CrossFit Athletes
by Brad McLeod with Heather Self
As athletes – we all have goals. Some are more defined than others.  Some are bigger than others.  Some athletes have a method of reaching their goals in far faster time than others.
We overhear them at the gym all the time.  Lose 5 lbs. Compete in or first 5k. Get our first double under – or…string together 10 double unders. Achieve a 400 lb dead lift. Compete in CrossFit Regionals. Compete and win the CrossFit Games.
1. Have goals that agree with your core values.
If you don't know what your core values are, or you're not sure, write out a list of the ten most important things in your life (no specific order), then take the top five and write out what you'd like to improve about each thing, then three steps you can take that will create momentum towards them.  As you get momentum, you'll think of more and more ways to do this.
How to Achieve your Goals – Audio inside info
Quote:
"Most people diffuse their psychic energy (attention) in hundreds of random ways. Those who flow focus their psychic energy intentionally upon the task at hand. It really boils down to knowing your goal, concentrating upon it, remaining determined and having the self-discipline to complete what you are doing."
— Dick Sutphen
More Tips on Writing Goals for CrossFit Athletes
A video with tips on writing goals for CrossFit Athletes

2. Believe that you Can Accomplish the Goal.
If you feel resistance to it, or there's a voice in your head saying you can't, continue to remind yourself that was your old belief and that you can.  If you still feel resistance (or fear), spend some time with it and ask yourself why.  If you can discover what your self-talk is around your goals/beliefs, you can find out what you're really telling yourself and start changing how you think about the goal — and yourself.  Self-talk is the biggest power behind what we create, both negative and positive results.
More Tips on Writing Goals for CrossFit Athletes
3. Write down your goal.
If you hit an obstacle along the way, even several, it doesn't mean "no" or you "can't".  It could just mean adjustments in the methods being used/how you're trying to create them.  Maybe some other things need to be in place/created first.  Obstacles are just life's way of helping you refine your tactics and mission statements to yourself.  Take them as ways to grow and learn about the creativity and skills you already have in you but just haven't discovered yet.  It's the same thing with mistakes.  Mistakes are not failures, and even failure isn't failure — unless you believe it is, and is a reason to stop trying for your goals.  Mistakes and failures are, as Henry Ford said, "Failure is simply the opportunity to begin again, this time more intelligently."
4. Check Your Goal Setting Milestones and Achievements Regularly
Take your 3×5 card out of your wallet and read them daily.  Read them aloud for better effect.  Visualize your dream coming true while you read them aloud for even better effect.
Mental Preparedness – How to Prepare for The STorm – Audio inside info
A few More Tips on Writing Goals for CrossFit Athletes
5. Take Massive Action Daily. Take notes on your daily progress.
More Tips on Writing Goals for CrossFit Athletes
6. Troubleshoot potential obstacles and get rid of them in advance.
If you hit an obstacle along the way, even several, it doesn't mean "no" or you "can't".  It could just mean adjustments in the methods being used/how you're trying to create them.  Maybe some other things need to be in place/created first.  Obstacles are just life's way of helping you refine your tactics and mission statements to yourself.  Take them as ways to grow and learn about the creativity and skills you already have in you but just haven't discovered yet.  It's the same thing with mistakes.  Mistakes are not failures, and even failure isn't failure — unless you believe it is, and is a reason to stop trying for your goals.  Mistakes and failures are, as Henry Ford said, "Failure is simply the opportunity to begin again, this time more intelligently."
7. Break your big goals down into smaller micro-goals.  Like doing one rep at a time versus looking at the whole workout in entirety.
Tips on Writing Goals for CrossFit Athletes
Check out 10 Tips to Breaking Through Training Plateus
8. Share your goals with a person who will keep you accountable.
Make sure NOT to share with other negative nobodies who will bring you down and squash your dream.  Only share with those that are a part of your team and will work to protect you and help you.  If you dont have someone like that then work hard to find someone.  Somewhere there are others that are doing the same — looking for another person to share their dream and to grow.  Put out signals – like a radio frequency – and you will attract others of like kind.
9. Celebrate the mini-successes along the way.
Also celebrate your hard work each week with a treat — even if you haven't reached a specific goal, because just marching towards them every day with action steps is something to celebrate.
(I add this because years ago, back when I was working on losing those 65 lbs, this was the best advice I ever came across, though it was about food and helping yourself not binge.  I allowed myself something sweet once a week and when I started doing that I started losing weight even faster).
10. Once you have reached your goal. Stop, reflect, take notes on how you you can improve on your goal setting process.
11. Stretch and reach for your next big goal.
How to get the Mental Edge