Today is the first day of the rest of your life.
You have heard that before.. right? Maybe a little cliche to say?… yawn.
As Lee Corso would say "Not So Fast My Friend".
Today IS the most important day of your life and it does matter. A lot. A TON!
* WARNING – MATURE LANGUAGE VIDEO – WARNING
Hear what a Navy SEAL has to say "The Only Easy Day was Yesterday
SGPT Homework:
Write down what you will do today to make your life have meaning. Write down what you will do today to grow and learn 1%. Write down one thing you will do to help others.
About the Author: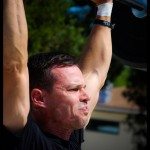 Brad McLeod knows first hand about mental toughness after being kicked out of a top tier Spec Ops training unit. He failed out of BUD/S the first time after failing a math test (made it through Hell Week and Dive Pool Comp). He came back a year later and graduated and served as an operator on the Navy SEAL Teams.
Today he is one of the most sought after mental conditioning coaches in the world today having recently returned from Ireland, Southern California, Pennsylvania and parts unknown in north Florida. SEALgrinderPT audios and ebooks have been downloaded in 20 different countries around the globe. Contact Brad brad@sealgrinderpt.com
Check out SEALgrinderPT Coaching to help you step up and take hold of your dreams and realize your goals.
Related Articles:
10 Tips to Breaking through Plateaus
Tips to Breaking through Mental Barriers
The Power of the Mind
---
QUESTION: Coach, what do you like to add to your workout shakes?
ANSWER: I use Athletic Greens in our shakes. It's got tons of great nutrition—vitamins and minerals. Plus it mixes up easy in milk or water.