Creativity to Boost the Mind
One of the most underrated methods for propelling your own happiness (and others) forward is the ability to create.
Creation. Creating something of worth.
Writing a love song for your girlfriend or wife to be.
Designing a new project for your 3D printer.
Spoken word.
Writing computer code.
Sculpting your own pottery.
Mission planning and goal setting.
Hear what a Navy SEAL has to say about Improving Yourself 1% Daily
Are you taking time to rest your mind so that you can explore your creative side? You have one you know.. an ability to imagine and make great things.
What will you do today to alleviate stress and rest your brain? Rest and recharge as you move forward to build and design new grand things.
SGPT Homework: Pick one thing that you know that you can create. Take 5 minutes to think about that thing. What is preventing you from moving forward to create..now? Is stress blocking your way? Too many obligations? Write down these stresses and obligation. Next to these write what you will do to reduce or eliminate them. Once you eliminate the stress and over-commitment you will be much more free to relax and open your mind to creativity – which will boost your mind and increase your level of life improvement.
About the Author: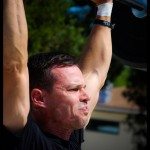 Brad McLeod knows first hand about mental toughness after being kicked out of a top tier Spec Ops training unit.
He failed out of BUD/S the first time after failing a math test (made it through Hell Week and Dive Pool Comp).
He came back a year later and graduated and served as an operator on the Navy SEAL Teams.
Contact Brad brad@sealgrinderpt.com
Check out SEALgrinderPT Coaching to help you step up and take hold of your dreams and realize your goals.
RELATED ARTICLES:
10 Tips to Breaking through Plateaus
Tips to Breaking through Mental Barriers
The Power of the Mind
What is on the Other Side
Make Today Matter
---
QUESTION: Coach, what do you like to add to your workout shakes?
ANSWER: I use Athletic Greens in our shakes. It's got tons of great nutrition—vitamins and minerals. Plus it mixes up easy in milk or water.