NAAWK Full Spectrum CBD review
I received a box of CBD products from NAAWK last month and have been using the product since then. The first product I used was the NK Full Spectrum CBD which is unflavored. This is a hemp extract oil that has 50 MG per serving.
I learned about NAAWK CBD products from a Frogman friend of mine who has been using these products for quite a while now.
NAAWK has a line of products that includes sunscreen, CBD, lip balm and supplements to enhance performance and support wellness from all angles. If you take a look at the website you can see that the products are formulated for outdoor athletes.
My daughter has chronic pancreatitis and has been in and out of emergency rooms and hospitals for the past 10 years plus. This past year in 2020 she was bed ridden after an invasive surgery to clean out her pancreas. We were going to the Emergency Room (ER) 2 to 3 times a week as she was in overwhelming pain. She began taking NK CBD in late August and after a month plus she is no longer going to ER and has not had to ask for a prescription refill for Oxicodone (an opiate). There are many factors that have contributed to her healing up include rest and sleep. But I do believe that taking CBD has reduced her inflammation and also reduced her cravings for an opiate to deal with pain. This is enormous when you look at her overall well being and trying to keep her out of the hospital during the pandemic.
Also she is telling me that she is less stressed about school and the pandemic and trying to finish high school despite ongoing health challenges.
This product comes in unflavored and orange. I personally like the orange but it is not that big a deal to me as the unflavored has an earthy organic taste and is fine. What I like also is that orange flavored 50 MC product is that it is THC free. My kids and even my Mom can take it without having to worry about getting high.
The unflavored version has less than 0.03 percent which is minimal and you will not have to worry about a piss test at work.
I personally have had IT band issues over the years mostly from overuse and just getting old and needing to stretch more. I had an IT band issue after a long bike ride last week. I used the CBD balm directly on the hip and gluteus and could feel the icy hot ingredient working within a few minutes. The balm helped to relax the muscles and loosen the IT band and reducing the tightness and discomfort.
A quote from my daughter Ollie (17 years old): The flavor makes it easier to take and I take it an hour before bed and it helps me go to sleep. I think that it has been beneficial to my overall health in dealing with pain. I know that it has helped with stress and anxiety. I think that it helped me reset my sleep schedule and sleep through the night so I dont wake up and cant go back to sleep.
I will continue to update my results from using this product since August 2020. Check out NAAWK here:
About the Author: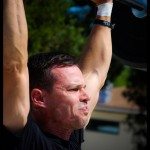 Brad McLeod knows first hand about mental toughness after being kicked out of a top tier Spec Ops training unit. He failed out of BUD/S the first time after failing a math test (made it through Hell Week and Dive Pool Comp). He came back a year later and graduated and served as an operator on the Navy SEAL Teams.
Today he helps Veterans and athletes around the world achieve their goals.
Check out SEALgrinderPT Coaching to help you step up and take hold of your dreams and realize your goals.
RELATED ARTICLES:
BUBS Natural Collagen Protein Review
Athletic Greens Review
Ojai Energetics Full Spectrum Sport Gel Review