Growing up as a teenager in north Florida I had never fully understood how powerful your mind could be.
I had to find out the hard way going to BUDS and radically changing my life.
Sometimes that is what you have to do – roll the dice – mix it up – get a fresh start.
Other times you must hunker down and find a way to win inside your own little sand box.
Either way – when you turn towards your mind and use the power of focus – you will excel.
Are you using your mind to propel you forward?
Or is your mind controlling you with hourly monkey mind chatter?
A Navy SEAL talks about the 40 Percent Rule
Check out SGPT Positive Mental Edge Audios HERE
Most of us live in a chaotic environment with traffic, congestion, and long hours at work.
There are so many distractions that it is hard for us to break through to do the things we need to do.
Working out. Reading a good book. Meditation. Yoga.
These are the good things that we need to find a way to incorporate into our daily lives.
How do I personally find the time and energy to break through and do these things?
First I found a mentor – Coach Mark Divine and learned as much as I could.
I learned and listened . I did the hard work and grew my mind and body.
One of the biggest things that Coach Divine taught me is to slow down and enjoy the game.
Understand that being "uncomfortable" is a signal that your growing. This is a good stress even though it may not feel like it at the time.
So I dug in deeper and sought out situations where I was forced to grow and become better daily.
I went to Jiu-Jitsu no matter if I got my *ss beat daily. It is not fun getting choked out and tapped out.
But I have slowly become better.
Realizing how powerful your mind is – that single thing – can catapult you to a new "YOU".
I urge you to find a coach, a mentor, look for ways to be "uncomfortable" and push yourself to new limits.
As always – email me and let me know what you will do today to push yourself.
About the Author: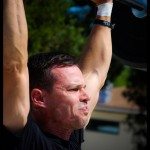 Brad McLeod knows first hand about mental toughness after being kicked out of a top tier Spec Ops training unit.
He failed out of BUD/S the first time after failing a math test (made it through Hell Week and Dive Pool Comp).
He came back a year later and graduated and served as an operator on the Navy SEAL Teams.
Today he helps Veterans and athletes around the world today having recently returned from Ireland, Southern California, Pennsylvania and parts unknown in north Florida. SEALgrinderPT audios and Ebooks have been downloaded in 20 different countries around the globe.
SEALgrinderPT is a proud sponsor of the Navy SEAL Foundation and helping Veterans in need <https://navysealmuseum.networkforgood.com/projects/131589-brad-mcleod-s-fundraiser">you can check our progress here:
RELATED ARTICLES:
Unbeatable Mind Academy Review
10 Tips to Breaking through Plateaus
Check out this SGPT Ruck March workout
Tips to Breaking through Mental Barriers