Think Like a Super Bowl Winner
Last night we got to see some amazing professional American football being played.
You may say "I could care less".
Or you could say "It was a blowout".
Or.. you absolutely loved it.
Stick with me on this one as I will be quick.
There were many great plays by the SeaHawks who were supposedly the Underdog.
One play stood out in my mind was the 69 yard interception by Malcolm Smith. Here is what he had to say about that play.
"I always imagined myself making great plays," said Smith, the game's MVP. "Never thought about being the MVP."
Malcolm used the tool of visualization to see himself succeeding and winning.
What do you think about everyday? Do you think of making big plays and moving towards your goals?
Not only do you need think about your goals but you need to follow up with massive action. Catching the ball – running- working out.
SGPT Homework:
We know that your goals are already written down before you do this exercise right? If not write down your goals on a 3×5 card. Now.. think about what it takes to reach those goals.
Visualize yourself running with the ball – or studying hard and making an "A" on your next test. Perform this visualization 3x today and everyday as you move towards your goal.
About the Author: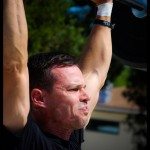 Brad McLeod knows first hand about mental toughness after being kicked out of a top tier Spec Ops training unit. He failed out of BUD/S the first time after failing a math test (made it through Hell Week and Dive Pool Comp). He came back a year later and graduated and served as an operator on the Navy SEAL Teams.
Today he helps Veterans and athletes around the world having recently returned from Ireland, Southern California, Pennsylvania and parts unknown in north Florida. SGPT audios and Ebooks have been downloaded in 20 different countries around the globe. Contact Brad brad@sealgrinderpt.com
Check out SEALgrinderPT Coaching to help you step up and take hold of your dreams and realize your goals.
RELATED ARTICLES:
10 Tips to Breaking through Plateaus
Tips to Breaking through Mental Barriers
The Power of the Mind