Top 10 Tips to Prepare for SEALFIT 20X Challenge
The 20X Challenge is a one day crucible training delivered by SEALFIT. The goal is to transform your view of what you are capable of as a human being.
20X is a metaphor – meaning that you are capable of at least 20 Times more than you think you are. The SEALFIT 20X Challenge will prove that to you, leaving you with a permanent shift in your awareness and confidence.
TIP #1 STANDARDS
The first tip is to know the standards before you start the event. If you dont meet the standards then you need to train harder and sign up for a later course.
20X Challenge Suggested Physical Standards Test (PST)
1 mile run – 11 min
2 min max pushups – 40 male/30 female
2 min max sit ups – 40/30
2 min max air squat – 40/40
Max dead hang pull ups – 6 (or ring rows or jumping pull ups)
*all pushups you must not put your knees down or butt in the air for more than a few seconds. You can shake our your arms in the pushup position. All sit-ups must rest in the up position. This test is an assessment for coaches and not a pass fail evolution. But you still need to train.
TIP # 2 GOOD BOOTS
Get a good set of well drained boots and break them in early,  Wear them during your workouts.
Wet your boots and do flutter kicks in them and walk in the stream.
Don't show up with new boots and break them in during 20X as you will be in for a problem.
Your feet will get blistered and your chances of finishing the event will go down.
SGPT Tips to break in your boots HERE
TIP #3 RUCK HIKE
You will need to ruck hike with weight at least 2 to 3 times per week. Start slowly and work your way up. Over time add distance, more weight and elevation. If you dont have elevation then hike up a stairwell in a building. Find a local stadium and walk the stairs.
Hiking in the sand is also an excellent way to condition your body. If you dont have sand then find some mud, tall grass or across the forest. Adding resistant to your hiking will make your body work harder and build more endurance for the long haul.
Check out the SGPT article with ruck hike tips and workouts.
We also suggest you train with the right gear. Get the same Ruck SEALFIT uses for the 20X here.
This ruck is cheap and the straps will probably come un-done at the seam.
This is by design as it is meant to frustrate you during a time of stress during the event.
And a chance to see how you respond and what you are made of.
Check out more info and sign up for SEALFIT 20X training here
TIP #3 BUILD ENDURANCE
The 20X Challenge is a long day – about 12 hours. CrossFit workouts last about 20 to 30 minutes – Be ready for about 10 CrossFit workouts with running and log PT and ruck marching.
Check out this article on the 20X challenge and interview with graduate Joe Levy

Grab Your Buddies and Sign up for SEALFIT Kokoro Camp HERE
TIP #4 NUTRITION
Dial in your fuel intake now.  Learn how to intake proper food and fluids.  Bananas and electrolyte drinks are a good start.  Find out what fuel works for you to propel you through the day.
TIP #5 LUBRICATE
If you dont use lubrication on your feet and crotch you will get rubbed raw. If you use lubrication your chances of blisters go down dramatically.
Which do you choose? I like to not have blisters so I use Bodyglide Anti-Chafe balm
to prevent rash. Lube up your under arms, nipples, and inside legs. Thank me later.
Article with 20X Interview and tips from Rob Bousquet here:
TIP #6 CORE STRENGTH
Work on building up your core strength.  Try a plank position with hands and feet on ground holding your body in a straight plank.  Work up to 1 minute – then 2.  Use a weighted vest for 30 seconds of work and 1 minute rest.  Build up your core and the rest of your body will follow.
20X Challenge Tip #7 – Do the workout Murph.  If you have never done Murph start out with 1/4 Murph.  Read these tips and apply them.
Mountain View High School Football team at SEALFIT 20x Challenge

TIP #8 TRAIL LIKE YOUR FIGHT
Find a local event and go do it.
This can be a local trail race, mud run, Spartan Race, Tough mudder, GoRuck – pick one and complete.  Check out an adventure race or just make up your own event. Find the nearest hill top and hike up to the top.
This will help you prepare for the 20X and find any flaws in your training.
TIP #9 READ DAILY
You are at the start of a major journey. Prepare your mind and build it up like a muscle.  Get rid of the distractions and chaos in your life and sit down and read a book.
Turn off the evening news and read for 5 minutes minimum. Reading is the easiest way to build up your discipline. It takes 21 days to build a good habit or bad one. By reading every night before bed you are intentionally conditioning your mind to a new good habit.
Check out this list of SGPT Recommended Books.
TIP #10 BREATHE
Relax.  Breathe deep and calm your mind.  You can do far more when your mind is at rest than if your brain is in overload and overwhelm.  Take a deep breath and get ready for the next task.
SGPT Interviews 20X Challenge graduate Michael Nealon
SEALFIT 20X Challenge is such a test. 20X and SEALFIT Kokoro camp is the world's premier training camp for forging mental toughness, an Unbeatable Mind and a warrior's spirit, the camp is an intense crucible experience modeled off of the famous Navy SEAL Hell Week. The difference is that 20X and Kokoro is built to teach through experience, rather than try to make you into a quitter.
Our mission is to develop mental toughness, show you that you are capable of 20x what you think, and develop your leadership and non-quitting warrior spirit. Discipline, Focus, Arousal Control, Attention Control, Micro-Goals, Positive Self Concept, Leadership, Self Mastery and an Unconquerable Spirit are trained and tested through 50 hours of intense physical and mental training.
This program is intense and leads to serious breakthroughs. Please study the prerequisites for 20X and Kokoro Camp in detail, and make an honest self-assessment, before committing to the camp.
Questions from athletes in our gym.
Question: What if I can't do a pull up – how can I do the 20X challenge? We will have you do ring rows or australian pull ups.
Question: what happens if you fail the SEALFIT 20X challenge? You will not fail. The instructors will find a way to help you win.
Question: How many athletes drop out of the 20X Challenge? No one quits as the instructors turn on the "No Quitters" light. But occasionally we do have one to quit and leave.
Question: Can you tell us more about the sand pipe that is used in 20X? The sand pipe is 1.5 inches in diameter – check out the video below.
Question: Is this a good event to help get ready for Navy SEAL BUDS training? Yes.
Questions from our SGPT athletes.
Question: Coach; I am trying to get back in shape and improve my mile run time. Do you have any suggestions on how to start? I have access to a local track.
Answer: That is great that you have access to a local track. Check out this SGPT Article as we talk about "How to improve your mile run time".
Do you have a big event on the horizon and you want to finish the drill?
Wanting to complete a Spartan, GORUCK, Tough Mudder or SEALFIT 20X Challenge?
Get individual coaching from SGPT Coach Brad McLeod (SEALFIT certified coach). Check out SGPT coaching here:
About the AUTHOR: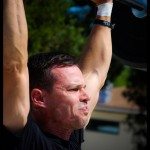 Brad McLeod knows first hand about mental toughness after being kicked out of a top tier Spec Ops training unit. He failed out of BUD/S the first time after failing a math test (made it through Hell Week and Dive Pool Comp).
He came back a year later and graduated and served as an operator on the Navy SEAL Teams with a total of 6 years of military service.
Today, he helps Veterans and athletes achieve their goals. What is your goal? Lets work together to accomplish it.
Check out SEALgrinderPT Coaching to help you step up and take hold of your dreams and realize your goals. Contact brad@sealgrinderpt.com
RELATED ARTICLES:
SGPT Interviews 20X graduate Tata Figuero
Check out this article on Kokoro camp tips
Kokoro Tips Part 2 – Survive the First Hour