What is YOUR Why?
What motivates you to do what you do?
What stirs you deep down inside?
Sit down and ask yourself that question.
Jot down notes on your thoughts in your journal.
You have a training journal – right?
Know that your Past… is not your Future.
Decisions are the ultimate power.
Every small decision you make now will shape your Destiny (Future).
click on this video and listen to this as an audio more then once.
Find out what a Navy SEAL knows about building a strong "Why"
1. What is your target – what are your goals?
2. What are your belief systems to create that goal?
3. What is your fuel? What do you put in your mind to push yourself?
Email [email protected] and tell me your goals, beliefs and fuel. Once you know this and are accountable you will see that your life will change. This one action will propel you forward towards your goal.
About the Author: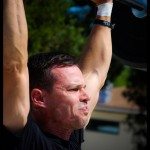 Brad McLeod knows first hand about mental toughness after being kicked out of a top tier Spec Ops training unit. He failed out of BUD/S the first time after failing a math test (made it through Hell Week and Dive Pool Comp). He came back a year later and graduated and served as an operator on the Navy SEAL Teams.
Today he is one of the most sought after mental conditioning coaches in the world today having recently returned from Ireland, Southern California, Pennsylvania and parts unknown in north Florida. SEALgrinderPT audios and Ebooks have been downloaded in 20 different countries around the globe.
Check out SEALgrinderPT Coaching to help you step up and take hold of your dreams and realize your goals.