7 Tips to Create a Morning Ritual Like a Warrior
I spent way too many years in the rat race waking up early to a noisy alarm clock and checking my phone first thing for morning emails and text.
I brushed my teeth and rushed downstairs for a quick cup of coffee before bolting out the front door with a granola bar in my hand.
I sped down my neighborhood street and out on to the constrant strain of Roswell Road and on to GA 400. Morning rush hour in Atlanta is brutal and everyone is on edge as they jockey to accelerate around each others cars.
There is a different way.
A solution to slow down your mind and body and help you to counteract the daily stress that forms from the minute you wake up.
TIP #1: CHANGE YOUR WAKE-UP METHOD

Starting your day startled out of sleep is not healthy.
You don't need a blaring alarm to wake up that sounds like an alarm from the bombing of Pearl Harbor.
Find a soothing alarm for your phone that starts off lightly and slowly builds up in sound.
I set my alarm across the room so I have to physically get up to walk over and cut it off.
TIP #2: REPEAT AFFIRMATIONS
As each foot touches the floor below your bed say "thank…. you".
Continue to say thank you with each step you take towards the bathroom.
This shows your appreciation and gratitude for being allowed another day to live on this beautiful planet.
You are forcing your mind to think in a state of gratitude and eliminating any chance of negative thoughts.
This is the opposite of waking up and thinking "i have to go to work today and its going to suck".
Check out the video below as I talk about cultivating inner motivation.
Look around you! This is another great day to soak up fresh air and be around awesome people.
Today is a new day and can be the best day of your life – if you say it is to be.
That is what gratitude is all about. Caring for those around you.
TIP #3: HYDRATE
You haven't had anything to drink for about 8 hours.
You're in a state of dehydration.
Starting your day dehydrated doesn't create focus or motivation.
Always drink a cup of water before you drink your morning coffee.
Your brain and muscle tissues needs water to start the day.
Do you start your car on a empty tank? Don't be too quick to get that cup of joe.
Take an extra minute to drink that cup of badly needed water.
TIP #4: JOURNAL
It is important to keep a daily journal.
That way when good thoughts come into your mind you can write them down.
Some of the most productive people on the planet use this method to record potential good ideas so that they can implement them later.
Check out the video below as I talk about finding your inner spark.
Think of stepping out of a hot shower (where many good ideas are generated due to the warm water washing across your head and brain.
If you are able to write those ideas down immediately they will be fresh in your mind and you will be able to write with clarity.
I keep a journal by my computer for hand written notes. But I also keep notes on my Iphone and write daily in them.
The more that I have spent time creating my daily journal – the better and more clear my thoughts have become.
Not sure how to start a training log? Check out this article with tips about how to keep a training log and apply them to your daily/monthly goals.
TIP #5: MEDITATE
The most powerful warriors in history meditated.
Bruce Lee meditated daily with active meditation.
Every morning he would run in the quiet of his neighborhood without music or distraction. Then he would journal the insights he got as he exercised.
Sometimes he would just walk around his back yard, contemplating in the quiet.
Sometimes he would be more active by meditating as he practiced punching and kicking.
During your yoga practice of morning walks you can practice silence.
I personally will practice my breathing with a deep inhale through the nose and slight hold then deep exhale through the mouth engaging the diaphragm. I perform this in what I call a "5 by 5" This being a 5 second breath from deep in the belly, 5 second hold, 5 second exhale, 5 seconds of hold. This really clears my mind of any excess chatter and I can then begin my journey of meditation.
When you deep breath and meditate you can have thoughts come into your mind then observe them and let them go.
Sometimes I like to use a positive mantra and chant inside my head. If you have a negative thought come into your mind simply set it aside and continue to breath and chant mantras.
TIP #6: MOVEMENT
This summer I spent a lot of time biking and hiking outdoors.
I would bike long distance and camp out and cook a hot meal. I would watch the stars above and try to pick out the constellations.
The point is that I spent time moving my body which helped to get my blood flowing and my mind in the creative zone.
I got more good ideas from that bike trip than I could ever get at home in the day to day 9 to 5.
Same goes for the days where I go and do yoga and then bike afterwards. My brain feels like I was able to clean it with cool clear water and it is ready to serve up great ideas stress free.
QUESTION: Hi. I keep hearing success—like for SEAL training—is 80% mental and 20% physical, but that doesn't make sense. Shouldn't it be the other way around? Can you explain that to me?
ANSWER: Yes; check out this article I wrote for another student who asked me that question: Navy SEAL Training is 80% Mental—WTF?
QUESTION: I've been doing a lot of hiking this summer, and I want to keep at it this fall and winter best I can. My problem is my backpack is always uncomfortable and so are my feet. Do you have some ways I can fix this?
ANSWER: Yes; check out this article that has ruck marching tips ("ruck marching" or "rucking" is walking with weight on your back.)
ABOUT THE AUTHOR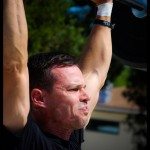 Brad McLeod knows first hand about mental toughness. After passing Hell Week and Dive Pool Comp at BUD/S, he failed a math test and was kicked out of training.
A year later, he returned, graduated, and served as an operator on the Navy SEAL Teams.
Today, he is one of the most sought after mental conditioning coaches in the world.
SEALgrinderPT audios and ebooks have been downloaded in 20 different countries around the globe. Check out SEALgrinderPT Coaching to help you step up and take hold of your dreams and realize your goals.
SEALgrinderPT is a proud sponsor of the  Navy SEAL Foundation on CrowdRise.
RELATED ARTICLES