Easy words to say. Simple concept.
Often hard to implement.
What will you do today to Finish the Drill?
This means not quitting despite overwhelming odds.
This is what it looks like to not quit even though your life is hanging by a thread.
Most times – Finishing the Drill means the difference between success and Failure.
This is what it looks like to Finish the Drill and Win — to not be second — to not "lose".
It means the difference between making the basket or swishing an "Air Ball" and losing the game.
Here's my take on what Finishing the Drill means.
Almost doesn't count when the game is on the line. Team is all that matters and you must come through for them.
What is your Dream? What are your Goals?
Do you know what it feels like to live a meaningful life where everyday has no boundaries?
How much do your Goals mean to you? How hard will you work for them?
What will you do today to Finish the Drill? Post up here in the comments below and let us know.
About the Author: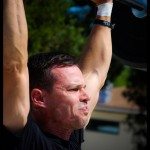 Brad McLeod knows first hand about mental toughness after being kicked out of a top tier Spec Ops training unit.
He failed out of BUD/S the first time after failing a math test (made it through Hell Week and Dive Pool Comp). He came back a year later and graduated and served as an operator on the Navy SEAL Teams.
Check out SEALgrinderPT Coaching to help you step up and take hold of your dreams and realize your goals.
RELATED ARTICLES:
Unbeatable Mind Academy Review
10 Tips to Breaking through Plateaus
Check out this SGPT Ruck March workout
Tips to Breaking through Mental Barriers
Are You Living Up to Your Potential?