Pull-ups can be a make or break event in the gym.  Those that know how and practice excel in CrossFit workouts.  Those that flounder at first just need a little bit of extra work.
You're only a few tips away from improving your pull ups and and finishing that WOD in style.
Check out the pull up methods below for the Lurong Paleo Challenge 2013—work them into your CrossFit WODs. Within 30 days you will see solid results.
Keep it simple.
TIP #1
Warm up with a shoulder mobility workout. Foam roll as needed.
Mobility wod
10 arm circles (large, small, reverse)
5 slow pushups
1 minute stretch band overhead
10 meter plate drag in plank position 3x
20 seconds bully stretch each arm
TIP #2
Train pull ups with a fixed barbell or Ring rows at waist height.  A TRX Suspension trainer is a good substitute. This will engage the core and is easy to scale and increase resistance as you progress.
TIP #3
Jumping pull ups are great as they have a good cardio element.  Stand on a box below the pull up bar. Do a quarter squat – then jump up putting your chin over bar.  Drop down and repeat.  Be careful not to overdo it with the jumping pull ups as a beginner could get rhabdo doing too many too quick.
TIP #4
Use a Stretch band to help you get your chin over the bar. Pick the best thickness to assist you over the bar.  Too thick a band and its too easy. Too thin and its too hard. Work with your trainer to pick out the band that is best for you.
Try to stay away from pull up machines or lat pull downs. These do not work the core like a real pull up. A stretch band is preferred if you need assistance.
TIP #5
Work on dead hang pull ups first. Use the stretch band to help if needed. We like Australian and Jumping pull-ups to help you.
Learn proper mechanics for the grip. Use hook grip for the hand placement on the bar.
TIP #6
Learn proper mechanics for the feet. Keep feet together. Use a pad between legs to block movement and improve proper shoulder movement.
TIP #7
Progress to kipping pull ups but only after all previous pull up methods have been mastered.
TIP #8
Cool down with a good foam roll and using the stretch band.  Don't overdo it on the pull ups with too much work too soon. Get adequate rest.  Athletes that do too many pull ups without proper technique and rest can risk injury (elbow tendonitis, torn rotator cuff, etc.).
Good luck on your pull ups and crush that next CrossFit WOD.
Question: Hi, Coach McLeod.
I don't know why I haven't asked already, but I don't have any gymnastics rings for the ring row workouts in the beginner's portion and was wondering if there were any suitable substitute exercises for that.
Answer: Try Australian pull ups or jumping pull ups.
About the Author: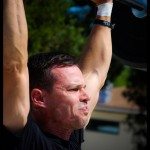 Brad McLeod grew up with asthma and rose to join the ranks of the Navy SEAL Teams.
Today he trains athletes at CrossFit Grinder and around the world today having recently returned from Ireland, Southern California, Pennsylvania and parts unknown in north Florida. His pull up workout book and motivational audios have been downloaded in 20 different countries around the globe.
RELATED ARTICLES:
10 Tips to Increase Grip Strength
Kickstart Your Monday Navy SEAL Style
Recovery Tips for Hard Workouts