How to Pass a Special Forces Test
So, you are looking to enter into the Special Forces (Navy SEAL, Marine Force Recons, Air Force PJ's, Green Berets, Rangers) and beginning to train.
Check out these tips on how to pass your entrance test so that you can be selected to join the Special Forces.
It goes without saying but the PST test are all short anaerobic events (2 minute max pushups, etc).
This is completely different than when you get to training as most of those will be long slow endurance (run 5k, swim 1 mile, long ruck, carrying a boat or log on your head all night, etc).
You must train initially for the anaerobic to become great at the initial PST test.
Tip #1
Take a mock Physical Screening Test (PST).
Go to the pool with your buddies and time each other on swim. Count reps for each other on the push ups and sit-ups. Push each other. Record these times and reps in your training log.
Tip #2
Make an honest assessment of your weakness by noting the events that you are below standards. Do you suck at sit ups? Then you will need to work on sit-ups more. Are you a bad @ss fast sub 6 minute runner? Then you will need to just maintain your running speed and work on other events more.
*Remember this.. in the BUDS PST you cannot kip on your pull ups.  You must do dead hang pull ups. So practice with all style of pull ups to build your strength and endurance but get really good at dead hang pull ups.
Video – Combat Swimmers sidestroke

Check out Optimum Nutrition 100% Whey Gold Protein @ Amazon.com
Tip #3
After you have identified your weaknesses – begin work on those individual events. Add in a variety of workouts to build up and increase your times.
Workout #1
Tabata Situps
20 seconds of work
10 seconds of rest
8 total sets of work (4 minutes total).
on a different day you can switch out sit-ups for pushups or pull ups or whatever exercise.
Video – How to improve your mile run

Check out the Reebok CrossFit® Nano Speed @ Reebok.com
Tip #4
Make an honest assessment of your self and your abilities. Are you 20 lbs overweight? Too much muscle (this can hurt your times). If so then lose weight. Stay away from the barbell and do hard bodyweight workouts. Many athletes kid themselves into thinking they are only a few pounds over and that they can muscle their way through a test. You are training to be in the pro leagues so you need to stop kidding yourself. This assessment may be your best tip to lower times and raise reps.
Workout #2
Run 800 meter sprint x 1 rest 30 seconds
Run 400 meter sprint x 2 rest 30 seconds between
Run 200 meter sprint x 3 rest 30 seconds between
Run 100 meter sprint x 4 rest 30 seconds between
record all times
Check out this article on how to improve your mile run time.
Tip #5
Run the test in reverse. Do the test with a weight vest (not swimming..duh). Run to the pool and do the test. Mix it up. The key is to rehearse the test inside out so that when your ready to take the test you have already memorized it.
Video – Navy SEAL training push up standards

Hear what a Navy SEAL says about Success and Failure  at BUD/S.
Tip #6
Workout for 30 days. Keep a good log book of all workouts, sleep, meals and rest days.
Workout #3
Pull up pyramid
1-2-3-4-5-6-7-8-9-8-7-6-5-4-3-2-1
note time in log book
Check out these Special Forces Swim workouts and Tips:
Tip #6
Breathe. This may be one of the better tips. Athletes get up tight under pressure. Breathing deep between activities will slow down your breathing and your mind will have to follow.
Tip #67
After 30 days re-test again. If you kept a good log book, proper rest, recovery, and good meals you will increase your reps and decrease your swim and run times.
Workout #4
Pavel GTG push ups
every time you walk past the doorway do 5 push ups
next week do 6. Progress on.
Tip #8
If you pay attention and follow the tips and workouts above – You WILL see better times. If not take a look at your training log and see what is missing. If your not keeping a log book your wasting your time. Need more sleep and rest? Better meals – eat cleaner fuel? Too many off days or blowing off workouts showing up late and leaving early? Make an honest assessment.
Workout #5
Five rounds for time of:
Swim 50 meters (side stroke)
25 Push-ups
record time in log book.
Question: What is a good book to read about once you get to BUDS and how to pass?
We like the book Breaking BUD/S: How Regular Guys Can Become Navy SEALs
as it gives a good depiction of what to expect when going through BUDS.
I wish that I had read a book like this before I joined the Navy.
Question: Coach Brad; how can I improve sit ups for the next event?
Answer: I would work on improving my plank posisition (push up position). I would do 10 seconds a night for a ladder (add 10 seconds next day) . Work up until you fail. Take a day off and then start back at 10 seconds again.
About the Author: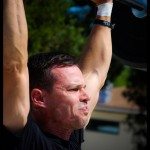 Brad McLeod knows first hand about mental toughness after being kicked out of a top tier Spec Ops training unit. He failed out of BUD/S the first time after failing a math test (made it through Hell Week and Dive Pool Comp). He came back a year later and graduated and served as an operator on the Navy SEAL Teams.
Today he is one of the most sought after mental conditioning coaches in the world today having recently returned from Ireland, Southern California, Pennsylvania and parts unknown in north Florida. SEALgrinderPT audios and Ebooks have been downloaded in 20 different countries around the globe.
Check out SEALgrinderPT Coaching to help you step up and take hold of your dreams and realize your goals.
Related Articles:
How to improve your Navy SEAL BUDS PST
Special Forces Swim workout #1
Check out this article on Delta Force workout
Check out this article Top 10 Special Forces Gear and Equipment
Check out this article Special Forces boot review
Check out this article Special Forces boot review
Check out this article – Herschel Walkers workout
Check out this article on Green Beret workout tips
Check out this article on Navy SEAL workout
SEAL Team Six workout
Small Space Workout
Train with Swim Fins
Top 10 Things to Get You Kicked Out of Special Forces Training
---
QUESTION: Coach, what do you like to add to your workout shakes?
ANSWER: I use Athletic Greens in our shakes. It's got tons of great nutrition—vitamins and minerals. Plus it mixes up easy in milk or water.